Feb 14, 2007 — by LinuxDevices Staff — from the LinuxDevices Archive — 28 views

Infineon, Comneon, and FSMLabs demonstrated a working prototype of a single-core mobile phone, making real calls on an Edge network, at the 3GSM World Congress this week in Barcelona. The partners claim their MP-Elite phone to be the first at its price point to run Linux.
The MP-Elite phone is based on a super-highly integrated mobile phone SoC (system-on-chip) from Infineon, and runs FSMLabs's RTLinux real-time Linux variant. It uses a cellular protocol stack from Infineon spin-off Comneon.
The three partners first demonstrated their single-core phone design in May of 2006, as a board-level design. Now, they have taken the design to the "handset form-factor" stage, and are showing a finished prototype that runs from batteries, places real calls, and even runs multimedia applications under Linux, the companies say.
What's a single-core architecture?
Single-core architectures are the norm in inexpensive voice phones, which typically run simple monolithic executables or else very basic real-time operating systems. In the past, phones with richer "open" OSes — including Linux, Windows Mobile, and Symbian — have required more expensive, complex dual-core architectures. Dual-core designs increase bill of materials and power requirements, the more so since each processor requires its own memory and other subsystems.
Infineon calls its MP-Elite design "the first Open OS phone platform for feature phones in its price range," and says the design "demonstrates the capability of Linux to also address the high volume and cost sensitive mid-range and low-end segments of the mobile phone market." Mid-range feature-phones will represent about half of all phone shipments by 2010, according to forecasts by Strategy Analytics.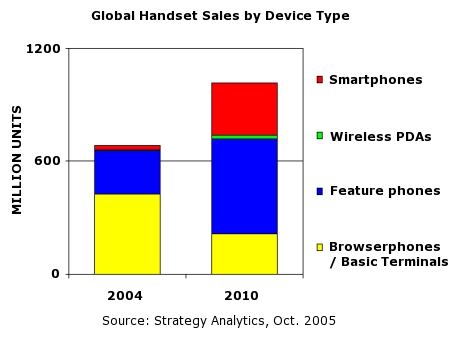 Source: Strategy Analytics
What's inside the phone?
The MP-Elite is based on Infineon's S-GOLDRadio SoC, described as the world's first single-chip solution with integrated EDGE baseband and RF transceiver." The chip was optimized for low memory requirements and "less MIPS (millions of instructions per second) consumption," Infineon says.
The S-GOLDRadio is based on an ARM926 processor clocked at 266MHz. The core was designed to handle both modem control and application processing, with fast, tightly coupled memories and cache support, Infineon says. The S-GOLDRadio also integrates a GSM/EDGE/GPRS modem claimed to support "up to multislot class 12 and SAIC algorithm."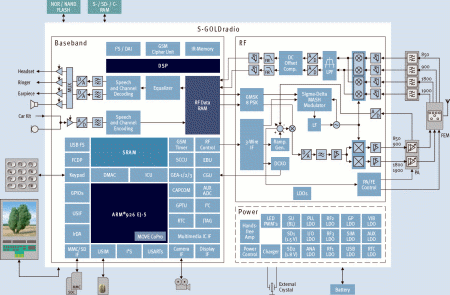 Infineon S-GOLDRadio function block diagram
(Click to enlarge)
Additional touted S-GOLDRadio features include:
Digital camera interface for still imaging up to 2 MPixel
Primary and secondary display interface for color displays up to QVGA resolution
Video encode in QCIF resolution, 15 fps/video decode in QCIF resolution, 30 fps
Video streaming
Audio replay in various formats, such as MP3, AAC+, AAC++
64-voices on-chip polyphonic ringer
High Java performance with Jazelle Java co-processor
Secure boot, secure debug, DRM2.0
MMC/SD interface, SDIO enabled
USB 2.0 full speed, on-the-go- enabled
Dedicated NAND flash controller supporting burst mode and error detection
Standardized multimedia extension interface (MMIC-IF) supporting external hardware accelerator ICs such as complex display/camera modules or graphic accelerators
RF transceiver
Quadband transceiver for GSM850/GSM900/GSM1800/GSM1900
Direct conversion receiver architecture with four integrated LNAs
Digital Sigma-Delta modulator for GMSK, polar modulator architecture for 8 PSK
Integrated power control loop for accurate output power setting (TRP), supporting linear and non-linear PAs
Fully integrated, low noise RF VCO for quadband operation
Power management
System voltage regulators based on
LDO architecture
Highly efficient switched power supplies (2x step-down, 1x step-up converter)
Support of comprehensive on-chip standby/power-down circuitry
Charger for NiMH and Li-Ion/Polymer batteries including precharge current generator
Backlight and LED support
Audio amplifier for handsfree operation
Vibra motor driver
Power-on reset logic
"By eliminating the need for a dedicated application processor or even a multimedia companion, the MP-Elite's unique architecture [can] significantly reduce the costs associated with Linux-based mobile handsets," said Clemens Jargon, VP of feature phones at Infineon, in a statement.
Dr. Christian Mucke, managing director of Comneon, noted that "The short development time and reduced effort required to demonstrate this innovative Linux platform underscore the advantages of Comneon's modular, highly portable Protocol Stack."
Jason Whitmire, managing director at FSMLabs's European office, added, "RTLinux provides a common vendor-neutral approach for single core mobile phones by offering extensions and a non-GPL home for the modem communications stack, in addition to offering highest performance and security guarantees. We have waited a long time for a full-featured platform to finally support single core Linux implementations."
Availability
The MP-Elite appears to be a ready-to-manufacture "form factor" design. However, availability and pricing were not disclosed.
---

This article was originally published on LinuxDevices.com and has been donated to the open source community by QuinStreet Inc. Please visit LinuxToday.com for up-to-date news and articles about Linux and open source.