Jun 1, 2011 — by LinuxDevices Staff — from the LinuxDevices Archive — 7 views
Android represented 36 percent of U.S. smartphone share through April, 10 points higher than Apple iOS, but down a point from March, says Nielsen. The research firm also says Android users download more data than iPhone users, while Distimo reports that Android Market has significantly fewer paid apps than Apple's AppStore — and that it's earning less money for developers.
Google's Android operating system accounted for 36 percent of U.S. smartphone market share through April, 10 percentage points higher than Apple iOS's 26 percent share for the iPhone, according to Nielsen's latest smartphone report. Research In Motion's BlackBerry OS ranked third with 23 percent, according to Nielsen, which added that 37 percent of mobile consumers now own a smartphone.
Windows Mobile took fourth place with nine percent. Throw in another one percent for Windows Phone and Microsoft achieves double-digit smartphone share with the same 10 percent it enjoyed last month.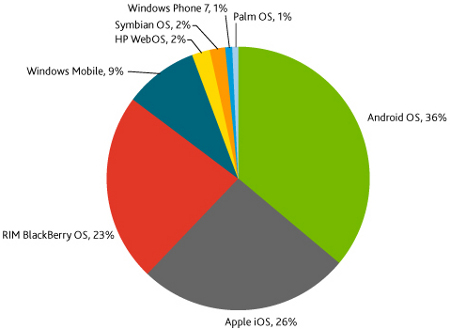 U.S. smartphone market share by operating system, Feb.-Apr. 2011


Source: The Nielsen Company
Android passed iOS and BlackBerry in U.S. and world market share late last year, according to Nielsen, ComScore, IDC, Gartner, and other research firms. However, Nielsen's new data for April suggests that Android's growth has slowed, and that the smartphone OS wars may have settled — at least temporarily — into a stand-off.
Consider that Nielsen had Android at 37 percent through March, only two months after it said Android had hit 29 percent share. That means Android share jumped eight points from January through March, but then slipped a point through April to rest at 36 percent. Nielsen's March count showed iOS grabbing 27 percent and BlackBerry holding down 22 percent, which means iOS and BlackBerry each slipped a point in the researcher's latest count.

The Android and iOS slowdown in growth is interesting, considering the availability of the heavily hyped Verizon iPhone 4, and Android-based phones like the Motorola Atrix 4G and HTC ThunderBolt (pictured). Perhaps this is the beginning of a plateau for the top platforms, presenting a growth opportunity for Microsoft Windows Phone? Or maybe consumers were simply waiting for the now available Samsung Droid Charge or Samsung Infuse 4G, as well as the iPhone 5?
Whatever the case, it does not appear to represent a slowdown in the smartphone market. Nielsen says smartphones are more popular than ever in the U.S., with 37 percent of mobile consumers now owning a smartphone.
Android data hogs
Smartphone consumers are still chomping mobile data at a prodigious clip through April, Nielsen said. According to the research firm, 74 percent of Android smartphone owners and 79 percent of iPhone owners downloaded apps in the past 30 days. Also, 43 percent of Android owners and 46 percent of iPhone owners streamed online music or mobile radio in the past month.


U.S. smartphone average monthly data usage by OS, Q1 2011
Source: The Nielsen Company
Nielsen noted that consumers with Android devices consume more data on average. An analysis of nearly 65,000 cell phone bills in the U.S. found that Android smartphone owners consumed an average of 582MB of data each month, compared to 492MB for iPhone owners.

U.S. smartphone heavy data usage activities by OS, Feb.-Apr. 2011


Source: The Nielsen Company
(Click to enlarge)
Those stats are certainly promising for mobile applications makers. They also bode well for Google and Apple, both of which sell mobile ads against the apps on their platforms.
Distimo: Android suffers from paid app gap
Mobile analytics firm Distimo crunched the numbers and reported on May 26 that Android Market offers only a third the number of paid apps found on Apple's App Store. What's more, the bulk of Android developers aren't making a lot of money from applications they sell in the Android Market, according to the report.
Distimo found that only two of the 72,000 paid apps in the Android Market have been downloaded more than half a million times worldwide to date. Conversely, six of the 211,000 paid iPhone apps in Apple's App Store generate the same number of downloads from April 1 to May 19 in the U.S. alone.
For a telling snapshot, Distimo looked at the paid games segment. Only five paid games in the Android Market sport more than 250,000 downloads worldwide, whereas 10 paid game apps in the App Store racked up more than 250,000 downloads in the U.S. alone in two months.
Meanwhile, Android Market is still rife with free app downloads. Distimo said some 96 applications have been downloaded more than five million times in the Android Market. Leading the free app pack is the recently updated Google Maps, which happens to be the only application with more than 50 million downloads in the Android Market. Moreover, fully 20 percent of all free apps and 80 percent of all paid applications have been downloaded less than 100 times in the Android Market worldwide to date.
A longer version of the story on Distemo's study may be found at eWEEK.
Clint Boulton is a writer for eWEEK.
---
This article was originally published on LinuxDevices.com and has been donated to the open source community by QuinStreet Inc. Please visit LinuxToday.com for up-to-date news and articles about Linux and open source.