Mar 28, 2011 — by LinuxDevices Staff — from the LinuxDevices Archive — views
Partly thanks to Verizon Wireless' 4G LTE network, HTC's Thunderbolt is the fastest phone eWEEK has tested. The $250 price for the Android 2.2 phone is high, and HTC and Verizon need to work on extending battery life, but users who have access to Verizon's 4G network will be sorely tempted by the Thunderbolt's speed, big screen, and nicely tuned eight-megapixel camera, says this eWEEK review.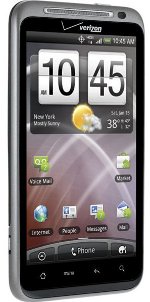 When I first flipped on the HTC Thunderbolt and heard its little signature shout-out, I laughed. The crash of thunder accompanied by the lightning bolt graphic caught me by surprise.
The phone launches not with a geeky Droid pronouncement, but with one of the most terrifying sounds nature can muster. Guess what? The joke was on me because the Thunderbolt is frighteningly fast for a compact, albeit hefty gadget.
The phone seemed fast even on a 3G network, even with its 1GHz Qualcomm Snapdragon processor, which now seems relatively modest compared to the dual-core Nvidia Tegra 2 processors now arriving on Android phones. When connected to Verizon's LTE network, however, the Thunderbolt truly lives up to its name.
The Thunderbolt, which went on sale to Verizon Wireless customers on Mar. 17, stands on its own as king of the speed mountain. While I normally grimace at the thought of paying $250 for a device plus a two-year data contract, the speed of the Thunderbolt was awesome enough to make it worth it.
The device, powered by the familiar Android 2.2 operating system, ships with 768MB RAM, 8GB of internal memory, and a 32GB data card. The phone features a comely 4.3-inch, WVGA display with 800 x 480 resolution.
The Thunderbolt is 4.75 long by 2.44 inches wide by 0.56 inches thick; it's thicker than the normal cell phone. However, at a hefty 6.23 ounces, the gray, plastic-covered device will weigh a hole in all but the toughest of pockets. Blame the heavier battery used to supply the power demands of Verizon's speedy 4G LTE (Long-Term Evolution) network.
Like its HTC predecessor, the Evo 4G, the phone has a cute little kickstand to help relieve the wrist strain and let users more easily share videos and other content with others.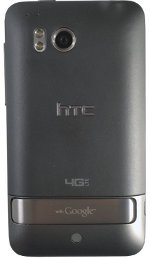 The call quality was fine. There was no tininess or echo. However, I'm more of a text guy, so the user interface is more important to me than the calls or even the dialer.
To that end, the more I use HTC Android phones, the more impressed I become by the HTC Sense interface; the keyboard is a delight to type on. The Thunderbolt employs Sense 2.0, with the lovely FriendStream social-network account aggregator.
The device's virtual keyboard and onscreen interface features big, beautiful buttons that are well-placed for the most part. I don't like how the voice search button is next to the comma button when I type a text message, but that's a minor quibble.
The eight-megapixel camera yielded crisp, clean photos without the delay I experience on my Motorola Droid X. Video recorded well in HD 720p.
The 1.3-megapixel front-facing camera enabled solid video chat. I downloaded the Qik Video application within 10 seconds to begin video chatting. This application worked wonderfully, with no shakiness or delays.
Verizon's LTE: Yes, it's really fast
The Thunderbolt is all about the network. When Verizon executives touted their 4G LTE network when they first announced the Thunderbolt at the Consumer Electronics Show in January, their oft-repeated refrain was that it was 10 times faster than 3G.
It was faster. I'm talking 11-plus megabits per second for downloads and and over 4Mbps for uploads, both at the high range of the carrier's promise for 5- to 12Mbps downloads and 2- to 5Mbps uploads.
Whether it was basic Google searches or multiple YouTube videos or games launching back to back to back, the software danced and sparkled on the screen. I downloaded a dozen applications, all just to watch them land from the Android Market to the Thunderbolt in 5 to 10 seconds.
As I wrote this, I received notifiers for new versions of Google Books and Facebook for Android, which I had downloaded to my Droid X. (I entered my Google Account to port everything downloaded onto to my personal phone to this Thunderbolt review unit). I clicked install, and the Books and Facebook applications updated in three seconds.
Battery bummer
The bad news is that, just as with the HTC Evo 4G, the Thunderbolt burns though the battery quickly. I recommend users carry a spare battery.

I turned on the phone at 8 a.m., and used it as my mobile hotspot from 9:30 to 11 a.m. EDT on the Metro North line from Connecticut to Grand Central Station. From Fairfield to Greenwich, I used the hotspot on 3G, but soon after it switched to 4G. (Verizon does not yet offer 4G in Connecticut.) By the time I arrived in Manhattan, the battery had burned halfway through.
As I type this at 2:30 p.m. local time, after dozens of searches, Facebook and Twitter checkups, and YouTube videos, the battery is at 25 percent capacity. If I use it sparingly, it should get me to 5 p.m. with no problem. But that's the problem, isn't it? I'm taking a train home from 5:30 to 7 p.m., and I have to sweat out whether or not I'll have not only a working phone, but be able to access my laptop from the Thunderbolt's hotspot.
Fortunately, I travel with my Droid X as backup. But we shouldn't have to carry two phones. Ideally, we shouldn't have to carry two batteries. Welcome to the curmudgeon's world of technological constraint.
The good news is my phone didn't burn up in my pocket the way the Evo 4G did when I tested it last spring. So you won't fry eggs on the Thunderbolt.
Should you buy this phone? If speed is of the essence, the Thunderbolt answers the call. Other pluses include the mobile hotspot, a great eight-megapixel camera, a nice appearance, and a large screen.
Here's a little tip for consumers in the hundreds of markets where Verizon doesn't offer 4G: The phone on 3G was still fast — not 4G fast — but comparable in my opinion to the speed of the dual-core processor-based Motorola Atrix 4G on AT&T's network.
But you still don't want to buy the Thunderbolt if you live in a place where Verizon's 4G network doesn't offer coverage. It would be like buying a convertible whose top didn't drop.
Would I buy the Thunderbolt? The phone is a touch too heavy for me (and I use a Droid X), and the battery is weak for my taste. I also wouldn't want to spend $250 for a phone. $200 is as high as I'd go for hardware.
Batteries will improve enough to the point where 4G phones won't feel like anchors or hot frying pans. I'm in my current contract for 18 more months. I feel confident that, by then, the 4G phones will be lighter, faster, and cheaper.
Clint Boulton is a writer for eWEEK.
---
This article was originally published on LinuxDevices.com and has been donated to the open source community by QuinStreet Inc. Please visit LinuxToday.com for up-to-date news and articles about Linux and open source.