Jun 9, 2008 — by Eric Brown — from the LinuxDevices Archive — 1 views
Two just-published market research reports bode well for Linux's future in the market for higher-priced smartphones. J.D. Power reports that rising smartphone sales are driving handset prices higher, while ABI Research predicts Linux will take a 23 percent share of the smartphone segment by 2013.
J.D. Power: Smartphones - and prices - on the rise
According to J.D. Power and Associates's "2008 U.S. Wireless Mobile Phone Evaluation Study, Volume 1," smartphone sales have increased to 6.3 percent of the overall handset market share, up from 1.7 percent at the start of 2007. The study was based on interviews with 18,093 wireless users conducted in September 2007 and January 2008, the McGraw-Hill owned research firm said.
The study found that smartphone sales are driven by key models, including the RIM Blackberry, Palm Treo, and more recently, Apple iPhone. With Android and LiMo phones arriving later this year, it will be interesting to see if key models emerge, or if multiple vendors and models achieve success in with these new technologies.
Smartphone popularity drove higher prices for handsets in general, says J.D. Power. The average price for a mobile phone rose $9 in the last six months, up to a $101 average price. The average smartphone is said to cost $208, compared to an average feature phone price of $58.
Another cause for rising handset prices: a decrease of free phone offers, which the study found decreased from 36 percent to 33 percent in the past six months.
Stated Kirk Parsons, senior director of wireless services at J.D. Power, "As more customers start to upgrade to mobile phones that offer real-time connectivity and access to Internet content — particularly those offered by smartphone devices — we should continue to see the wireless handset price point rise."
In the customer satisfaction portion of the survey, which covers handsets in general, J.D. Power reported that Sony Ericsson ranked highest for the second time in a row, with 740 points out of 1,000, and LG was close behind at 721. Below the industry average of 710, came Samsung (706), Motorola, and Sanyo (705), and then Kyocera and Nokia.
Additional findings included a 24 percent rise in clamshell designs since 2006, up to 74 percent. This was compared to a 21 percent share for candy-bar designs and five percent for slide-covers.
ABI — Linux smartphones coming
According to ABI's study, "Smartphone and OS Markets," within five years Linux will trail only the Nokia-backed Symbian as the most prevalent smartphone operating system (OS). The rise of two major consortia pushing Linux smartphone standards - the Open Handset Alliance's (OHA's) Google-sponsored Android and the LiMo Foundation's LiMo Platform — has given Linux greater credibility among wireless providers, suggests ABI. The research group points to the recent news of Verizon adopting LiMo phones as hastening the move toward tuxified handsets.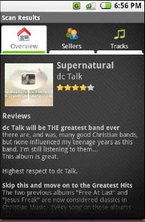 Jeffrey Sharkey's Android Scan
was one of 50 first-round Google
Android Developer Challenge winners
(Click for details)
As a sign that Android and LiMo are here to stay, ABI noted the "growing support for Android in the form of numerous global application developers coding innovative applications for the platform." Evidence for this assertion may be found in the OHA's recent announcement of the winners of the Google Android Developer Challenge contest. The OHA selected 50 winners from a field of 1,788 submissions — and that was only round one of the contest.
Not too surprisingly, ABI predicts that the Linux smartphone race will largely be limited to these two platforms. However, opportunities for other Linux technologies, the study suggests, may be found on the periphery of the smartphone market where the segment blurs into larger MIDs (mobile Internet devices). Stated ABI's VP and research director Stuart Carlaw, "There will be opportunities for solutions such as Maemo which will be facilitated by the encroachment of the MID form factor into the mobile devices landscape."
The LiMo and Android camps will also be able to exploit Nokia's weakness in the Americas, where Symbian represented only four percent of smartphone market last year, says the research group. "The company could face a situation whereby its leadership in the European markets is challenged by a combination of a resurgent Windows and emerging Linux, while simultaneously being locked out of the North American market," the report said.
Nokia, which this month expects to complete its acquisition of Linux-oriented phone-stack vendor Trolltech, announced in April that it would be porting Trolltech's Qt libraries to Maemo. Meanwhile, according to a widely circulated story by Reuters several weeks ago, Nokia plans to expand its line of MID-like Linux- and Maemo-based Internet Tablets, as well as experiment with Linux-based mobile handsets.
Availability
More information on two studies can be found at the this ABI Research page, and at this J.D. Powers page, respectively.
---

This article was originally published on LinuxDevices.com and has been donated to the open source community by QuinStreet Inc. Please visit LinuxToday.com for up-to-date news and articles about Linux and open source.