May 14, 2008 — by Eric Brown — from the LinuxDevices Archive — views
[Updated May 15] — Verizon Wireless has chosen Linux as its "platform of choice," it said. Starting with feature phones in 2009, followed by iPhone competitors, Verizon will offer Linux phones compliant with specifications from the Linux Mobile Foundation (LiMo), an industry group it and seven other companies joined today.
In a press conference held by the LiMo Foundation, Verizon Wireless's Kyle Malady, network VP, said his company chose LiMo over Google's Android platform, due to LiMo's open, board-run model, and its membership of companies that have already succeeded in shipping Linux phones. However, Verizon Wireless will continue to support RIM (Blackberry), Windows Mobile, Palm, and Brew operating systems, said Malady, and in the future will consider supporting the Linux-based Google Android platform pushed by the Open Handset Association (OHA).
"We are wholeheartedly endorsing LiMo's approach, and we are investing company resources, but we see the opportunity to have both the OHA and LiMo succeed and/or work together," said Malady. "LiMo is our platform of choice, but if there comes a point where we see there is benefit for our customers we will use OHA as well."
The OHA and Google are taking a managed application approach to Linux phones, by doing everything — even the phone UI — in Java. LiMo, in contrast, is building standards around native Linux applications, so that Linux phones from different vendors have enough in common to simplify porting applications such as operator-specific user interfaces from one new model to the next. Both LiMo and Android are attempting to consolidate the fragmented mobile Linux market around common platforms in order to reduce costs and promote interoperability, they claim.
Malady said he would not force Verizon Wireless handset partners to develop LiMo-based models, but said that "our partners are supportive." Morgan Gillis, the former Symbian Senior VP who last year defected to Linux and the LiMo Foundation, singled out LG Electronics, which makes phones for Verizon, noting that the company is a LiMo member. In February, LG announced it was developing a "LiMo Phone" handset.
Founded in 2007 by six of the biggest Linux phone heavyweights at the time, the LiMo Foundation has now grown to 40 members. Founder level members of LiMo include Motorola, NEC, NTT DoCoMo, Orange, Panasonic, Samsung, and Vodafone. Verizon Wireless and SK Telecom are joining on the next level down as "Core" members, joining Access, Aplix, Azingo, LG Electronics, McAfee, TI, and Wind River. The other new members — Infineon Technologies, Kvaleberg AS, Mozilla Corporation, Red Bend Software, Sagem Mobiles, and SFR — are joining with a longer list of Associate level members.
Significantly, three of the new LiMO members are carriers. In most markets, including the U.S., carriers have the most power to determine which mobile phone models ultimately reach consumers. In addition to Verizon, other new LiMO carrier members include the French provider SFR, and the Korean provider SK Telecom. They join existing LiMo carrier members NTT DoCoMo, Orange, and Vodafone.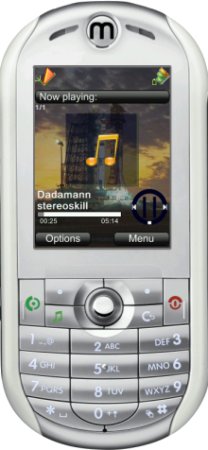 Kvaleberg's "Mimiria"
interface
The new LiMo members are as follows:
LiMo's Big 'Mo
Established in January 2007, the LiMo Foundation was confronted with what many see as a competitive mobile platform when Google and the OHA announced the Linux-based Android phone stack platform. However, since February, when LiMo announced that 18 LiMo-based handsets were shipping or were on their way from vendors that include Aplix, LG, Motorola, NEC, Panasonic Mobile Communications, Purple Labs, and Samsung, the group has begun to regain momentum from Android. This was reinforced six weeks ago with the formal release of its first specification.
Meanwhile, LiMO has announced almost a dozen new members this year, including Access, Orange, AMD, and Texas Instruments. LiMo members are contributing a series of software development kits (SDKs) that should appear in the Fall, along with Release 2, says LiMo, with Access working on the Native SDK, Aplix focusing on the Java SDK, and Motorola developing an SDK for the Webkit HTML rendering engine. Wind River, meanwhile, is providing foundational components for LiMo's common integration environment (CIE), and higher-level tools are to be furnished by Azingo, which claims to offer the first LiMo-compliant mobile phone software stack.
Stated Morgan Gillis, executive director of LiMo Foundation, "It is now clear that LiMo's transparent and participative governance model and total focus on the handset operating system, which are designed to avoid value-chain distortion, are proving to be very attractive to the whole industry."
Stated Kiyohito Nagata of NTT DoCoMo, chairperson of LiMo Foundation, "The diversity of the global mobile ecosystem is exploding, and this is evidenced in the new class of LiMo members, which spans providers of Internet and wireless services, consumer and enterprise software, electronics and mobile phones."
Stated Stuart Carlaw, VP and research director, mobile wireless with ABI Research, "LiMo Foundation has made impressive inroads across the mobile ecosystem and has acquired a varied and truly global footprint. As OEMs and operators seek to gain technical and business efficiencies by consolidating the number of handset platforms, there is now no doubt that LiMo-powered devices will comprise a significant percentage of many operators' portfolios."
---

This article was originally published on LinuxDevices.com and has been donated to the open source community by QuinStreet Inc. Please visit LinuxToday.com for up-to-date news and articles about Linux and open source.