May 12, 2004 — by LinuxDevices Staff — from the LinuxDevices Archive — 32 views

[Updated May 13, 2004] — Linux will power a customizable GSM/GPRS mobile phone, set to launch in July, that will support "SmartSkins," snap-on covers that add games, music videos, or other content or functions. Skins will cost about $40 each, with two dozen available, initially.
The phone will be marketed by Korean handset manufacturer Curitel under the name "Identity." It was designed by Wildseed (formerly GitWit), which will develop and market SmartSkins, including GameSkins and MusicSkins, that work with "SmartSkin-compatible" phones. The Identity will be the first SmartSkin-compatible phone.
How does it work?

According to Wildseed CEO Eric Engstrom, the Identity phone boots Linux on an Intel XScale processor clocked at 200MHz. When a SmartSkin is snapped over the phone and powered on, the Skin boots a rudimentary, proprietary embedded OS of its own, called SmartSkin OS, from a tiny SmartChip (see image at right). SmartSkin OS then runs on a tiny Atmel AVR 8-bit RISC processor. The Linux phone establishes a serial connection with the Skin, and downloads ringtones, graphic images, and software related to the Skin's particular theme.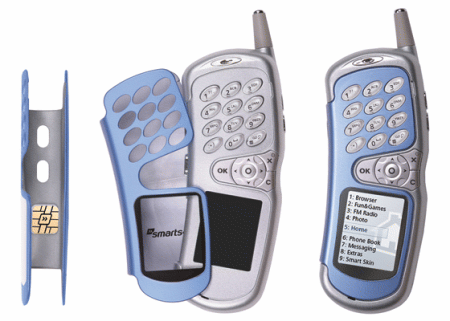 The Identity and its SmartSkins uses a "buttons-up" design
In addition to software and a rudimentary embedded OS, SmartSkins contain special controls. For example, GameSkins include side-mounted GameBoy-style controllers that can be used to navigate a player, with firing buttons mounted on the other side. The SmartSkin controls use a second serial connection to communicate with the phone's main processor, Engstrom says.
Linux phones work best as SmartSkin hosts, according to Engstrom, because they can run applications written to Wildseed's closed source application framework, SmartScreens. Still, mobile phones running Symbian, Microsoft Smartphone, or Qualcomm BREW could support simple SmartSkins.
According to Engstrom, Linux phones have other advantages, too. "Linux works better than Symbian. And it costs less than Microsoft Smartphone or Qualcomm BREW. In three years, you're gonna see a whole slew of Linux phones. We didn't have any challenges that were a result of picking Linux."
"Linux is gonna change the cell phone industry forever," Engstrom adds.
First skins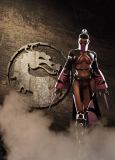 Wildseed announced today that it chose "Mortal Kombat: Deadly Alliance" (screenshot at right) as the first commercial gaming title available as a SmartSkin. According to Wildseed, this classic game, previously available on PlayStation2, Xbox, GameCube, and GameBoy Advance — has sold more than 20 million copies since its 1992 introduction, including 2 million copies of the most recent version.
Additionally, a GameSkin will be available at launch for online gamers. It will provide better gaming controls than are typically found on mobile phones, along with storage for downloadable J2ME Java and other games.
In addition to GameSkins, some 22 musical and theme skins are expected to be available at launch. These skins change the appearance of the phone menus, the sound of its ringtones, and in some cases allow the user to play music or music videos. Artists and themes expected to be supported at launch include Nelly, Korn, French Kitty, and others (check Wildseed's partners page).
Additionally, a generic MP3 player SmartSkin is under development, according to Engstrom, that will store 250 songs, and sell for about $150. It will not be available at launch, however.
LinuxSkins?
Engstrom said that Wildseed plans someday to make a LinuxSkin, which would provide some way of accessing the busybox shell running on the phone, and running commandline utilities such as ssh clients. No immediate plans for such a skin have been made, however.
Availability
The Identity SmartSkin phone is expected to be available from Curitel in July. It will cost about $350 in an unlocked state, without a GSM/GPRS chip, or between $150 and $250 with a call plan from a carrier, according to Engstrom. Currently, none of the three Nationwide US GSM/GPRS carriers have agreed to market the phone. However, Dobson Cellular has. Engstrom describes Dobson as "the tenth largest carrier in the U.S., with service areas from New York to Alaska."
Fashion and MusicSkins will be priced between $25 and $40, while GameSkins will range from $35 to $60, depending on content.
More details
More details about the Identity are available at the SmartSkins and WildSeed Websites. Also, check out our preliminary Device Profile on Wildseed's SmartSkins mobile phone technology.
---

This article was originally published on LinuxDevices.com and has been donated to the open source community by QuinStreet Inc. Please visit LinuxToday.com for up-to-date news and articles about Linux and open source.