Mar 8, 2010 — by Jonathan Angel — from the LinuxDevices Archive — 8 views
— E-con Systems announced a SODIMM-sized processor module based on Marvell's 624MHz PXA300 processor. The Linux-ready eSOM300 offers up to 256MB of RAM, up to 1GB of flash storage, an optional touchscreen controller, and a "local bus expansion header," according to the company.
E-con's eSOM270, released in 2008, is a SODIMM processor module equipped with a Marvell PXA270 clocked at up to 520MHz, with up to 128MB of soldered-on RAM and 32MB of flash storage. The new eSOM300, by comparison, is a slightly taller module (2.63 x 1.61 inches) that steps up to Marvell's ARM11-based PXA300, with a 624MHz clock speed.
According to E-con, the eSOM300 is aimed at applications including industrial control, telematics, test and measurement, and mobile devices. Advantages of the eSOM300 over the ESOM270 are said to include not only the faster processor, but also:
Higher memory bandwidth
Support for flash up to 1GB
Support for RAM up to 256MB
USB 2.0 device support
2D graphics acceleration
Battery charger support (optional)
Ethernet support (optional)
Audio and touch screen support (optional)
Real-time clock support (optional)
In addition, the company says, the eSOM300 has a new local bus expansion connector. Customers can potentially use this connector (visible on the top left of the module, below) for daughterboards that interface directly to the processor bus, says E-Con.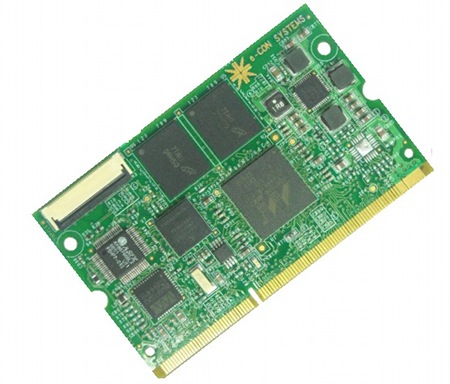 E-con's eSOM300
As the above list suggests, the eSOM300 is said to be available with 64MB, 128MB, or 256MB of soldered-on RAM, plus from 128MB to 1GB of NAND flash storage. Fast Ethernet is also present, though using it requires an optional connector and magnetics, the company says.
Like other such modules, the eSOM300 is designed to plug into an application-specific carrier board, relaying all signals to and from the outside world via its 204-pin SODIMM connector. According to E-Con, the module's interfaces include two USB 2.0 hosts, a USB 2.0 client, three serial ports, two SPI interfaces, two MMC/SDIO interfaces, and I2C.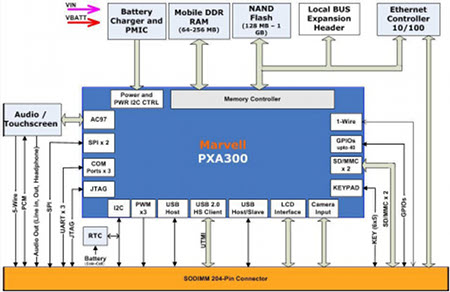 A block diagram of E-Con's eSOM300
(Click to enlarge)
E-con says the eSOM300 also provides an 800 x 600 LCD controller with 2D acceleration, a 6 x 5 keypad interface, and a camera interface. A touchscreen interface and AC'97 audio are optionally available, the company adds.
According to E-con, the eSOM300 uses as little as 100mW in its low power modes. Operating range is said to extend from -13 deg. F on up to 158 deg. F.
Features and specifications listed by E-con for the eSOM300 include:
Processor — Marvell PXA300 clocked at 624MHz
Memory — Up to 256MB of RAM and 1GB of flash storage
Display — LCD controller supports displays up to 800 x 600 pixels; touchscreen support optional
Expansion — local bus expansion header
Other I/O:

2 x USB 2.0 host
1 x USB client
3 x serial
2 x MMC/SDIO
4 x PWM
6 x 5 keypad interface
Camera interface
I2C
2 x SPI

Power consumption — 100mW in low-power modes
Operating temperature — -13 to 185 deg. F (-25 to 85 deg. C)
Dimensions — 2.63 x 1.61 inches (67 x 41mm)
A baseboard's on the way …
E-con said it will offer a development baseboard for the eSOM300 but provided no further details. We suspect the forthcoming board will be similar to the Regulus (below), a baseboard the company introduced for its eSOM270 last year.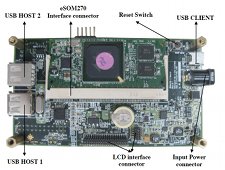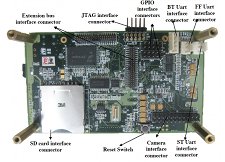 The top (left) and bottom (right) of E-con's Regulus baseboard
(Click either to enlarge)
The Regulus, pictured above, has a SODIMM slot for the eSOM270, and an LCD interface connector that, according to E-con, directly accepts a touchscreen display — available in a 3.5-inch version with 320 x 240 resolution, or 5.7- and 6.5-inch versions with 640 x 480 resolution.
The Regulus has 512MB of NAND flash storage on board, plus an SD slot and real-world USB host and client ports. Pin headers provide three serial ports, GPIO, JTAG, and a camera interface. As pictured above, the baseboard also has an SD slot and an expansion bus connector.
The Regulus, which has a 4.48 x 2.55 inch footprint, is designed so that a variety of expansion modules may be stacked with it, which accounts for the spacers shown on its corners in the images above. An available VGA interface board (below, left) plugs into the baseboard's LCD interface connector, while a quad-UART module (below right) plugs into its expansion bus connector, adding four additional serial ports and Ethernet, according to E-con.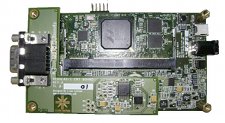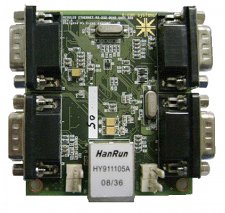 VGA (left) and UART (right) modules for E-con's Regulus baseboard (not to scale)
(Click either to enlarge)
E-con also sells 1.3, two, and 3.2 megapixel camera modules, which plug into the Regulus' camera interface. Other modules include a thermal printer, a fingerprint scanner, 802.11b wireless networking module, Bluetooth, a smart card reader, and a 1D/2D barcode reader.
Statements
Ashok Babu, president of e-con Systems, stated, "The eSOM300 will help our customers who have been requesting higher memory requirements and features like graphics acceleration and USB 2.0 device interface. The PXA300 is an ideal processor for industrial embedded solutions and handheld devices … because it scales up to 624MHz, with power consumption as low as 1.5W and 100mW in low power modes."
Anand Ramamoorthy, a general manager with Marvell, stated, "This pluggable eSOM300 module … will drastically reduce the baseboard design complexity and thereby reduce the time-to-market for customers designing embedded products. Customers can leverage E-con's vast and proven experience with Marvell's Application processors in the form of their CPU modules and associated design services."
Availability
E-con did not announce pricing for the eSOM300, but says the device will be on sale starting Apr. 15, with availability guaranteed at least until December 2015. Linux 2.6.x and Windows CE 6.0 R3 and BSPs (board support packages) will also be available, the company says.
For further information, see the E-con website, here.
---
This article was originally published on LinuxDevices.com and has been donated to the open source community by QuinStreet Inc. Please visit LinuxToday.com for up-to-date news and articles about Linux and open source.