Oct 20, 2010 — by Eric Brown — from the LinuxDevices Archive — 9 views
Austria-based Ronetix has begun shipping a 2.6 x 1.3-inch module and evaluation board built around Atmel's 400MHz, ARM926-based AT91SAM9G45 system-on-chip (SoC). The PM9G45 module includes 128MB of DDR2 memory and 256MB NAND flash, as well as interfaces for Ethernet, USB ports, serial ports, LCD touchscreens, memory card readers, and more, says the company.
The PM9G45 is targeted at industrial control systems, data loggers, point-of-sale (PoS) terminals, alarm systems, and medical equipment, among other embedded systems, says Ronetix. Previous Ronetix COMs have included its PM9261, built around an Atmel AT91SAM9261, and the company has also fielded a PM9263 based on the 200MHz Atmel AT91SAM9263.
According to Ronetix, the PM9G45 now shipping is version 1.2 of a product it first exhibited in February. The module uses Atmel's AT91SAM9G45, which also appeared in August in Bluewater Systems' Snapper 9G45 module. Clocked to 400MHz, the AT91SAM9G45 provides 32KB each of data and instruction cache. This is twice the clock speed and four times the cache of the earlier AT91SAM926x line. The SAM9G45 also provides 64K of internal SRAM.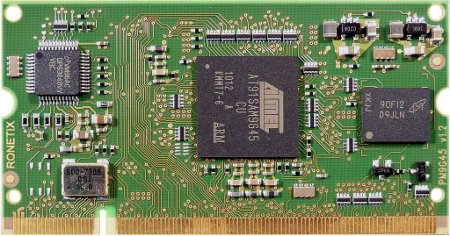 Ronetix PM9G45


(Click to enlarge)
The PM9G45 is equipped with 128MB DDR2 and 256MB NAND flash memory, as well as optional Atmel Serial DataFlash, says Ronetix. The module is said to be further equipped with a 10/100Mbps Ethernet MAC controller and an optional
DS2401
serial number chip.
I/O is via a 200-pin SODIMM connector, including dual high-speed multimedia card interfaces, plus USB, I2C, SPI, an image sensor interface (ISI), PWM, and JTAG, says the company. LCD and four-wire touchscreen controllers are said to support resolutions up to 800 x 600 pixels.
Measuring 2.6 x 1.3 inches (67 x 35mm), the module runs on a 3.3V power supply and typically consumes 600mW, says Ronetix. The PM9G45 is said to operate over the industrial temperature range of -40 to 185 deg F (-40 to 85 deg. C).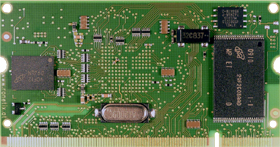 Rear view of the PM9G45
The PM9G45 runs embedded Linux and Windows CE 6.0, with free board support packages (BSPs) for both, says the company. The Linux BSP includes a Linux 2.6.30 kernel, along with a device-specific patch.
Features and specifications listed for the PM9G45 include:
Processor — AT91SAM9G45 (optional AT91SAM9M10) @ 400MHz (ARM926EJ-S); optional DS2401 serial number chip
Cache — 32KB data cache, 32KB instruction cache, MMU
Memory:

128MB DDR2
256MB NAND flash
8MB Atmel Serial DataFlash (optional)

Networking — 10/100 Ethernet MAC
SODIMM connector I/O:

High speed USB 2.0 OTG (host and device);
USB 2.0 full-speed host
4 x UARTs
4 x I/O controllers
2 x high speed memory card hosts (SDIO, SD/MMC)
2 x wire interfaces I2C
2 x 3-channel 16-bit timer/counters
2 x synchronous serial controllers (I2S mode)
2 x master/slave SPI
image sensor interface
LCD controller
4-channel 16-bit PWM controller
JTAG interface
8-channel 10-bit ADC with 4-wire touchscreen support
digital audio (AC97/I2S)

Power — 3.3V; 600mW typical consumption
Operating temperature — commercial and industrial -40 to 185 deg F (-40 to 85 deg. C)
Dimensions — 2.6 x 1.3 inches (67 x 35mm)
Operating systems — Linux 2.6.30; Windows CE 6.0
Starter Kit
The PM9G45 is offered alone, as well as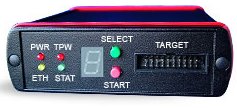 with a Starter Kit that includes an evaluation baseboard and the Ronetix PEEDI debug emulator (pictured), both accompanied by power supplies, says the company.
The PM9G45 is also said to be compatible with the previously available PM9263 evaluation board.
The Starter Kit is equipped with Windows CE 6.0 and the standard Linux distribution, as well as KaeilOS Linux, which now includes the OpenEmbedded build system. In addition, the kit supplies an Eclipse IDE (integrated development environment), U-Boot, GNU tools, an ARM Cross Development Guide, a Ronetix ARM toolset, and schematics, says the company.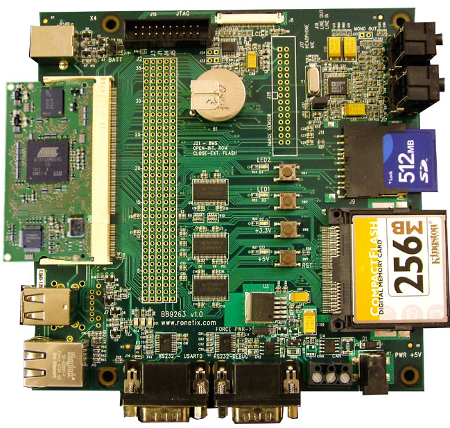 PM9G45 evaluation baseboard


(Click to enlarge)
The evaluation board is equipped with 128MB RAM, 256MB flash, plus the 8MB Atmel Serial DataFlash option. Also included are Ethernet, USB, and serial connectivity, an optional LCD touchscreen ranging from 3.5 to 8.0 inches, and the DS2401 serial number chip, says the company.
Features and specifications listed for the PMG45 evaluation board include:
Processor module — PM9G45
Memory:

128MB DDR2 SDRAM, 16-bit access, 100MHz bus
256MB NAND flash (bootable)
8MB Atmel Serial DataFlash (bootable)

Flash expansion — MMC/SD card slot; CompactFlash socket
LCD touchscreen (optional):

3.5-inch 320 x 240
5.7-inch 640 x 480
8.0-inch 800 x 600

Networking — 10/100 Ethernet port
Other I/O:

USB host port
USB slave port
RS232 port
UART

Other features — DS2401 serial number chip; audio codec
Availability
The Ronetix PM9G45 module is available now for about 65 Euros (about $90) for 1K quantities. More information may be found here, and in a PDF datasheet, here. More on the Starter Kit may be found here.
---
This article was originally published on LinuxDevices.com and has been donated to the open source community by QuinStreet Inc. Please visit LinuxToday.com for up-to-date news and articles about Linux and open source.