May 14, 2010 — by Eric Brown — from the LinuxDevices Archive — 12 views
South Africa-based mobile provider Vodacom has begun selling an Ubuntu Linux based netbook. The Linkbook, which was developed by a South African company of the same name, is equipped with 16GB of flash storage, HSDPA, WiFi, two USB ports, and an 8.9-inch display, says Vodacom.
The Linkbook is being offered for 199 Rand (R199), or about $26 a month with a two-year contract. This appears to include all data charges, however, including a 300MB data bundle. According to Vodacom, the hardware costs in the package represent only about a fifth of the total cost.
Customized for South Africa, the netbook ships with links to popular local online content and e-commerce websites. The Vodacom release suggests that the company plans to eventually roll the Linkbook out in other countries in its Pan-African network.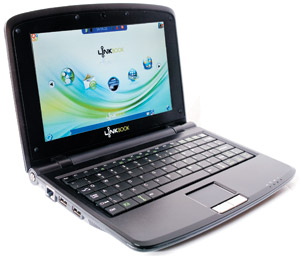 Linkbook
Neither Vodacom or Linkbook offered many technical details about the netbook. The Linkbook offers an 8.9-inch color display, 16GB of flash storage, and a SD slot, say the partners. Other features are said to include an embedded SIM card with HSDPA (High-Speed Downlink Packet Access) module, as well as WiFi, say the companies. Two USB 2.0 ports, a camera, and a microphone are also said to be supplied.
TechCentral published an early review of the Linkbook yesterday — the product was announced earlier this week — and filled in some more details. The Linkbook offers 256MB RAM and runs an unnamed, Motorola-derived PowerPC processor, says TechCentral.
The CPU is presumably one of Freescale's PowerPC processors. (Freescale broke off from Motorola in 2004, taking Motorola's semiconductor division with it.) This would be an unusual choice to say the least, as PowerPC processors are typically found in networking or industrial products rather than consumer electronics.
The Linkbook is further equipped with an Ethernet port and a VGA adapter, says TechCentral. Audio is said to be supported via headphone and microphone jacks, as well as a speaker.
Linkbook itself does provide a thorough list of software on the Ubuntu-based distribution, which it calls Link OS. Communications software include a 3G connection manager, Firefox, email, and MSN, as well as undefined "social networking" software. The system ships with OpenOffice, as well as music and movie players, an image viewer, games, and educational apps, says Linkbook.
Flash support is also provided, but not Flash 10, thereby prohibiting the viewing of YouTube videos, says the company. Linkbook says it plans to release this feature in the future.
Review: Solid 3G, limited battery
As is typical in most reviews of low-cost netbooks, TechCentral's judgment was mixed. Particular problems included a cramped QWERTY keyboard, a fairly unresponsive touchpad, and a battery that lasts only two hours — and that's with WiFi and 3G turned off, says the review.
On the plus side, 3G connectivity was fast and consistent, says TechCentral. While the highly customized version of Ubuntu appeared to the reviewer to be using the aging Hardy Heron (Ubuntu 8.04) release, the software selections and interface were generally given high marks. In the end, the review concludes "for the price, though, it's difficult to be too hard on the Linkbook."

According to Vodacom, PC ownership is still fairly rare in South Africa, although PCs are widely used in the business realm. In South Africa, the Linkbook will be going up against another Ubuntu-based netbook, the Intel Atom-based Simmtronics Simmbook (pictured).
The Simmbook has more of a corporate focus, however. It is preloaded with the IBM Client for Smart Work Linux distro, based on Ubuntu Netbook Remix. The netbook is first being introduced in South Africa for just $190, before being rolled out across Africa.
Other low-cost netbooks targeting Africa have included OLPC's XO line of Linux-ready netbooks.
Stated Shameel Joosub, Managing Director of Vodacom South Africa, "Linkbook is the first handheld computer of its kind available globally and aims to broaden web and computer access in emerging markets, tackling the digital divide and enhancing Vodacom's strategy to make the Internet more accessible to all South Africans."
Stated Mark Levy, co-founder of Linkbook, "We are working with a number of partners to create exciting applications and dynamic content that will further enhance our customers' experience of the web."
Availability
The Linkbook is now available from Vodacom in South Africa for R199 ($26.43) with a two-year contract, including a monthly 300MB data bundle, says the carrier. More information may be found on Vodacom, here, or at Linkbook, here.
The TechCentral review may be found here.
---
This article was originally published on LinuxDevices.com and has been donated to the open source community by QuinStreet Inc. Please visit LinuxToday.com for up-to-date news and articles about Linux and open source.