Mar 22, 2011 — by Eric Brown — from the LinuxDevices Archive — views
Sprint used the CTIA Wireless show in Orlando, Florida to announce two HTC products that are 4G-ready and run Android 2.3. The HTC Evo 3D phone is equipped with a 1.2GHz Snapdragon processor, a glasses-free 4.3-inch qHD display, and stereoscopic five-megapixel cameras, while the HTC Evo View 4G tablet features a 1.5GHz Snapdragon, a seven-inch, 1024 x 600 display, and pen support, says the carrier.
Sprint is making a big bet on the continuing popularity of 3D technology, with plans to roll out a smartphone capable of both shooting and displaying content in three dimensions without the need for special glasses.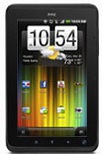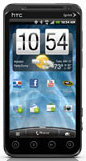 HTC Evo View 4G (left) and Evo 3D (right)
The HTC Evo 3D smartphone, as well as an HTC Evo View 4G tablet, both powered by Android 2.3, were
tipped yesterday
in a
Boy Genius Report
story, but are now formally announced with more detail.
Evo 3D offers glasses-free 3D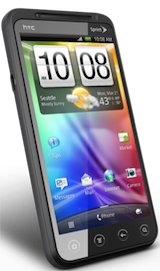 The HTC Evo 3D (right), offers Android 2.3 ("Gingerbread") running on a 1.2GHz Qualcomm Snapdragon dual-core processor. The Snapdragon will power the device's multimedia functions, which include shooting 3D images and videos via dual five-megapixel cameras embedded into the back. There's also a 1.3-megapixel front-facing camera with Qik video calling support, says Sprint.
The 4.3-inch multitouch screen offers qHD (960 x 540) resolution and glasses-free 3D support, says Sprint. The phone is said to offer 1GB RAM, 4GB internal flash memory, and an 8GB microSD card in a slot that can be expanded to 32GB.
The 5.0 x 2.6 x 0.48-inch phone weighs six ounces and runs on a 1730mAh battery, says the carrier. Other features are said to include 802.11b/g/n, Bluetooth, 3G and 4G (WiMAX) support, and a mobile hotspot capability for up to eight users.
HTC Evo View 4G adds WiMAX to Flyer design
On the tablet side of the equation is the HTC Evo View 4G, based on the previously announced HTC Flyer design. Like the Flyer, the seven-inch device offers 1024 x 600 resolution as well as an interface that supports input from an optional HTC Scribe pen stylus.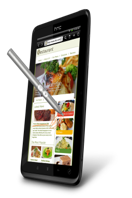 The Evo View 4G (pictured) relies on a 1.5GHz Snapdragon processor running Android 2.3, upgradable to Android 3.0 in the future, says Sprint. The tablet also offers the latest version of HTC's Sense UI layer.
The Evo View 4G is said to be equipped with 1GB RAM, 32GB internal memory, and a microSD slot. Cameras include a standard 2D, five-megapixel, rear-facing camera said to be capable of recording HD video, as well as a front-facing 1.3-megapixel model, says Sprint.
Other features are said to include 802.11b/g/n, Bluetooth 3.0, and GPS. Like the Evo 3D, the tablet can operate on Sprint's 3G and 4G networks.
Measuring 7.7 x 4.4 x 0.5 inches, the Evo View 4G weighs 14.9 ounces (421.8 grams), says Sprint. The tablet is said to run on a 4000mAh battery.
Sprint is clearly hoping that the red-hot 3D trend, having swallowed up movie theaters and televisions, will move to mobile devices. It joins a handful of other companies, including Toshiba, that are also making bets on 3D functionality.
In a flashy presentation here at CTIA 2011, Sprint offered up the HTC Evo View 4G as a super-powered multimedia tablet capable of fulfilling everybody's needs, from e-reading to video playback. But that doesn't differentiate the device much from other Android-based tablets hitting the market, including T-Mobile's newly announced LG G-Slate and the Motorola Xoom, which this week was announced with a Polycom telepresence videoconferencing option.
For students and others who rely heavily on writing and scribbling, though, the HTC Evo View 4G's main selling point could be the HTC Scribe digital pen, which lets users draw and mark a document or web page to their hearts' content. In a short demo following the presentation, Sprint representatives showed off the pen's ability to highlight documents, circle and notate parts of web pages, and even switch colors.
Mobile CEOs joke and hobnob at CTIA panel
Sprint faces increased competition in the mobile space thanks to AT&T, which announced Mar. 20 that it intends to acquire T-Mobile for $39 billion in cash. Should that deal go through, it would place Sprint in a weaker third position behind carrier giants Verizon and AT&T.
During the CEO roundtable that opened CTIA, AT&T Mobility CEO Ralph de la Vega suggested to CNBC's Jim Kramer that the "need for additional spectrum" helped drive the deal with T-Mobile. "Few things in life grow 8,000 percent over four years," he said, before adding that the potential acquisition "helps alleviate the crunch by allowing the networks to be combined and more efficiently utilize that spectrum."
Kramer then turned to Sprint CEO Dan Hesse, asking him what he thought of AT&T's announcement. "My opinion doesn't matter. I think the FCC and the DOJ…" Hesse began to reply. The room burst into laughter, knowing that Sprint had just blasted the planned merger the day before.
Indeed, the FCC (Federal Communications Commission) and DOJ (Department of Justice) are likely to take the implications of such a deal very seriously. Swallowing T-Mobile would make AT&T by far the largest carrier in the United States. Many analysts feel the carrier will face substantial hurdles in getting the acquisition approved by government regulators.
Meanwhile, Verizon and Sprint are likely to do everything in their power to stop the deal, although a counter-merger between the two is not seen likely by analysts.

In other Sprint news at CTIA, the carrier announced the Samsung-built Nexus S 4G phone (pictured) with 4G WiMAX support and a stock Android 2.3 distribution from Google. The phone also offers free Google Voice VoIP support, including unified communications features such as having a single existing phone number, supporting call routing to various phones.
Sprint also announced that the Samsung Epic 4G phone would be bumped up to Android 2.2 this week in an over-the-air (OTA) update.
Availability
Both the HTC Evo 3D and HTC Evo View 4G will debut sometime this summer, at undisclosed prices, says Sprint. More information on the Evo 3D may be found on the Evo 3D fact page, and notification signup may be found on this Sprint Evo 3D sign-up page.
More on the Evo View 4G may be found on this Evo View 4G fact page.
Nicholas Kolakowski is a writer for our sister publication eWEEK.
---
This article was originally published on LinuxDevices.com and has been donated to the open source community by QuinStreet Inc. Please visit LinuxToday.com for up-to-date news and articles about Linux and open source.