Mar 21, 2011 — by LinuxDevices Staff — from the LinuxDevices Archive — views
[Updated: 9:40 AM] — Sprint announced a WiMAX version of the Samsung Nexus S phone, and according to one report, will soon unveil a seven-inch Evo View 4G tablet and a 4.3-inch HTC Evo 3D smartphone, both running Android 2.3. Meanwhile, the carrier criticized AT&T's intentions to merge with T-Mobile, which would leave Sprint at a disadvantage in a market dominated by AT&T and Verizon.
Sprint announced a 4G WiMAX version of the Samsung Nexus S smartphone, which shipped first in December under a Google brand as the debut showcase phone for Android 2.3 ("Gingerbread"). Whereas the initial Google model was aimed primarily at developers and was available unlocked for $530, or $200 with a two-year T-Mobile contract, the Nexus S 4G will be available only with a two-year Sprint contract on either its 3G or 4G network.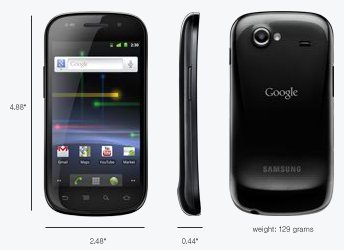 Sprint Nexus S 4G
The original Nexus S was limited to 3G cellular support, but the new model adds support for Sprint's 4G WiMAX network. The Sprint version retains the "pure-Google" focus of the Nexus S, releasing the phone without any carrier-specific additions or UI layers, and is officially named the "Nexus S 4G from Google."
The Nexus S 4G appears to be identical to the original except for the addition of 4G. It features a 1GHz Samsung S5PC110 "Hummingbird" system-on-chip, 16GB NAND flash, and a four-inch AMOLED display with WVGA (800 x 480 pixel) resolution, says Sprint. Other common features include a five-megapixel main camera, a VGA-resolution webcam, 802.11b/g/n, GPS, and Bluetooth 2.1.
The Nexus S and Nexus S 4G also add NFC (near field communication), supported for the first time in Android 2.3. This short-range wireless technology is the only major hardware divergence from the original Samsung Galaxy S smartphone design.
Sprint touts the Nexus S 4G for offering Google Voice technology, and says the phone will be available with a mobile hotspot capability for either 3G or 4G networks, supporting six Wi-Fi enabled devices connected simultaneously. For more details see Sprint's Nexus 4G announcement and its Nexus 4G web-page.
HTC Evo View 4G tablet builds upon Flyer design
Sprint is also expected to unveil a lineup of smartphones and tablets built by HTC at the International CTIA Wireless 2011 show in Orlando, Fla., which kicks off Mar. 21. Boy Genius Report claims to have got the inside scoop from a tipster who said Sprint will introduce a seven-inch HTC Evo View 4G tablet, as well as an HTC Evo 3D smartphone.
Sprint is also expected to announce a version of the Motorola Xoom tablet, as well as two Research in Motion (RIM) PlayBook tablets, says the story. BGR mentioned 4G WiMAX support only for the Motorola and RIM tablets, not the new HTC devices.
The HTC Evo View 4G is reminiscent of the forthcoming HTC Flyer tablet (pictured below), says BGR. While the Flyer is expected to run a "hybrid" version of Android 2.4 on an unnamed 1.5GHz processor, the seven-inch Evo View 4G will run Android 2.3 ("Gingerbread"). The story did not mention what processor the tablet would use.

The Evo View 4G will sport an aluminum unibody design, with a seven-inch, 1024 x 600 capacitive touchscreen, says the story. Like the Flyer, it is also said to offer support for an optional HTC Scribe pen, and a version of HTC Sense for slates. A five-megapixel rear-facing camera, a 1.3-megapixel front-facing camera are also available, as well as a 4000mAh battery, DLNA, and HDMI-out, says BGR.
Sprint will also pledge to offer Motorola's Xoom Android 3.0 "Honeycomb" tablet on its 4G WiMAX network in the coming weeks, says the story. The Xoom just received its Flash 10.2 boost, as Adobe released the latest version of its media player for Android 2.2, 2.3, and Android 3.0 devices on Mar. 18.
The new version of Flash features tablet optimization, automatic soft keyboard support, and tight integration with the Android 3.0.1+ browser. Just as desktop versions of Flash do, it now treats content as part of the web page instead of as a separate overlay, according to this eWEEK report.
Sprint is also said to be readying both a Wi-Fi-only and WiMAX version of Research in Motion's Blackberry PlayBook. The carrier said at the Consumer Electronics Show in January that it would sell a 4G PlayBook, becoming the first carrier to publicly support RIM's first tablet.
Finally, Sprint will unveil a "Samsung Rant 3" 3G touchscreen "messaging smartphone" with a solar rechargeable battery door, says the story. No operating system was mentioned, however.
Evo 3D phone to offer 3D, qHD resolution
Sprint's upcoming Evo 3D smartphone runs Android 2.3 and HTC Sense on a 1.2GHz, dual-core Qualcomm 8660 Snapdragon processor, says BGR. The phone gains its name from its 4.3-inch qHD (960 x 450) autostereoscopic 3D display, says the story.
The handset is fitted with a five-megapixel camera with a dedicated camera button, as well as a 1.3-megapixel front-facing camera, and can pump out 1080p video via HDMI, as well as 3D video in 720p, says BGR. The phone is said to be powered by a 1730mAh battery.
The Evo 3D would not only be Sprint's first 3D phone, but would be the carrier's first Gingerbread phone, and the first to support qHD (quarter high-definition) resolution, which currently graces AT&T's Motorola Atrix 4G. The Evo 3D would appear to be the logical heir to Sprint's popular, high-end HTC Evo 4G and Samsung Epic 4G, and although it's not mentioned in the BGR story, would likely run on its 4G network.
Verizon Wireless' now-shipping HTC Thunderbolt offers a similarly sized 4.3-inch display, but lacks 3D capability, and offers lesser WVGA resolution. The Thunderbolt runs on a single-core 1GHz Snapdragon running Android 2.2.
Last month, LG announced the first 3D-ready Android phone with its Optimus 3D. The 4.3-inch phone, which is based on a dual-core Texas Instruments OMAP4 processor, is headed to Europe in the second quarter.
In February, Sprint announced an interesting — some would say slightly insane — Kyocera Echo phone based on Android 2.2. The Kyocera-built handset features dual 3.5-inch WVGA touchscreens that can be combined to form a single 4.7-inch display, or can be split, with apps running either independently or in an "optimized" mode with complementary functions.
Sprint pleas for halt to AT&T bid for T-Mobile
As Sprint preps for a big CTIA roll-out, the carrier is already crying foul over the prospect of being the odd man out under a proposed merger between AT&T and T-Mobile. On Mar. 20, AT&T agreed to purchase T-Mobile USA from Deutsche Telekom AG, paying $39 billion in cash and stock for the struggling phone carrier to help accelerate its 4G LTE (Long-Term Evolution) network plans, as was reported in this eWEEK story. Deutsche Telekom will take an 8 percent equity stake in AT&T, according to the deal terms.
T-Mobile has 33.7 million mobile subscribers, but finds itself struggling to compete with Verizon Wireless and AT&T, which serve over 94.1 million and 95.5 million subscribers, respectively.
The deal makes sense technologically in that it would merge two networks running similar GSM technology. However, from a regulatory and antirust standpoint, it will face considerable scrutiny, says a separate eWEEK analysis of the deal by Nicholas Kolakowski.
A number of lawmakers have already spoken out against the proposed merger, saying that it would create a virtual duopoly in the U.S. carrier market. Sprint was also an early critic of the deal.
"A combined AT&T and T-Mobile would be almost three times the size of Sprint, the third largest wireless competitor," reads Sprint's Mar. 20 statement. "If approved, the merger would result in a wireless industry dominated overwhelmingly by two vertically integrated companies that control almost 80 percent of the U.S. wireless post-paid market."
Clint Boulton is a writer for our sister publication eWEEK.
---
This article was originally published on LinuxDevices.com and has been donated to the open source community by QuinStreet Inc. Please visit LinuxToday.com for up-to-date news and articles about Linux and open source.