Apr 15, 2008 — by LinuxDevices Staff — from the LinuxDevices Archive — 19 views

[Updated May 5] — A fledgling industry group has unveiled a stackable expansion interface aimed at unifying I/O cards across many single-board computer (SBC) form factors. The Small Form-Factor Special Interest Group (SFF-SIG) calls its Stackable Unified Module Interconnect Technology (SUMIT) "the biggest… advancement since PC/104."
(Click for larger view of Express104 board with SUMIT interface)
In closely related news, the PC/Consortium, which has long maintained a series of stackable board standards, announced that it has officially adopted a competing stackable board standard, PCI/104 Express. PCI/104 moves up to three connectors and 156 pins, in order to support full x16 PCIe, while SUMIT sticks with 104 pins, and tops out at x4 PCIe signals. Both rival interface standards are claimed to support next-generation PCI Express 2.0 signaling.
The SUMIT interface comprises two small surface-mount connectors usable singly or together. Between them, they support both legacy low-speed peripherals and modern high-speed interfaces like USB and x4 PCI Express. They'll see use initially on PC/104-sized "Express104″ boards, and also on pico-ITX and even much smaller form factors."
The original PC/104 spec defined a mechanical board form factor, as well as an interconnect technology. However, many board vendors wound up putting PC/104 interfaces on boards in other form factors, such as EPIC and EBX, in order to leverage the rich ecosystem of PC/104 expansion boards. So, SFF-SIG decided to de-couple the SUMIT interface from any specific form factor, and come up with an interface that could prove useful on as many different form factors, used by as many different industries as possible. The result is SUMIT.
Instead of using pins that pass all the way through the board, like PC/104, SUMIT uses a pair of one-sided, surface-mount QMS/QFS (quiet male "635"/quiet female "635") connectors with 52 pins each. Boards (typically I/O boards) that need pass-through do so with "vias" in the printed circuit board. Each connector is tiny, measuring less than an inch long, and optimized for a stand-off height of just a sixth of an inch (15.24mm).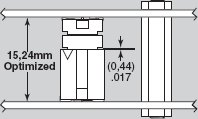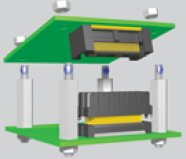 The SUMIT physical interface
(Source: Samtec)
Each SUMIT connector is optional. That means that A-only, B-only, and AB configurations are supported.
The "A" bus offers a single PCI Express lane that could support, say expansion cards providing Ethernet or SATA interfaces. Meanwhile, several low-speed buses aim to foster a "smooth transition away from the long-standing ISA Bus," the SFF-SIG said, through support for LPC (low-pin count). LPC can be converted to ISA via a bridge chip, or used for PS/2 and COM expansion.
The "B" connector adds more high-speed serial interfaces — another PCI Express x1 lane and an x4 ("by four") lane — with the aim of satisfying requirements for storage, networking, video, acquisition, and scientific applications. Its connector is slightly larger than the A connector, measuring in at 22.35 mm x 8.13 mm (0.880 x 0.320-inches).
Each connector has four banks of pins, with a center grounding blade for "impedance, EMI, and DC ground return." The connectors were originated by SFF-SIG member Samtec, but are not proprietary nor restricted to a single vendor.
SFF-SIG President Colin McCracken said the connectors have already been tested with next-generation Generation 2 PCI Express standards. "Samtec put together a hardware test stack, and it can support Generation Two PCI signalling rates with a stack of four cards. We will have G2 PCI Express silicon very soon, if we don't have it already."
Additional touted SUMIT benefits include:
Maps well to new single-chip chipsets from several manufacturers for sub-10 Watt designs
Closely follows the trend of replacing parallel interfaces with high-speed serial interfaces
Supports three-chip x86 solutions, but also scales down to the low cost, space, and power space
Legacy peripheral support on the A bus via:

LPC UARTs and super I/O
LPC-to-ISA bridge chips
SERIRQ serial interrupt signals
Express104 and pico-ITX — first form factors
SUMIT will see use initially in boards based on a new "Express104" form factor, also unveiled by the SFF-SIG at the pre-ESC conference last night. The new form factor shares a footprint and other physical specifications with PC/104, but uses SUMIT connectors in place of PC/104 expansion.
SUMIT will also see early use in boards based on the pico-ITX form factor, which Via donated to the SFF-SIG earlier this month. Adopted by the multi-vendor group, pico-ITX is destined to become an official, industry-maintained, open specification, rather than a de facto standard whose specification is maintained by a single vendor. Compared to PC/104, pico-ITX is slightly smaller — 10.92 vs. 13.68 square inches.
Express104 and pico-ITX are just the beginning, the SFF-SIG hopes. It expects SUMIT to see wide adoption across many form factors, resulting in a "consolidation of I/O ecosystems" that improves economies of scale for expansion cards usable across lots of different board markets.
Similarly, the SFF-SIG hopes it can serve as an "incubator" for many other additional industry standards besides SUMIT, Express104, and pico-ITX. Executive Director Colin McCracken, explains, "One or more sponsors of a new spec can come to the organization, and we'll quickly form a working group. The sponsor can get reviews from the membership, yet not feel like they're losing control over the end product. We expect quite a lot of working groups."
As the old saw goes: that's the good thing about standards — there are so many to choose from. Although, it could also be argued that not nearly enough existing standards support the high-speed serial interconnects such as SATA and PCI Express, which is virtually required for gigabit Ethernet, unless you want to risk bus saturation.
The SFF-SIG was founded last fall, by board vendors WinSystems, Via, VersaLogic, Octagon, and Ampro. Since then, it has gained CongaTec as a voting (founder-level) sponsor, along with general members General Standards, Portwell, Samtec, Silicon Systems, and Tri-M.
WinSystems VP Bob Burckle stated, "Embedded system designers are asking for simple, modular ways to embrace emerging high-speed I/O, yet without sacrificing connectivity to serial ports, A/D, and GPIOs. Hanging multiple bus bridges, translators, and FPGAs off of a PCI Express lane to get to low-speed I/O is cumbersome, adding unnecessary risk, cost, power consumption, design and debug time, and board space usage."
In a statement, McCracken said, "The Small Form Factor area of the market appears to be one of the fastest growing segments. This is the optimum solution to a fragmented space."
More details about SUMIT may be found on the SFF-SIG's newly updated website, here. Samtec's product flyer for its ASP-129637-01, ASP-129646-01, and other SUMIT connectors can be found here [PDF download].
---

This article was originally published on LinuxDevices.com and has been donated to the open source community by QuinStreet Inc. Please visit LinuxToday.com for up-to-date news and articles about Linux and open source.