May 20, 2011 — by LinuxDevices Staff — from the LinuxDevices Archive — 1 views
T-Mobile has an aggressive lineup of predominantly Android-based smartphones planned for this summer, starting with the 4.3-inch HTC Sensation 4G on Jun 8, followed later by a slider version of the MyTouch 4G, according to a leaked roadmap. Meanwhile, Android continued to make gains in the latest Millennial Media and Gartner studies, with Gartner pegging Android's global 1Q smartphone share at a dominating 36 percent.
T-Mobile isn't just kicking back and waiting for AT&T to solve its financial woes with a merger. The carrier has an aggressive lineup of new devices planned for this summer and beyond, if a leaked roadmap shared by ThisIsMyNext holds water.

In June alone, subscribers could see six new options, says the publication. Starting on June 8, the already announced HTC Sensation 4G (pictured at right) is expected to arrive. Playing at the high end of the market, the Sensation 4G features a 4.3-inch quarter-high-definition display, a dual-core 1.2GHz Qualcomm Snapdragon processor, and Android 2.3, known as "Gingerbread."
HTC's Sense user interface will be on board, along with a video-on-demand service and a kickstand for easier viewing. (Speaking of video-on-demand, a May 17 report from Sandvine reveals that Netflix streaming alone now accounts for an amazing 30 percent of Internet traffic.)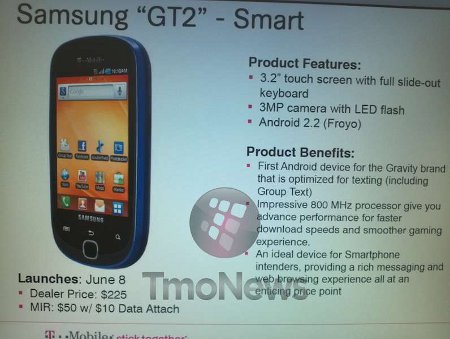 Samsung Gravity Touch 2 marketing materials
Source: TMONews
Expected to join the Sensation 4G on June 8 is the Samsung t589 Gravity Touch 2, a 3.2-inch, Android 2.2 update to the
original Gravity Touch
. This is according to
TMONews
,
which posted
some alleged marketing materials for the phone shown above.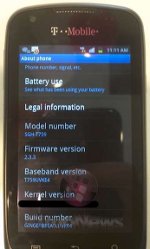 TMONews also outed another phone due June 8: the vaguely iPhone 3GS-looking t759 "Hawk," leaked as the "Exhibit 4G". Shown in a TMONews shot at left, this is expected to be a 3.7-inch, Android 2.3.3 model, with unconfirmed rumors saying it offers what would seem to be an unlikely1.4GHz ARM11 processor.
Also due in June is the Huawei E587 "Wayne," a rounded, slim HSPA+ (Evolved High-Speed Packet Access) 4G mobile hotspot device with 802.11n capability, says ThisIsMyNext.
On June 15, expect to see the Samsung t499 "Tass" handset. This is said to be a U.S. version of the Galaxy Mini, a low-end Android phone with a 3.14-inch capacitive touchscreen. Jump ahead two more Wednesdays to June 29, and the Samsung t379 "Triumph" is expected to launch as the Gravity 4, an update to the basic Gravity 3 messaging phone.
MyTouch 4G to get dual-core slider makeover?
Moving into July, expect the HTC "Doubleshot" — likely to launch as the MyTouch 4G Slide — on July 6. As the name suggests, this is probably a version of the Android-based MyTouch 4G with a QWERTY keypad. Per the Droidreign rumor mill, features are likely to include a 3.7-inch WVGA display (the MyTouch 4G has a 3.8-inch TFT display), a dual-core processor, and an eight-megapixel camera on the back.
Also likely, if the MyTouch 4G is a close relation, is a front-facing camera, Wi-Fi connectivity, a "Genius" button and, of course, 4G connectivity.
Come July 15, expect the HTC "Marvel," likely to be called the Wildfire S, says ThisIsMyNext. This 3.2-inch display is expected to run Android on an 800MHz Qualcomm processor. Two weeks after that, on July 27, we should see Research In Motion's BlackBerry "Monza," a 3.7-inch phone with a 1.2GHz single-core Snapdragon.
That puts us into August, when T-Mobile is expected to launch the BlackBerry Bold Touch Aug. 17 and the "Apollo," a.k.a the next BlackBerry Curve, Aug. 31, says the story.
Later that month we'll see a new version of the Android-running Huawei S7 seven-inch tablet, possibly beefed up for 4G, says the story.
Back-to-school season will bring a mysterious LG "Flip II" on Sept. 14 and the Samsung Hercules Sept. 26. The Hercules is rumored to be a version of the recent Samsung Infuse 4G, but it moves from a single-core 1.2GHz Samsung Hummingbird processor to a dual-core 1.2GHz Qualcomm Snapdragon.
The Hercules is said to feature a 4.5-inch Super AMOLED (active-matrix organic LED) Plus display, NFC (near field communication) support, an eight-megapixel rear camera and HSDPA (High-Speed Downlink Packet Access) and HSUPA (High-Speed Uplink Packet Access) technology.
Finally, for Nokia and Symbian fans, the Nokia Nuron 4G is slated for Sept. 21, said to include 14.4Mbps HSPA, a 3.2-inch display, a five-megapixel camera and Symbian 3.1 for under $150.
"Some of the most exciting-sounding items in the roadmap, though, don't yet have launch dates," writes Chris Ziegler on ThisIsMyNext. These are said to include an HSPA-capable Huawei phone; a simple flip Samsung "Jamong" phone, which may be exclusive to the prepaid crowd; and something listed as the "Bresson" and thought to be the next model in the T-Mobile super-duper, Android-based G-series lineup.
Though, "if HTC simply de-skinned the Sensation 4G, unlocked the bootloader and sold it as the T-Mobile G-Infinity," Ziegler adds, "I'd be doing a heartfelt fist pump or two."
Android keeps on coming in Gartner, Millenial reports
One common thread in the above T-Mobile roadmap is the large number of Android devices on the list. Indeed, Gartner's latest first quarter 2011 smartphone study released this week estimates that Android grabbed 36 percent market share worldwide, reports eWEEK. This is compared with 27.4 percent from Nokia Symbian, the OS it replaced in late 2010 as the world's leading smartphone platform. Apple's iOS came in third with 16.8 percent of the market, while Research in Motion hit 13 percent share for the quarter, says Gartner.
Company

1Q11

Units

1Q11 Market Share (%)

1Q10

Units

1Q10 Market Share (%)

Android

36,267.8

36.0

5,226.6

9.6

Symbian

27,598.5

27.4

24,067.7

44.2

iOS

16,883.2

16.8

8,359.7

15.3

Research In Motion

13,004.0

12.9

10,752.5

19.7

Microsoft

3,658.7

3.6

3,696.2

6.8

Other OS

3,357.2

3.3

2,402.9

4.4

Total

100,769.3

100.0

54,505.5

100.0

Worldwide smartphone sales to end users by operating system in 1Q11 (thousands of units)
Source: Gartner
Microsoft accounted for a mere 3.6 percent share, almost half the 6.8 percent it boasted in 1Q 2010, says Gartner. As noted in an analysis of the Gartner
report by our sister publication WindowsForDevices
, the majority of these sales were from the supposedly defunct Windows Mobile as opposed to the new Windows Phone 7. Gartner, however, expects Windows Phone sales will rise considerably this year thanks to Nokia's endorsement.
Android also performed well in Millennial Media's latest ad impression ratings, as reported in another eWEEK story, posted on May 19. Android racked up 53 percent ad impression share, shaving share from Apple's iOS, which netted 28 percent of ad impressions in April, down from 31 percent in March. RIM's BlackBerry took the No. 3 slot with 16 percent.
Android essentially took back share it lost to iOS in March, when Android fell to 48 percent share. Millennial attributed the loss to the launch of Apple's iPhone 4 on Verizon Wireless.
Michelle Maisto is a writer for eWEEK.
---
This article was originally published on LinuxDevices.com and has been donated to the open source community by QuinStreet Inc. Please visit LinuxToday.com for up-to-date news and articles about Linux and open source.