Nov 3, 2010 — by LinuxDevices Staff — from the LinuxDevices Archive — views
T-Mobile began selling its HTC-manufactured MyTouch 4G Android 2.2 smartphone, which runs on its HSPA+ network. The carrier also announced further expansion of HSPA+ to six more cities, and now officially dubs it a 4G network, instead of 3.5G.
T-Mobile officials are calling their HSPA+ network "4G," despite previously describing it as "3.5G." And to complement what they are now branding "America's Largest 4G Network," the officials announced the expansion of its 4G mobile broadband service to six additional cities.
In the statement, T-Mobile says Chicago, Colorado Springs, Ft. Wayne, Ind., Louisville, and Raleigh-Durham and Wilmington, N.C., are a part of that footprint, which now extends to 75 metropolitan areas and will cover 200 million people by the end of the year.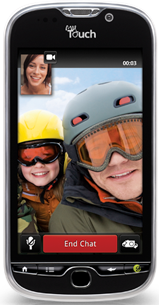 The carrier also announced the availability of the Android-based T-Mobile MyTouch 4G smartphone (pictured at right) and the Windows 7-ready Dell Inspiron Mini 10 4G netbook. The carrier recently shipped its first HSPA+ ready phone, the HTC-manufactured G2 smartphone.
The HTC-manufactured T-Mobile MyTouch 4G can take advantage of the network's swiftness, whether it's called HSPA+ or 4G. Announced a month ago without mention of the 4G name, the phone runs Android 2.2 on a 1GHz Snapdragon MSM8255 processor, and provides an 8GB memory card.
The MyTouch 4G is equipped with a 3.8-inch WVGA screen, says T-Mobile. Other MyTouch 4G features include Wi-Fi calling and a front-facing five-megapixel camera with HD camcorder and videoconferencing support.
The phone also includes Swype gesture text input and voice-activated features powered by Dragon Dictation, including a "Genius Button."
T-Mobile also announced it is offering a new Dell Inspiron Mini 10 4G netbook, says T-Mobile. This is claimed to be the first netbook with built-in access to its 4G network. The Mini 10 4G runs Windows 7 Starter Edition, and includes a "fast processor" for surfing, emailing and the like. With a two-year contract, T-Mobile has priced it at $230 — or $450 without a contract.
Ad takes on AT&T, iPhone
To get the word out about the MyTouch 4G and its HSPA+ network, T-Mobile began airing a nationwide television ad Nov. 2 that piggybacks on Apple's "I'm a Mac" campaign. In the spot, a beautiful brunette introduces herself as the MyTouch 4G, while a handsome young man — with a heavy, older balding guy literally clinging to him, "the old AT&T network" — introduces himself as the Apple iPhone 4.
"That'll slow you down," says the brunette of her companion's load, going on to explain that, while the iPhone 4 can video chat wherever there's Wi-Fi (at "like, say, an airport," adds the bald guy), the MyTouch can video chat "practically anywhere," without needing Wi-Fi.
4G or not 4G?
The big question is how T-Mobile can call HSPA+ 4G, "when it's not 4G," said Technology Business Research analyst Ken Hyers.
"I think that there's two semi-valid responses to that," Hyers told eWEEK. "4G has technically not been defined by the International Telecommunications Union. But that kind of sidesteps the argument. They say their speed is equivalent in a mobility environment to what you could expect from, say, WiMAX. So yes, it's not what we think of as genuine 4G, high-speed broadband, but nonetheless it is much faster than [traditional 3G.]"
In a Nov. 2 press announcement, T-Mobile CTO Neville Ray played a bit loose with the definition, stating that "4G is about performance."
"Today T-Mobile's HSPA+ network is delivering 4G speeds that match and often beat WiMAX and are readily comparable to what early LTE will deliver," Ray said. "Our 4G network is capable of theoretical speeds up to 21Mbps and we have seen average download speeds approaching 5Mbps on our MyTouch 4G phone in some cities with peak speeds of nearly 12Mbps."
Additionally, Ray added, "The footprint of our 4G service is not something that competitors are going to match anytime soon."
Calling the network 4G, said TBR's Hyers, is a way for T-Mobile to explain to consumers that they have a "genuine high-speed wireless network," though it will likely also open the door to some interesting, retaliatory advertising from Verizon, which will want to explain the difference between HSPA+ and its LTE network, scheduled to go live during the fourth quarter.
"They've definitely put a target on their backs," Hyers said of T-Mobile.
"Fudging the difference" between 3.5 and 4G could cost T-Mobile some "street cred," Endpoint Technology Analyst Roger Kay told eWEEK. "But that having been said, in today's Fox-oriented information atmosphere, in which facts are optional, the ad 'simplifies' things for the end user," said Kay. "After all, you get fast data, and all that clap-trap about international standards is just mice whispering. My guess is that the campaign will essentially work. It's smart and edgy."
Availability
The T-Mobile MyTouch 4G is available in the U.S.at T-Mobile retail and online stores, and at Best Buy, Costco, Radio Shack, Sam's Club, and Target for $200 with a two-year service plan, after a $50 mail-in rebate. More information may be found here.
Michelle Maisto is a writer for our sister publication eWEEK.
---
This article was originally published on LinuxDevices.com and has been donated to the open source community by QuinStreet Inc. Please visit LinuxToday.com for up-to-date news and articles about Linux and open source.