Jun 27, 2011 — by Eric Brown — from the LinuxDevices Archive — 7 views
Italian vendor Ekoore announced three tablets with capacitive multitouch displays — two Atom-based tablets that run Ubuntu 11.04 or Windows 7, and an ARM-based tablet running Android 2.3. The 11.6-inch "Perl" offers a 1.66GHz Intel Atom N450; the 10.2-inch "Python" moves to the DDR3-ready Atom N455; and the seven-inch Android 2.3-based "Pascal" uses a new 1.2GHz Telechips TCC8803 processor, according to the company.

In March 2010, Italy-based Ekoore introduced a 10.2-inch Ekoore ET10TA10 tablet (pictured at right) that ran Ubuntu Linux or Windows on an Intel Atom N270. This was followed by a 10-inch Ubuntu/Windows Drake tablet that moved up to an Intel Atom N450.
Now Ekoore is offering two new Atom-based tablets running Ubuntu 11.04 or Windows 7 — the 11.6-inch N450-based Perl and the 10-inch, N455-based Python. Also new is a seven-inch Pascal tablet that runs Android 2.3 on a 1.2GHz Telechips Cortex-A8 processor. All three new tablets — which would appear to have been named by the company's web programmers — offer capacitive multitouch displays and accelerometers, says Ekoore.
Perl
The Perl shows off an enormous 11.6-inch display with 1366 x 768 resolution, said to be manufactured using anti-scratch and anti-slip material. Accelerometers are available for automatic landscape/portrait switching, says the company.

Ekoore's Perl
The large tablet is said to weigh about one kilogram, or about 2.2 pounds. That's almost a full pound over the 10.1-inch, 1.3-pound
Samsung Galaxy Tab 10.1
. The dimensions run 11.6 x 7.7 x 0.55 inches (295 x 195 x 14mm), which is not too bad for an Intel-based tablet, but is considerably thicker than the 0.34-inch Tab 10.1. A 4800mAh battery is said to offer up to five hours of operation.
The Perl can be bought with either Windows 7 or the new, somewhat controversial Ubuntu 11.04. The device uses an Intel Atom N450 processor clocked to 1.66GHz, and ships with 1GB or 2GB of DDR2 memory, says Ekoore.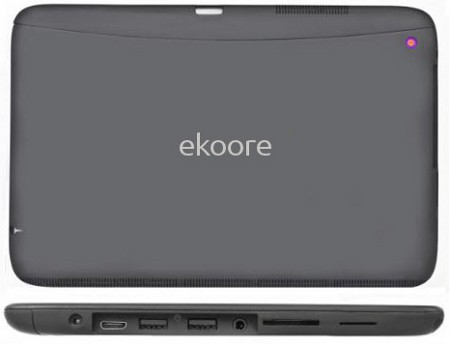 The Perl measures 14mm thick
While the ET10TA10 provided a 160GB hard disk drive (HDD), the Perl offers 32GB or 64GB solid state drives (SSDs). A microSD slot and two USB ports are also said to be available.
The Perl features a 10/100 Ethernet port, as well as 802.11b/g/n wireless networking, Bluetooth, and optional 3G, available via a SIM slot, says Ekoore. A 1.3-megapixel webcam is available along with a mini-HDMI port, speakers, a microphone jack, and a headphone jack, says the company.
Python
The Python offers a smaller, 10.2-inch, 1024 x 600 screen, again with accelerometers, says Ekoore. The tablet runs Windows 7 or Ubuntu 11.04 on a 1.66GHz N455, a version of the Atom N450 that supports DDR3 memory, offered here in 1GB or 2GB capacities.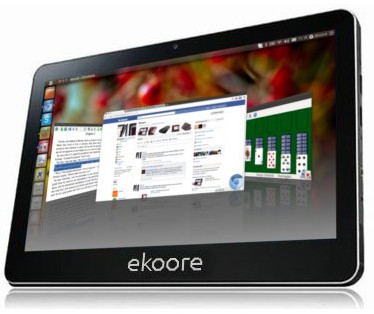 Python
As with the Perl, there's a 32GB or 64GB SSD, but no microSD slot appears to be specified. Once again, An Ethernet port, 802.11b/g/n, Bluetooth, and optional 3G are available, says Ekoore.


Python dimensions
The Python is further equipped with a mini-HDMI port, speakers, microphone, and a 3.5mm audio port, says the company. Three USB ports are said to be available, as well as GPS.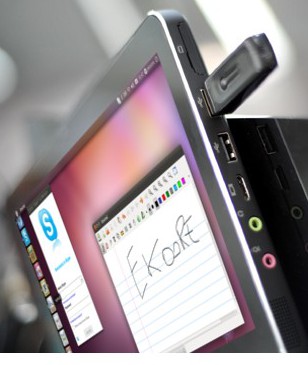 Python with optional 3G stick
Weighing slightly less than the Perl at 1.98 pounds (0.9 kilograms), the Python nevertheless is slightly thicker at 0.62 inches (16mm). A 3100mAh battery is said to offer four hours of operation.
Pascal
The Android 2.3-based Pascal follows up on an earlier Android 2.2-based EM7A Vega. Like the Vega, the Pascal sports a seven-inch screen, but offers capacitive multitouch technology as well as 800 x 480 resolution.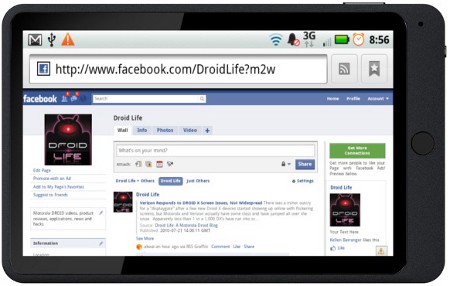 Pascal
(Click to enlarge)
The Pascal moves up from the Vega's 800MHz processor to a 1.2GHz ARM Cortex-A8 Telechips TCC8803 system-on-chip (SoC) , said to be available with OpenVG and OpenGL acceleration. This is a variation on Telechips' new ARM Cortex-A8-based
Telechips TCC88xx
line (see block diagram below). Fabricated with 45nm technology, the SoC is a major step up from the ARM11-based Telechip SoCs we've covered in the past, including the TTC8902 found on the new
Raspberry Pi
$25 Linux computer.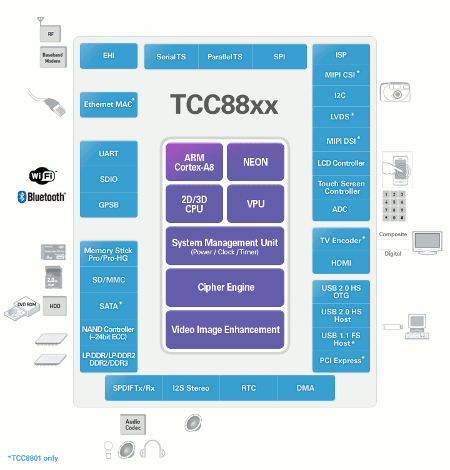 Telechips TTC88xx block diagram
(Click to enlarge)
The Pascal is available with a modest 512MB of DDR3 RAM, a 4GB SSD, and a microSD slot for expansion, according to Ekoore. The tablet is further equipped with a two-megapixel webcam, as well as 802.11b/g, but there's no mention of Bluetooth, Ethernet, GPS, or optional 3G.


Pascal dimensions
(Click to enlarge)
A mini-HDMI port is available along with a mini-USB 2.0 port, says the company. Other standard features are said to include speakers, microphone, a 3.5mm audio port, and accelerometers. The Pascal measures 7.56 x 4.76 x 0.63 inches (192 x 121 x 12mm) and weighs a mere seven ounces, says Ekoore. Thanks to the ARM processor and smaller size, battery life is better, with the 3600mAh battery cranking up to six or seven hours, according to the company.
Perl demo on YouTube
Source: Ekoore (Click to play)
Availability
The three new Ekoore tablets appear to be available now at the following prices, including VAT: Perl (559 euros, $754 U.S.); Python (539 euros, $766); Pascal (229 euros, $325). More information on the tablets may be found, respectively on Ekoore's Perl page, its Python page, and its Pascal page. While the tablets appear to be aimed primarily at a European audience, they are also said to be launched globally.
---
This article was originally published on LinuxDevices.com and has been donated to the open source community by QuinStreet Inc. Please visit LinuxToday.com for up-to-date news and articles about Linux and open source.