Apr 1, 2011 — by Eric Brown — from the LinuxDevices Archive — 5 views
The Ubuntu project released the Beta 1 version of Ubuntu 11.04 ("Natty Narwhal"), which switches the Linux distribution to the homegrown, multitouch Unity desktop environment. Ubuntu 11.04 advances to Linux 2.6.38, adds LibreOffice 3.3.2, offers Firefox 4, and enhances the Software Center with "rate and review" plus an experimental try-before-you-buy function.
With Ubuntu 11.04, the open source, Canonical-backed Ubuntu project has combined Ubuntu Netbook Edition (UNE) and Ubuntu Desktop Edition into a single release simply called "Ubuntu." Ubuntu Server Edition, meanwhile, is now called "Ubuntu Server."
Ubuntu Netbook lives on only in the ARM OMAP3 and OMAP4 images, which ship with the new Unity 2D interface by default, says the Ubuntu project. The beta release is also said to debut a "headless" developer image for Texas Instruments OMAP3 and OMAP4 hardware, featuring a serial port set-up and a minimal command line installation.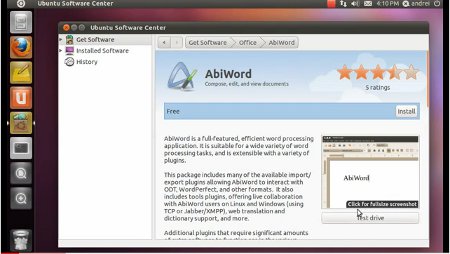 Ubuntu 11.04 Beta 1 Software Center, showing Unity icons on left


Source Webupd8.org
(Click to enlarge)
Ubuntu leapfrogs several Linux kernels since October's Linux 2.6.35-driven
Ubuntu 10.10 ("Maverick Meerkat")
, moving up to the latest
Linux kernel 2.6.38
. This brings Ubuntu new features including AppArmor security, support for Intel IPS (Intelligent Power Sharing), removal of the Big Kernel Lock, and file system improvements to Btrfs, Ext4, and XFS, says the project.
Other upgraded underpinnings include GCC 4.5, Python 2.7, Dpkg 1.16.0, and Upstart 0.9, says the project. The beta also brings X.org 1.10.0 and Mesa 7.10.1, as well as an updated Network Manager said to have been patched to use Appindicator.
Unity and Disunity
As promised back in October, Ubuntu 11.04 also debuts a switch from the GNOME desktop environment as the default in favor of Canonical's multitouch-enabled Unity interface, thereby improving 3D graphics support and touchscreen support, according to the company. Available as a preview with UNE in Meerkat, Unity is now front and center, and is clearly the most significant change in Natty Narwhal.
Unity is said to include a launcher that provides drag-and-drop re-ordering of icons, full keyboard navigation support, keyboard shortcuts, right-click context menu quick-lists, and the ability to switch between running applications. In addition to offering the "Dash" start screen, Unity adds a full "Lenses" (previously known as "Places") implementation for applications and files. A 2D version of Unity is also said to be available.
While GNOME is still available under the installation option "Ubuntu Classic," and will still be required for those who lack 3D driver support, there are few details on the release, or when an upgrade to the upcoming GNOME 3.0 might be available. Classic GNOME panel applets are not supported in Unity, although indicators such as nm-applet will still work, says the project.
The switch to Unity has caused controversy in the Ubuntu community, along with other changes that are not yet implemented, including a switch from X Window to the Wayland windowing interface. Wayland, however, won't be ready in time for the final Natty Narwhal release on Apr. 28, according to PC World's Katherine Noyes.
In another move causing controversy among some Ubuntu developer loyalists, Natty Narwhal is introducing Qt libraries as an alternative development environment to Gtk+. As with the switch to Unity, this further extricates Ubuntu from its traditional embrace of all things GNOME.
LibreOffice and Firefox 4
Less controversially, the new release has swapped out OpenOffice.org for the new LibreOffice 3.3.2 office suite fork. Application upgrades, meanwhile, include the switch to the major new Firefox 4 release, and the Banshee 1.9.5 music player, which has been integrated into Ubuntu's sound menu.
The Ubiquity installer is now "much simpler," says the project, offering more clearly worded instructions. Meanwhile, users can now replace or upgrade existing Ubuntu installations, as pictured below.
The Ubuntu One personal cloud service for Ubuntu users now allows selective syncing on the control panel, says the project. File syncing is said to be faster, and sync progress is shown in a graphic display.
Ubuntu 11.04 also uses the Compiz window manager rather than Mutter by default, says the project. According to PC World's Noyes, a touch-enabled "Love Handles" UI feature is now available as a Compiz plug-in. This is said to make it easier to resize or move windows on a touchscreen device.
Noyes also notes that after the Ubuntu Technical Board considered enabling by default the option to "install third-party software" when installing Ubuntu, the board voted last week not to go through with the plan. As a result, explains Noyes, Adobe Flash, for example, will be downloadable from within Ubuntu, but the option won't be selected by default.
Software Center review and test features
The Ubuntu Software Center now allows users with Ubuntu Single Sign On accounts to rate and review installed applications, and they can optionally share reviews via integration with social networking services added to the available Gwibber app, says the Ubuntu project. Other Software Center improvements are said to include faster startup, more integrated software purchase workflow, improved feedback on installation and removal, and alternate search suggestions.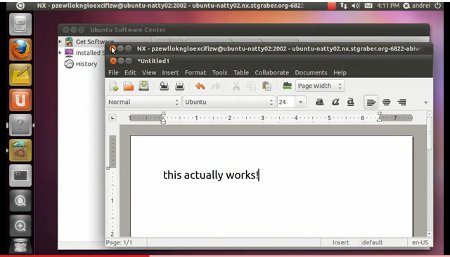 AbiWord test drive using Ubuntu 11.04 Software Center


Source Webupd8.org
(Click to enlarge)
While the project makes no mention of it in the release notes, the beta version of the Ubuntu Software Center lets users test out selected applications before installing them,
according to Webupd8.org
. The "test drive" feature runs the apps on a remote server, so it requires a good broadband connection, says the story. The publication also posted a
YouTube
demo of the feature, available below, and shown in the Ubuntu 11.04 Software Center images above.
Demo of Ubuntu 11.04 Software Center test drive feature on YouTube


Source Webupd8.org
(Click to play)
Ubuntu Server improves power management, tries out OpenStack
Ubuntu Server has also been upgraded, with features such as easier server provisioning. There is also an updated Powernap 2.0 power management app that enables a new method to reduce power consumption, resulting in typical power savings of about 14 percent, claims the project.
Ubuntu Server upgrades its Eucalyptus cloud technology to version 2.0.2, and also offers as a technology preview alternative the open source OpenStack, available in the Universe repository. Additonal Server improvements are said to include an update to Libvirt 0.8.8 and an updated kernel for the Ubuntu Server cloud. We expect our sister publication eWEEK will review Ubuntu Server, once Natty Narwhal goes final on Apr. 28.
Availability
The Beta 1 version of Ubuntu 11.04 ("Natty Narwhal") is available now for free download, although with the usual early beta caveats. More information and links to downloads may be found on the Ubuntu 11.04 Beta 1 release notes page.
---
This article was originally published on LinuxDevices.com and has been donated to the open source community by QuinStreet Inc. Please visit LinuxToday.com for up-to-date news and articles about Linux and open source.