Feb 12, 2009 — by Eric Brown — from the LinuxDevices Archive — 3 views

The EPA may re-consider its exemption of "Data Acquisition Mode" (DAM) states from the sleep-mode requirements associated with its Energy Star ratings. So it told noted cryptographer Martin Hellman, who informed the EPA his Linux-based Sony HDTV consumed 150 times its advertised standby power budget.
The Energy Star program is designed to ensure that compliant devices not only offer power efficient operation, but also refrain from draining power when turned off or in sleep mode. The EPA (Environmental Protection Agency), which by most accounts has greatly relaxed its regulatory enforcement over the last eight years, apparently missed the loophole discovered by TV owner Martin Hellman (yes, that Martin Hellman). The loophole exempts devices from having to comply with maximal standby power requirements while in DAM mode. In the case of Hellman's TV, DAM was used to update an EPG (electronic programming guides), a process that ran with alarming frequency, before Hellman found a way to disable it.
Hellman first reported the problem to DeviceGuru technology blog on Jan. 18. He said purchased the TV in November, tested it with an inexpensive "Kill-a-Watt" power meter, and found it drawing 20 Watts — instead of the claimed under 0.1 watt sleep mode power draw — for about 75 percent of the time. This averaged out to 15 watts, he said, or 150 more times than promised.
A week later, Hellman wrote to DeviceGuru again with a solution to disabling the EPG on his Linux-based, 37-inch Sony LCD HDTV, model KDL-37XBR6 (pictured above), one of Sony's Bravia line of HDTVs. The solution involves resetting the machine (holding the up arrow on the remote while pressing the TV's power-on button), and then choosing "Don't remind me again" when prompted to set up the EPG. Hellman now enjoys a TV power-off rating of 0 watts, he reports.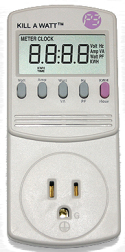 P3's Kill-a-Watt
P4400
(Click for details)
For those wishing to keep the EPG, a better solution might be to download their Sony TV's source code, and have a look at relaxing the update frequency. We're checking with Sony to find out if its devices are set up to allow users to fix bugs like this, or whether they are, to quote Richard Stallman, "Tivo-ized."
Meanwhile, the Obama administration has already signaled that tougher consumer electronics energy standards are on the way. So, the EPA may well eliminate the DAM problem and address loopholes in the Energy Star specs in the coming year.
For those who want to do their own power-vampire sleuthing, DeviceGuru recommends P3's Kill-a-Watt P4400, (pictured at right) which costs only $23 on Amazon. The average cost of residential electricity in the U.S. last year was 11.34 cents per killowatt/hour, suggesting that Hellman will save about $14 in electricity this year (depending on how much TV he watches), recuperating the cost of his Killowatt in less than two years.
Availability
The reports from Martin Hellman on DeviceGuru can be found here (identifying the problem), and here (finding the solution).
---

This article was originally published on LinuxDevices.com and has been donated to the open source community by QuinStreet Inc. Please visit LinuxToday.com for up-to-date news and articles about Linux and open source.