Jan 28, 2004 — by LinuxDevices Staff — from the LinuxDevices Archive — 97 views

[Updated May 6, 2004] — Data Design Corp has launched a micro-miniature single-board computer (SBC) which it claims provides a powerful Linux system on a truly tiny board. Based on a PowerPC 405GPr processor clocked up to 400MHz, the "Linux Rocket" SBC includes DDC's custom PPC Linux kernel and flash… filesystem, and targets kiosk, industrial monitoring and control, instrumentation, set-top-box, and vending machine applications.
DDC hopes Linux Rocket will help its customers avoid "the complexities and design risks of the processor subsystem," while sacrificing little in terms of size and power consumption.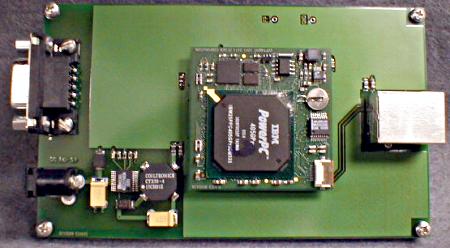 Linux Rocket shown on an optional development board that provides port bring-outs
The hardware platform
According to Manager of Procurement and Sales Jerry Giganti, Linux Rocket is available with PowerPC 405GPr processors clocked as fast as 400MHz. The platform includes 32 MB of NOR flash memory, and 64MB of DRAM.
The board's peripheral interfaces include:
25MHz PCI bus
Ethernet PHY (Physical layer transceiver)
Real Time Clock with battery backup
I2C Port
RS-232 Level Terminal Interface — for use as console
TTL Level Serial Port
JTAG Connection Point
Giganti notes that Local Bus is also supported. "Local Bus can speak to the CPU outside of PCI, providing a fast development option if you don't want or need all the legacy bus overhead."
Operating temperature range spans from 0 degrees to 70 degrees Celsius. The board requires 0.5 Amps of 3.3V DC power.
The optional carrier board brings out standard Ethernet, serial, and other connectors (RJ-45, RS-232, etc).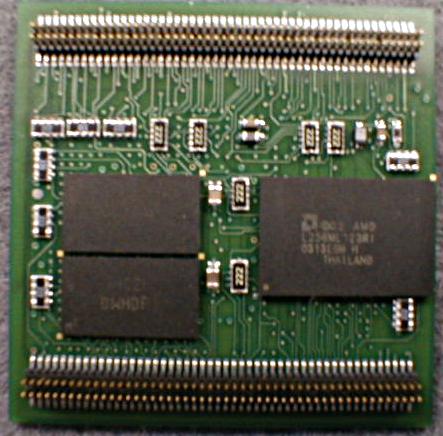 Linux Rocket, back view
Software side
According to Giganti, DDC ported Linux to the platform "100 percent" in-house, over the course of about a year, after starting with a MontaVista Linux distribution based on Red Hat. The software development phase lasted "much longer" than the hardware integration, with the flash filesystem implementation comprising the most challenging phase.
"I believe we may be the first to market a PPC development board supplied with embedded Linux on a flash-based filesystem," Giganti comments.
In addition to a 2.4.18 Linux kernel, DDC's Linux implementation includes a number of open source packages, including apache, busybox, tinylogin, and WLAN tools.
Giganti notes that Linux Rocket can easily be updated and customized with standard Linux software for any number of embedded applications. "Linux Rocket is a great tool to showcase our talents. We specialize in small-size devices, and kernels for PPC that boot from flash memory. We hope to be asked to do integration projects with the Linux Rocket."
"Everyone here is under the impression that Linux will be the OS of choice for embedded applications," Giganti adds.
IBM certified
'After our board was certified by IBM, a number of their FAEs (Field Application Engineers) asked us for samples, mostly to see if it was real," chuckles Giganti. "Since then, at least one IBM distributor has shown interest," perhaps in part due to IBM's recent efforts to leverage Linux in marketing its PowerPC processor chips.
The device is available now in quantity, priced at $375/unit in quantities over 1,000. Several hardware add-ons are also available, including an 802.11 WLAN daughter-card.
A $12,000 developers kit is also available, with two Linux Rockets and a small plug-in board (shown above) providing integrated DC-DC converter and interface port bring-outs.
Giganti says DDC is prepared to offer a range of support services around Linux Rocket, which it sells through its services division. "We're essentially a high-end embedded services company," notes Giganti. Giganti adds that the company currently counts 16 employees, but is seeking to hire additional kernel-level Linux programmers.
---

This article was originally published on LinuxDevices.com and has been donated to the open source community by QuinStreet Inc. Please visit LinuxToday.com for up-to-date news and articles about Linux and open source.