Jun 3, 2009 — by Eric Brown — from the LinuxDevices Archive — 9 views
Pixel Qi is showing off LCDs that work in both color and monochrome e-paper modes, and are claimed to require less than half the power of an ordinary display. Separately, E Ink, supplier of displays for Amazon's Kindle, says it has been acquired for $215 million by its primary supplier.
Pixel Qi, which describes itself as a "fabless developer of a new class of screens," is a spinoff from OLPC (One Laptop Per Child), where the former's founder Mary Lou Jepsen is said to have invented the XO-1 laptop's sunlight-readable display technology. Pictured below, the technology allows a portable computer's screen to be switched from a standard, backlit color mode to a reflective monochrome mode, saving power and allowing the device to be used even in direct, strong sunlight.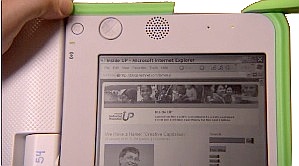 The XO-1's monochrome eBook mode
Unlike the
electrophorescent
displays offered by E Ink Corporation — see later in this story — Pixel Qi's screens use conventional LCD technology, and require at least some power whenever they're on. Akin to the screen offered back in 2002 by NEC's pioneering Versa DayLite E120 notebook, however, the Pixel Q1 displays come with a switch that can change them from standard, color transmissive mode to a monochrome reflective mode. In the latter mode, the screen picks up all its illumination from ambient lighting, making e-books easier to read and slashing power consumption by up to 75 percent, the company claims.
Pixel Qi (pronounced "Pixel Chee") says its latest transflective screens, produced on existing LCD assembly lines by a contract manufacturer, have been considerably refined over the one on the XO-1, not to mention the dim panel featured on the DayLite E120. According to John Ryan, the company's COO and VP of sales and marketing, "You can get a really nice e-paper reflective state — what has been difficult in the past is getting really good saturated color too."
For its screens' debut at the Computex show in Taipei, Pixel Qi reportedly modified off-the-shelf Acer netbooks, fitting them with transflective displays and drilling a hole for a switch that changes the screens from transmissive to reflective mode. In the video embedded at the end of this story, Ryan demonstrates the displays' ability to be read in "real tropical sunlight," and also notes that unlike electrophorescent screens, transflective displays refresh themselves fast enough to display video, and to respond instantly to user inputs.
The E Ink alternative
Amazon's Linux-based Kindle and a growing cadre of primarily Linux-based e-books use an electrophorescent monochrome display sourced from E Ink Corporation. It's claimed such displays offer a bright, high-contrast, thin, lightweight display technology that remains legible under "any lighting condition" — much like newsprint. Once an image has been "printed," no power is needed to hold it, reducing energy requirements by 99 percent compared to LCDs, E Ink adds.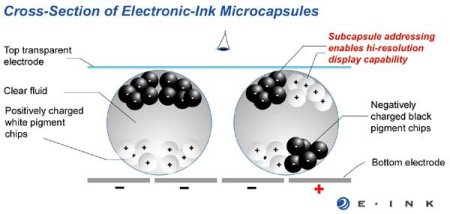 E Ink's electronic paper requires no power to hold images
Source: E Ink Corporation

John Ryan of Pixel Qi concedes that apart from their power-saving potential, E Ink displays offer "whiter whites" than even the best LCD technology. Judging by E Ink's use in a rollup e-reader, the Polymer Vision Readius (below, right), such screens are also more flexible than LCDs requiring part-time backlighting. On the downside, both E Ink and a related, color "film-substrate" display technology offered by Fujitsu require approximately two seconds to switch between pages.


The Polymer Vision Readius
(Click image for further information)
Today, E Ink announced it has been acquired for $215 by a key supplier, Taipei, Taiwan-based PVI for $215 million. According to the companies, the acquisition, expected to close in the fourth quarter, will expand capacity and facilitate product improvements.
In 2005, the companies say, PVI acquired the ePaper business of Philips Electronics and partnered with E Ink to provide displays for the first electronic books, including the Sony Reader and the Amazon Kindle. PVI also invested heavily in dedicated driver chips and touch screens, as well as flexible displays, which "will be marketed later this year." In 2008, PVI bought a 74 percent stake of Hydis Technologies of Korea, quadrupling capacity for the transistor backplanes used in its displays.
It's claimed that E Ink technology is now used by nearly 20 e-book manufacturers worldwide. The company's Vizplex imaging film is used in cellphones, signage, smartcards, memory devices, and battery indicators, E Ink adds.

Pixel Qi's John Ryan shows off the company's displays
Source: Techvideoblog.com
(click to play)
Availability
According to Pixel Qi's Ryan, the company recently received its first batch of transflective displays, will have a second batch in a week, and expects a third much larger batch in a month. By early 2010, production will have reached "hundreds of thousands a month," Ryan added.
Pixel Qi says it will offer its screens for netbooks later this year, and "other devices in 2010." More information can be found on the company's website, here.
For further information on E Ink's acquisition by Prime View International, see a story on our sister site eWEEK.com, here.
---

This article was originally published on LinuxDevices.com and has been donated to the open source community by QuinStreet Inc. Please visit LinuxToday.com for up-to-date news and articles about Linux and open source.