Apr 21, 2009 — by LinuxDevices Staff — from the LinuxDevices Archive — 11 views

One Laptop Per Child (OLPC) announced a "1.5" refresh of its Linux compatible XO-1 mini-laptop for schoolchildren in developing nations. The revised version switches to a Via C7M processor, increases memory to 1GB of DDR2 RAM, and includes 4GB or 8GB of flash, says the association.
(Click here for a larger view of the OLPC's XO-1)

Version 1.5 of the XO-1, announced on an OLPC blog Friday, is not to be confused with the XO-2, a mockup of which is pictured at right. The XO-2, apparently due for release in late 2010, features a folding design with two screens, including one that can be employed as a virtual keyboard, as shown. Recent industry reports have suggested that OLPC may use an ARM processor instead of an x86 CPU on the XO-2, in a quest for longer battery life.
The revised XO-1, meanwhile, uses the same case, display, and cosmetics as in the past, retaining features such as a pivoting screen and a power-saving, monochrome eBook mode (below). But, following AMD's January announcement that it will not upgrade or replace the 500MHz Geode LX800 SoC (system-on-chip) previously incorporated in the XO-1, the OLPC has decided to switch to Via's C7-M ULV processor.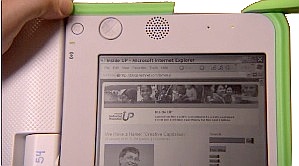 The XO-1's monochrome eBook mode
According to the association, the alternative x86 CPU will make revision 1.5 of the XO-1 compatible with existing software, and comparable to the original in terms of battery life. When necessary to save power or keep the XO-1 cool, the C7-M ULV can be throttled back from 1GHz, where it has a 5 Watt TDP, to just 400MHz, where it uses 1.5 Watts, says the OLPC. The organization adds that the alternative CPU will "make aggressive suspend easier," and is more likely to fall in price in the future than was the Geode LX800.
Interestingly, the XO-1 1.5 will also use Via's recently announced VX855 northbridge/southbridge, a 27 x 27mm chip that Via says is capable of providing 1080p HD video playback. The XO-1 isn't likely to be pressed into service in home theaters, but the VX855 also uses just 2.3 Watts, significantly lower than the previous VX800 and VX800U companion chips.
The VX855 includes HD audio and a video capture port, which the XO-1 1.5 will utilize for its webcam and a new stereo microphone, according to the OLPC. Meanwhile, it's said, the revised XO-1 will include 1GB of DDR2 memory, and either 4GB or 8GB of flash storage.
Apparently, the new XO-1 will now be able to run Windows XP without the help of an add-on SD card. Presently, running Windows XP on the Linux-ready XO-1 requires adding a 4GB SD card to the mini-laptop, via a slot that is awkwardly placed under the device's screen.
Background
Championed by MIT's Nicholas Negroponte, and manufactured by Quanta of Taiwan, the XO-1 began to ship at the end of 2007. Initial units featured an AMD Geode LX700 processor clocked at 433MHz, an integrated graphics controller driving a 7.5-inch, 1200 x 900 screen, 256MB of RAM, and 1GB of flash storage. The XO-1 originally ran Linux exclusively, along with a custom user interface called Sugar and a WiFi-based mesh networking feature.
In January 2008, it was revealed that OLPC was actively collaborating with Microsoft on delivering a Windows XP version of the XO. This news did not go down well with many of the Linux faithful in the organization, who were further outraged when Intel joined the OLPC board and was accused of undercutting OLPC sales overseas in favor of its own, similarly targeted Classmate PC. (Intel has since quit the board.) XO developers were also concerned with the poorly implemented "Give One Get One" campaign, as well as the decreasing focus on developing Linux-based educational software.
Before the May 2008 announcement that OLPC had finally signed a deal with Microsoft and developed a prototype Windows XP version of the XO, project co-founder Walter Bender and other contributors to the Sugar user interface left the group. They went on to found a project called SugarLabs, which is committed to developing open source GNU/Linux-based educational software.
Originally, millions of XO-1 devices were to have been sold by now. But Negroponte told CNN in March that approximately 750,000 of the mini-laptops are in the field, reportedly adding that their number is expected to double by June. As noted, Intel's Classmate (right) has provided aggressive competition, and was recently released in China for the first time.
Despite its troubles, which include reports that the XP version does not work well, OLPC's XO is widely credited for having started the recent boom in small-scale netbooks. As documented in our Linux Netbook Showcase, the netbook category is one of the fastest growing areas in computer sales.
Availability
According to an entry on the OLPC blog, prototype versions of the XO-1 1.5's motherboard will be available for driver development at the end of May, and will be followed by prototype devices "around the end of August." The blog promises a "continued effort to maintain a low price point" but did not specify how much the devices will sell for.
---

This article was originally published on LinuxDevices.com and has been donated to the open source community by QuinStreet Inc. Please visit LinuxToday.com for up-to-date news and articles about Linux and open source.