Sep 30, 2008 — by Eric Brown — from the LinuxDevices Archive — 90 views

Nokia-owned Trolltech announced a new name for both itself and the latest version of its Qtopia development platform for Linux consumer electronics devices. Trolltech is now "Qt Software," named for the cross-platform development framework upon which Qtopia (now called Qt Extended 4.4) is based.
(Click for larger view of screens from two Qt Extended 4.4 reference designs: a Video IP Deskphone (left) and a mobile phone)
Nokia has re-launched the Norway-based Trolltech as a "fully integrated entity within the Nokia Devices unit, called Qt Software." The move follows Trolltech's acquisition by Nokia in June, around the same time the cell phone giant announced it was purchasing the remaining half of Symbian and planning to recast the Symbian OS as open source software.
A few months earlier, Trolltech changed the name of its Qt-based "Qtopia Core" platform for Linux device development to "Qt for Embedded Linux". The name change reflected the arrival of a new version of Qtopia Core (formerly "QT/Embedded") called "QT for Windows CE." Shipping since May, the new version adds support for both Windows CE and Windows Mobile.
The new Qt Extended, formerly called Qtopia, builds upon Qt for Embedded Linux and its core windowing system with a user interface (UI) and application stack. Earlier versions of Qtopia included the Qtopia Phone Edition, now folded into the Qt Extended framework.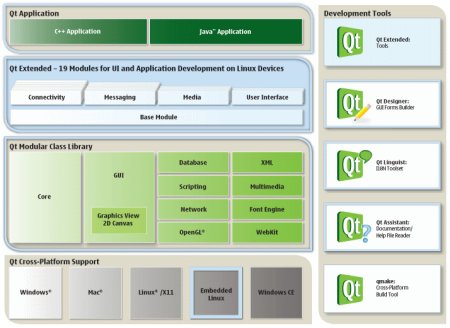 Qt 4.4 architecture
(Click to enlarge)
Qt Extended 4.4 builds upon Trolltech's May release of the cross-platform
Qt 4.4
(see diagram above), which is also the foundation of Qt for Embedded Linux. Qt (pronounced "cute") is intended to let developers compile binaries for various platforms — Linux, Windows, Mac, Java, and now Windows CE — from a single C++ code base. Comprised of some 400 C++ class libraries, its API is said to be consistent across all supported platforms.
As with Qt 4.4, Qt Extended 4.4 integrates the open source WebKit browser engine. In addition, Qt Extended 4.4 offers a more modular architecture, improved support for touch interfaces, unified messaging support, "Telepathy" instant messaging (IM), and an automated UI test system, says the company.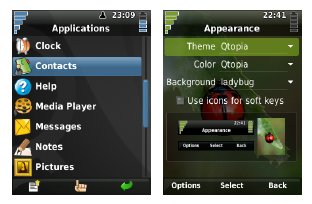 Qt Extended application screens
The key enhancement to Qt Extended is the reconstitution of the platform into specific modules, said Qt Software CTO Benoit Schillings, in an interview. "Qt Extended is much more configurable by module," he said. "The modules and UI needed for a car navigation system are quite different than say, a cell phone, so now we have different modules for different technologies like Bluetooth and cellular, so it's easier to reconfigure. It also makes testing easier, as developers can now easily replace an individual interface."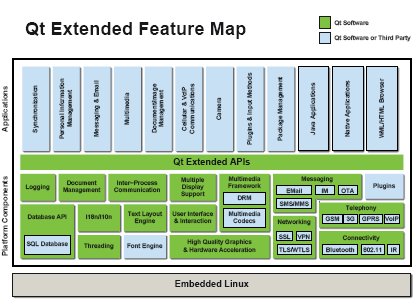 Qt Extended 4.4 architecture
Qt Extended, meanwhile is aimed specifically at Linux consumer electronics device UI and application development. Specific new Qt Extended 4.4 features are said to include:
Modular architecture for feature selection
Touch-based user interface
IP communications framework based on Telepathy for IM (XMPP) and presence
Unified inbox for email, SMS, MMS, and IM
Push IMAP email and other messaging enhancements
Qt UI Test, a tool for automated system tests of target devices
Video IP Deskphone reference design for 3.5-inch touchscreens (see below)
19 modules (see diagram above), including:

Telephony
Cellular communications
IP communications
Bluetooth
Infrared
Connectivity
PIM
Messaging
Location
Essentials
Games
Messaging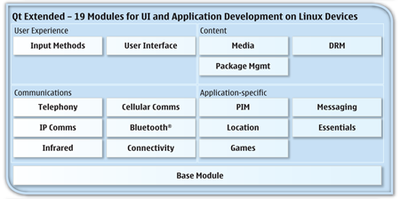 Qt Extended modules
The Linux SDK for Qt Extended 4.4 is said to offer the following components:
Qt Designer — UI and visual form design
Qt Assistant — presenting online documentation.
Qt Linguist — internationalization support
Qt Virtual Framebuffer (QVFb) — testing in desktop environment
QBuild — build automation and configuration
QtUiTest framework — system/UI testing
According to Schillings, the inclusion of scripting tools for testing UIs should be particularly welcome among developers. "We've made it easier to validate the UI or the core functioning framework," he said. "We have new tools for UI automation that go beyond screen comparisons. You can really check the value of the UI in a symbolic manner. Clearly, testing is the place where everyone under-invests, so providing these tools should add significant value."
Schillings also commented on the new touchscreen interface incorporated in two available reference designs. "It's a reference implementation for the phone market that runs on the OpenMoko Neo 1973," he explained. "We think it's a very good interface."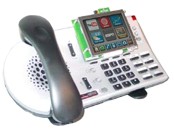 Video IP Deskphone design
In addition to being included in the OpenMoko-based mobile phone reference design, the touchscreen interface is also incorporated in a new Video IP Deskphone reference design (pictured). The design was pre-announced in January as a "kitchen communicator" design that would support unified communications. Based on technology derived from a company called Fonav that Trolltech acquired last year, the Video IP Deskphone incorporates a MIPs-based Broadcom reference board.
Specific features of the Video IP Deskphone design are said to include:
Broadcom 1103 MIPS CPU with 1180 Multimedia DSP (Reference Board BCM91103VP)
64MB DRAM; 64MB internal flash
1GB external memory card
3.5-inch landscape QVGA screen with LCD resistive sensor overlay for finger-touch input
Phone keypad
Board support package (BSP) with Broadcom PhoneXchange 5.0, GCC 4, and Linux kernel 2.6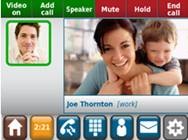 Video IP Deskphone application screen
The new IM system , meanwhile, is based on Telepathy, a unified framework for providing IM, voice, and video over IP and point-to-point sockets (Tubes). A version of Telepathy was recently adopted by GNOME 2.24 and the new embedded device version, GNOME Mobile.
Schillings would not comment when asked whether Qt Software would play a role in the Linux-based Maemo distribution used on Nokia's Internet Tablet, or if the business unit would be involved in the planned open-source conversion for Nokia's Symbian mobile OS. He did say, however, that, "The goal of Qt is to be a cross-platform system; we are working on ports and investigating ports on the whole product range of Nokia."
Earlier this month Nokia VP Ari Jaaksi announced that his company planned to add 3G/HSPA capabilities to an Texas Instruments OMAP3-optimized Maemo 5 release for its N8xx Internet Tablets.
Stated Sebastian Nystrom, VP of Qt Software, Nokia, "Qt Extended is designed to accelerate software development for a wide range of consumer devices, such as video IP phones, media players and other advanced devices. With the new release of Qt Extended, we are making it easier to differentiate the user experience and the feature set."
Availability
Qt Extended 4.4 is available now, says Qt Software. More information may be found here.
---

This article was originally published on LinuxDevices.com and has been donated to the open source community by QuinStreet Inc. Please visit LinuxToday.com for up-to-date news and articles about Linux and open source.