Nov 29, 2005 — by LinuxDevices Staff — from the LinuxDevices Archive — 5 views

Trolltech has updated its software suite for Linux-based mobile phones. Qtopia Phone Edition (QPE) version 2.2 adds VoIP (voice-over-IP) capabilities targeting dual-mode and "converged" devices, among other enhancements. Additionally, the company is co-hosting a one-day government-sponsored mobile phone conference in Beijing, China today.
Trolltech says that more than 30 vendors are using or have used QPE to build mobile phones — up considerably from last February, when the company said 20 phone designs based on Qtopia were in the works. The company claims its Qtopia product family — which includes a PDA stack, a cross-platform application framework, and an SDK (software development kit) — has more than 75 customers, up from 50 customers last February.
Trolltech positions QPE as an independent, open software solution that provides phone makers with "complete control of branding and the user interface." The previous release of QPE, version 2.1, came out about a year ago, adding features aimed at less expensive, higher-volume hardware, including devices without touchscreens.
QPE 2.2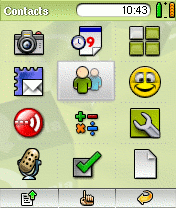 Trolltech calls QPE 2.2 "a turnkey application platform that lets manufacturers deliver IP telephony on Linux-based devices." It also describes QPE 2.2 as "the first Linux-based VoIP software solution for mobile and wireless phones and converged media devices."
Analyst firm ABI predicted last summer that dual-radio mobile phones with both cellular and VoIP-over-WiFi ("VoWiFi") capabilities would catch on, primarily because VoWiFi works better indoors.
So far, Linux-based phones with VoWiFi capabilities have been shipped by NEC, Motorola, and others. Additionally, Devicescape earlier this month shipped a secure WiFi stack targeting VoWiFi phones and other mobile and embedded devices.
Trolltech says QPE 2.2 has a framework architecture that lets customers choose their own SIP (session initiation protocol) stack. The product is delivered with a "reference integration" of a SIP-based open source VoIP application, the company says.
Other touted enhancements in QPE 2.2 include:
Support for dual displays, application transparency, and animated graphical user interface elements
Additional SMS and email functionality for expanded messaging capabilities
Live MP3 streaming and improved media player performance
Extended internationalization and language support
QPE 2.2 supports screens as small as 176×208, including those with or without touchscreens. It comes with applications for PIM (personal information management), telephony, SIP-based VoIP, advanced messaging, SMTP email client authentication, games, media playing, and content streaming. It also includes predictive keypad text input software, as well as handwriting recognition capabilities.
QPE is based on Unicode, to support languages with double-byte characters. Supported languages include simplified Chinese, UK and US English, Japanese, German, French, Portuguese, and Italian.
QPE supports Java VMs (virtual machines) from Esmertec, IBM, and Sun, and Java applications are rendered with a native Qtopia look and feel, Trolltech says.
QPE also includes synchronization features that work with Microsoft Outlook, as well as Trolltech's free, cross-platform desktop PIM suite.
QPE requires a 2.4 or newer Linux kernel, and GCC 2.95 or later. A "minimum build" version targets devices with 8MB of Flash, and 16MB of RAM. The "standard build" version targets devices with 16MB of Flash, and 32MB of RAM. QPE has been tested on ARM, X86, MIPS, and PowerPC, Trolltech says.
CEO Haavard Nord said, "Mobile IP telephony opens a new world of services that combine voice and data. Vendors can now easily build VoIP functionality into Linux-based devices."
QPE 2.2 is available now.
Chinese mobile phone conference
Trolltech additionally announced that it is co-hosting a one-day mobile phone conference today in Beijing, China. Trolltech opened a Beijing office in April, and counts some of China's biggest mobile phone makers — including Cellon and ZTE — among its customers.
The "Chinese Mobile Phone Leadership — Leveraging Linux" event was organized by the China Academy of Telecommunications Research (CATR) on behalf of the Ministry of Information Industry (MII). The event is sponsored by Intel, Texas Instruments, Philips, MontaVista, Opera Software, Pollex, and Teleca, and attended by China's "major mobile phone enterprises," Trolltech says.
The MII's director-general of science and technology, Zhang Xinsheng, said, "With over 370 million subscribers, China has been the fastest growing mobile phone market in the world. We hope China's enterprises can leverage Linux to build their leadership in the coming years."
CATR's president, Yang Zemin, said, "China has been on the forefront of the embedded Linux movement, and it is the most comprehensive marketplace for open source products and wireless handsets."
Nord commented, "We are pleased to support the conference and to be closely involved in organizing it with CATR. Embedded Linux is becoming a standard technology for mobile devices. Linux platforms allow manufacturers of mobile devices to deliver cutting-edge and uniquely-branded products. The price points that Linux offers are only a fraction of proprietary platforms, a very important factor in price-competitive markets like China."
He adds, "With the encouragement of the Chinese government, China has been one of the first countries to benefit from Linux. As Greater Asia and major global organizations embrace Linux, the opportunities for leading-edge Chinese manufacturers will only increase."
---

This article was originally published on LinuxDevices.com and has been donated to the open source community by QuinStreet Inc. Please visit LinuxToday.com for up-to-date news and articles about Linux and open source.