Aug 14, 2006 — by LinuxDevices Staff — from the LinuxDevices Archive — 3 views

Trolltech, best known for development tools and Linux application stacks for phones and other mobile devices, will ship an "open" Linux-based phone in September. The "Greenphone" features a user-modifiable Linux OS, and is meant to jumpstart a third-party native application ecosystem for Linux-based mobile phones.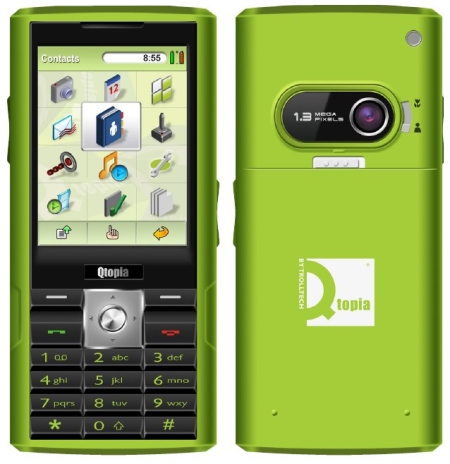 Trolltech's Greenphone, front and back
(Click to enlarge)
The Greenphone appears to be a working GSM/GPRS mobile phone endowed with a bootloader amenable to letting users re-flash the phone with modified Linux-based firmware, via a mini-USB port. The phone will not be available standalone, but rather as part of a development kit. The kit will be offered under separate licensing terms to open source developers, educational institutions, "major" software vendors, and to "phone designers and manufacturers," Trolltech says.
Trolltech says it hopes the Greenphone will help foster a third-party application ecosystem around its Qtopia Phone Edition (QPE) Linux mobile phone stack. Such an ecosystem is "critical in satisfying growing customer demands, and shortening development and delivery cycle times," it says.
Anticipated applications include games, business applications, and web services frontends, along with "unpredictable" applications. The company says it expects to be "surprised" by what users come up with, adding, "[The] spirit of innovation has been key to the success of the PC and Internet. We think that the same dynamic has to appear in the mobile market."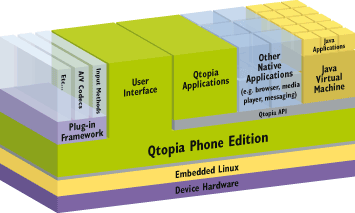 Trolltech's QPE mobile phone stack architecture
Along with QPE, the Greenphone will be based on a Linux kernel of unspecified origin and version. The Greenphone development kit will include documentation and tools for developers targeting QPE-based Linux mobile phones. The kit will also apparently include source code for key QPE applications, such as the address book and dialer.
Trolltech is positioning the Greenphone as the "first open Linux mobile device for application developers." It hopes the product will enable a variety of corporate and community developers to "create, modify, and test Linux-based mobile phone applications on a working GSM/GPRS device."
A Greenphone marketing brochure states, "Many of the simple services typical phones have today and which are well understood by users can be extended to enhance their functionality. Opening up the source code rather than adding new applications can accomplish this."
Features and specs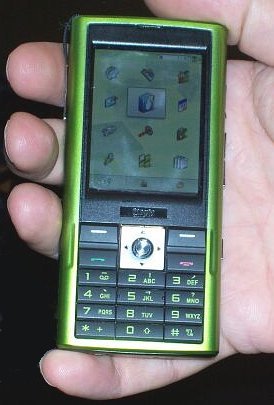 The Greenphone is manufactured for Trolltech by Yahua Teltech, one of its customers based in China. The phone has a fairly thin and small "candybar" form factor, and measures 4.2 x 1.9 x 0.6 inches (106.5 x 49.0 x 15.6mm). It is based on a dual-core Marvell (formerly Intel) XScale processor clocked at 312MHz. It has 64MB of RAM, and 128MB of flash, expandable through a mini-SD card slot.
The Greenphone has a QVGA (320 x 240) LCD touchscreen display, in addition to hardware buttons to support keypad-driven user interfaces. Trolltech's QPE has supported both touchscreens (popular in technology-driven Asia) and keypad interfaces (popular in convenience-driven markets such as Europe and the U.S.) since November of 2004.
Other Greenphone features include a 1.3-megapixel camera, Bluetooth radio, and the all-important mini-USB port, over which the firmware can be updated. The Greenphone's baseband processor/modem is a Broadcom BCM2121.
Trolltech co-CEO Haavard Nord stated, "With Greenphone, the sky is the limit when it comes to creating and testing new applications on a powerful mobile device platform."
Co-CEO Eirik Chambe-Eng added, "Developers can create applications to suit the evolving needs of carriers and end users with a dramatically reduced development cycle."
Dominic Lee, a research analyst with Informa Telecoms and Media, stated, "The introduction of Greenphone will strengthen Trolltech's position as a leading Linux middleware provider, and should be taken seriously as a software reference for building an open Linux ecosystem capable of competing with other established OS platforms."
Availability
The Greenphone is expected to ship in September. Trolltech had not finalized pricing as of publication time. However, the company has promised to make the phone available at a reasonable cost to all Qtopia licensees — including open source licensees.
Chambe-Eng explains, "Except for the components that interface with the baseband processor, everything in Qtopia Phone Edition necessary to develop applications is available under an open source license."
CTO Benoit Schillings added, "I'll tell you a secret. Getting the phone into open source developers' hands is exactly what I want to happen."
---
More Linux Mobile Phone News from LinuxWorld
---
For other Linux mobile phone activity at LinuxWorld San Francisco, be sure to read our special report:
LinuxWorld awash with Linux phone buzz
---
Other Related Stories
---

This article was originally published on LinuxDevices.com and has been donated to the open source community by QuinStreet Inc. Please visit LinuxToday.com for up-to-date news and articles about Linux and open source.