Mar 3, 2011 — by Eric Brown — from the LinuxDevices Archive — 5 views
Genesi announced price reductions and a new Ubuntu 10.10 update for its small-format, fanless line of Wi-Fi-enabled Efika MX computers, which run on Freescale's 800MHz Cortex-A8 i.MX515 system-on-chips. Aimed at emerging markets, the five-Watt Efika MX Smarttop nettop now costs $129, while the 10.1-inch, 12-Watt Efika MX Smartbook netbook is available for $199, or $249 with a 3G option.
For years, Genesi has manufactured Linux-based modules and evaluation boards based on Freescale Semiconductor's PowerPC products, including its circa-2005 Efika and Efika 5K2, both based on Freescale's MPC5200B processor. The last time we checked in with Genesi was Feb. 2009, when the company was prepping an Efika-branded evaluation board for Freescale's then new, 1GHz, Cortex-A8-based i.MX515 system-on-chip (SoC).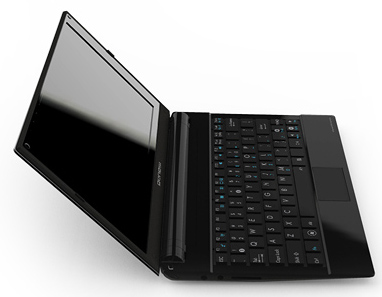 Efika MX Smartbook
We missed the Efika MX Smarttop and Smartbook netbook when they came out, but they appear to be based on the very same Genesi i.MX515 board. Now these are the only two products offered by Genesi, and they have received price cuts to make them more appealing to what the company calls a fast-growing market in the price-sensitive emerging world.
Genesi says it was able to reduce costs by the help of its "vast developer community" (see link at end), as well as with "local assembly and manufacturing."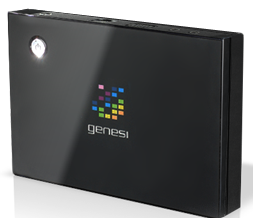 Efika MX Smarttop
The $129 Smarttop and $199 Smartbook each offer a i.MX515 CPU, clocked to 800MHz, along with 512MB RAM. The Smarttop offers 8GB NAND flash and an SD expansion slot, while the Smartbook offers 16GB flash and both an external MMC/SD slot and an internal microSD slot. Common features on both include dual USB 2.0 ports, 802.11b/g/n Wi-Fi, audio jacks, and speakers.
The Efika MX Smarttop is intended as a network computer, and has a 10/100 Ethernet port and HDMI port, neither of which are available on the Smartbook. The Smarttop measures 6.3 x 4.5 x 0.8 inches (160 x 115 x 20mm), weighs 8.8 ounces (250 grams), and requires no more than five Watts, says Genesi.
The Efika MX Smartbook, meanwhile, offers a 10.1-inch, 1024 x 600 display, measures 10.87 x 7.13 x 0.83 inches, and weighs 2.05 pounds (930 grams), says the company. Power consumption is said to be 12 Watts.
The Smartbook has a QWERTY keyboard, Bluetooth 2.1, a 1.3-megapixel videocam, and a microphone, says Genesi. The netbook also adds the optional $50 3G/UMTS modem, providing up to 7.2Mbps downloads and 3.6Mbps uploads, says the company.
Both Efika MX devices run on a newly updated Ubuntu 10.10 "Maverick Meerkat" Linux distribution.
Stated Raquel Velasco, Managing Director/Chairman, Genesi USA:
Eighty percent of the world's population has mobile reach via a 3G network, and of that number, only 20 percent have Internet access. Having a connection to the rest of the world is empowering — just look at what's happening in North Africa and the Middle East right now — and, for people and businesses in these emerging markets, a Smarttop or Smartbook may be their first fully web-connected device.
Availability
The Efika MX Smarttop now costs $129, while the Smartbook netbook is available for $199, or $249 with 3G communications, says Genesi. More information on the Efika MX products may be found at Genesi's Efika MX page, as well as its Efika online store.
The new Ubuntu 10.10 image, which fixes various bugs and flaws — and is called an "important software update" by Efika user Peter Czanik, who alerted us to the new pricing — may be found on Genesi's Maverick Installer blog page.
According to Czanik, who calls the devices "my favorite little machines," the Efika MX devices were also used to create a recent Debian ARMHF port (hard-float ARM port). The Genesi developer site may be found here.
---
This article was originally published on LinuxDevices.com and has been donated to the open source community by QuinStreet Inc. Please visit LinuxToday.com for up-to-date news and articles about Linux and open source.