Oct 14, 2010 — by LinuxDevices Staff — from the LinuxDevices Archive — views
With Ubuntu 10.10 ("Maverick Meerkat") now available, eWEEK Labs put the desktop version through its paces. The Software Center is the most changed — and most impressive — aspect of Meerkat, but the netbook edition's new Unity UI and enhancements to the Ubuntu One cloud service also stand out.
Ubuntu 10.10, the latest version of the popular Linux distribution from Canonical and the Ubuntu community, hit FTP servers Oct. 10, bearing a slate of open-source software updates along with enhanced tools for locating and installing those applications. The new release, also known by the code name "Maverick Meerkat," sports an overhauled user interface for the distribution's netbook-optimized edition, and new functionality for Canonical's set of personal-cloud services, Ubuntu One.
In my tests of Maverick, I've been really impressed by the enhancements to the distribution's Software Center tool for finding and installing applications. The thousands of open source applications that sit packaged up and waiting to be installed in the project's networked repositories have long been a differentiator for Ubuntu, and the improved software tools that ship with the OS do a great job of showing off this resource.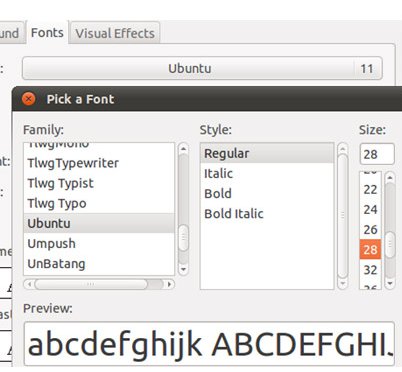 Ubuntu 10.10 features a new default font
New Ubuntu releases drop about every six months, with so-called Long Term Support releases being spaced out every two years. Maverick follows April's release of
"Lucid Lynx"
the most recent LTS version. As one of Ubuntu's faster-moving, shorter-lived releases, Maverick will best suit desktop users who are willing to upgrade their OS version at least once a year or so, and who are prepared to debug an issue if they hit one.
Organizations running or considering running Ubuntu as a client OS would do best to stick with Ubuntu 10.04 LTS, although the sharp new interface in Ubuntu's netbook edition might make an earlier upgrade worthwhile for mobile users.
Ubuntu 10.10 is freely downloadable and comes in 32-bit and 64-bit desktop editions, as well as a 32-bit netbook edition. Ubuntu 10.10 is also available in 32- and 64-bit server editions — watch for coverage of the server edition in a future story.
The download page includes very clear, OS-specific instructions for creating CD- or USB-based installation media from a Windows, Mac, or Ubuntu machine. Ubuntu installer discs include bootable OS environments, which are great for testing the system without modifying your machine's hard drive.
Maverick Meerkat in the lab: Software Center
Perhaps chief among the advantages that Ubuntu inherited from the Debian GNU/Linux project is the deep catalog of open source software applications that are available for installation on Ubuntu systems (not to mention the processes and people responsible for maintaining them). I've spent many hours trawling through that catalog, learning about and trying out the myriad applications the open source community has created.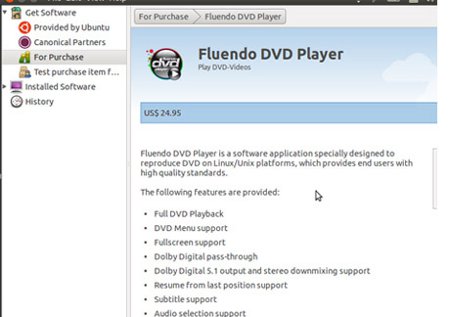 Revamped Software Center showing Fluendo download page
Over the past few Ubuntu releases, the project has focused on making this catalog more accessible to its users through the Ubuntu Software Center — a sort of app store, albeit one limited to freely downloadable applications. In Version 10.10, Ubuntu's Software Center can be used to purchase applications, as well, although at launch time there was only one app available for purchase: a $25 DVD player application from Fluendo (see image above).
During Maverick's beta period, I tried out the paid application functionality by buying a $1 test application. The payment process, which required the same sort of Ubuntu SSO (Single Sign-On) account used for logging into the Ubuntu One service or for reporting bugs at the project's Launchpad site, was similar to buying an app through Apple's App Store. I used a credit card for payment, and the app I'd purchased remained available for reinstallation when I shifted to a new machine.
Putting the necessary plumbing in place for handling paid apps should make life easier for ISVs looking to sell their wares to Ubuntu users in the future, but the updated Software Center impressed me with its knack for promoting applications in Ubuntu's existing open source catalog.
For instance, the package metadata that spells out dependencies for a piece of software often includes suggestions for other, optional packages that can extend or otherwise pair well with a particular application. The newest version lists these package add-on suggestions with check boxes for easy installation.
Elsewhere in the Software Center, I liked the way the tool segregated graphical or otherwise easy-to-use applications from potentially confusing packages by adding a "show XX technical items" at the bottom of search results. For instance, a search on the term "FTP" turned up 14 applications, most of which were FTP clients, out of a total of 184 results, which included things like development libraries.
Netbook UI
The netbook-optimized edition of Ubuntu 10.10 sports an overhauled UI, called Unity, which makes better use of the limited screen space that's typically available on netbook hardware. I tested the new UI on an MSI Wind 100 and a Dell Mini 10, both of which come with 1024-by-600 pixel displays.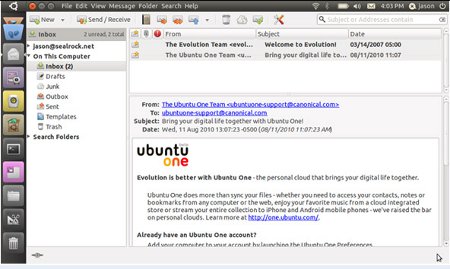 Evolution email client in Ubuntu Netbook Edition (UNE) featuring new "Unity" interface


(Click to enlarge)
As with the netbook UI that came with Ubuntu 10.04, applications that run under the new interface are "maximized" by default and, as a way of conserving vertical real estate, the application menu for the interface runs in a strip down the left side of the display.
In Version 10.10, the menu panel is much narrower than that in 10.04, and consists mostly of application shortcuts instead of menu categories. Considering that netbooks tend to be saddled with miniature input devices, I appreciated every click the new UI managed to save me.
The launcher does contain catch-all "applications" and "files and folders" menu shortcuts, but both items are laid out more cleverly than in the previous UI. In the applications menu, I could search for the app I was after, and the system returned results sorted into three buckets: frequently used matches, matches among installed software, and matching applications that I could install through Ubuntu's software center.
The Unity UI requires hardware-accelerated graphics to run — both of the netbooks I tested Maverick on fit the bill, and there's a list of all the netbook hardware requirements here.
I also took note of the trimmed-down run mode for the Evolution email client that the netbook edition turns to by default. The new mode, which can be used on the regular desktop version of Ubuntu by running Evolution with an "–express" argument, is thriftier with available screen space.
I'd love to see more Ubuntu desktop applications add an express UI option. In particular, Firefox could stand to go on a diet. Slim as the Unity interface's launcher bar may be, it cuts enough into the 1024 pixels available on most netbooks to force horizontal scrolling on many websites.
Ubuntu One
Canonical's Ubuntu One personal cloud service picked up a handful of updates at the Maverick launch — some of which involved improving the function of the service on Ubuntu systems, and some of which extended the service's functionality to new platforms.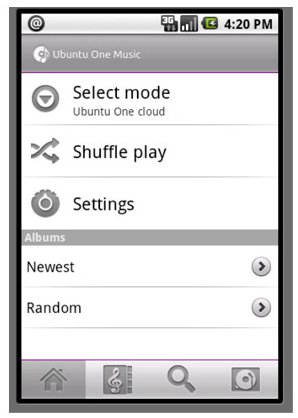 Ubuntu One's new music streaming service
On the Ubuntu side, I found it simpler to configure a new machine with my Ubuntu One account — on Maverick, there's a new tool for creating a new account or for associating an existing account with a system. I also noted that notes synchronization from the distribution's Tomboy note-taking client performed more quickly on Ubuntu 10.10 than on the previous 10.04 release.
As for extending to new platforms, Canonical has announced that it will soon be making available a file synchronization client for Windows systems, which should make life easier for users who switch back and forth between the two operating systems.
Canonical has also announced a music streaming service that will enable subscribers to stream the MP3 files stored in the Ubuntu cloud to their Apple iOS or Android devices (see image above). The service, which I have yet to test, is available now for Android, while the iOS client is somewhere in Apple's approval queue.
Availability
Ubuntu 10.10 is available now, with release notes and links to downloads, here.
An eWEEK slide show of Ubuntu 10.10 screens may be found here.
Jason Brooks is executive director of eWEEK Labs.
---
This article was originally published on LinuxDevices.com and has been donated to the open source community by QuinStreet Inc. Please visit LinuxToday.com for up-to-date news and articles about Linux and open source.