Jul 21, 2010 — by Eric Brown — from the LinuxDevices Archive — 22 views
System76 has updated its Linux-based netbook to the Atom N455 processor as well as making it thinner and lighter. The Ubuntu 10.04 version of the 10.1-inch Starling NetBook offers more memory (2GB), a larger standard hard drive (250GB), faster Wi-Fi (802.11b/g/n), and is available in a school-focused "EduBook" version.
If ABI Research is correct in its estimate that about a third of all netbooks ship with Linux, you sure wouldn't know it from living in the United States. Linux netbook sightings are still rare, especially when the OS is the main course instead of an afterthought option to Windows.
Typically, one must either look to Dell or to a tuxified system integrator such as ZaReason or Denver-based System76. The latter is now taking orders for its latest version of the Ubuntu-ready Starling NetBook.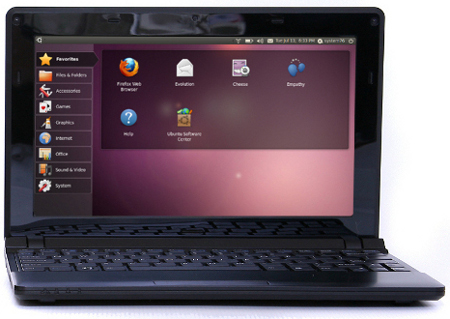 Starling NetBook
The Starling NetBook, which is likely built overseas by an OEM manufacturer, shares the same name as the Intel Atom
N270-based version
announced last August. However, it has been redesigned with a case that's slightly deeper and wider, but also thinner than the original, measuring 10.47 x 7.28 x 0.72-to-1.0 inches (down from 1.3 inches). It also weighs two pounds now instead of 2.6 pounds, according to the company.
The weight loss may be due in part to the presence of Intel's recently released Atom N455, a version of the Atom N450 "Pineview" processor that supports DDR3 memory in addition to DDR2. (That said, however, the Starling NetBook itself is said to ship with 2GB of DDR2 memory, not DDR3, and no DDR3 option is currently listed.)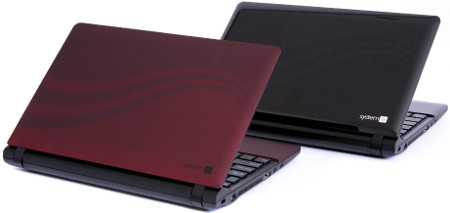 Rear view of Starling NetBook in red (left) and black (right)
(Click to enlarge)
Like the Atom N450, the N455 is only slightly faster than the N270, clocked to 1.66GHz instead of 1.6GHz. However, instead of requiring a separate northbridge and southbridge, the N450 and N455 integrate graphics functions on the CPU itself, so they need only the NM10 I/O controller. This offers a savings in both board real estate and power consumption. The N455 offers the same onboard Intel GMA 3100 graphics as the N450.
The Atom N455, which was released with the 1.83MHz Atom N475, a DDR3-ready version of the N470, has already become a popular choice among netbook vendors. Acer is readying the Acer Aspire One D260, a dual-boot netbook running Windows 7 and Android, available with the N455. HP, meanwhile, announced its school-focused Mini 100e netbook, available with SUSE Linux.
The Starling NetBook provides an SD card slot for flash expansion, in addition to the 2GB of standard memory, up from 1GB on the previous model, says System76. Instead of the 160GB hard disk drive (HDD) that came with the $360 N270-version, the new Starling starts with a 250GB drive, with HDD options up to 640GB. Solid-state drives (SSDs) are available in capacities of up to 160GB, albeit for a pricey $465 extra.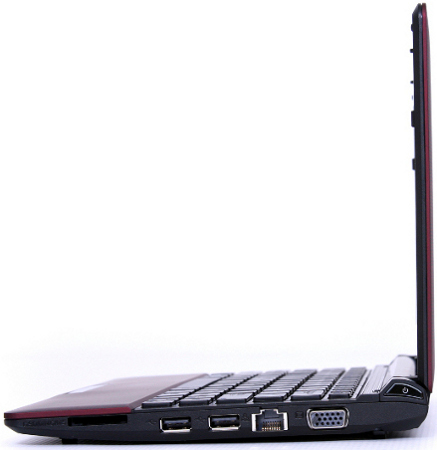 The Starling NetBook has slimmed down
The Starling NetBook features a 10.1-inch WSVGA backlit LED display capable of resolutions up to 1024 x 600, says System76. As noted, the Wi-Fi radio has now moved up to the faster 802.11b/g/n, although the Ethernet port remains at 10/100Mbps.
The new Starling NetBook features a VGA port, three USB 2.0 ports, headphone and microphone jacks, and a 0.3-megapixel webcam, says System76. Equipped with a three-cell Lithium Ion battery, the netbook features suspend and hibernate features, says the company. A red soft rubber finish is said to be available for $25 extra, and other options are said to include an optical drive, and additional three- or six-cell batteries.
For software, the Starling offers the feature rich Ubuntu 10.04 Netbook Edition ("Lucid Lynx"), up from Ubuntu 9.04 on the previous version. The release is touted for offering faster boot time, As well as improved netbook-focused features with the updated Ubuntu Netbook Edition.
Starling EduBook
System76 also offers an education-focused version of the netbook, called the Starling EduBook, shipping it with Ubuntu Education Edition Netbook Remix 10.04. The EduBook model (pictured below) uses the Atom N450 instead of the N455, and comes standard with only 1GB of DDR2 RAM and a 160GB HDD.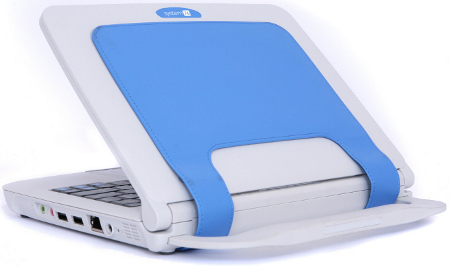 Starling EduBook
(Click to enlarge)
Measuring 10.0 x 8.0 x 1.5 inches and weighing 2.8 pounds, the Starling EduBook has been "ruggedized" for students, says System76. The EduBook offers a handle and a rubber-grip back, and comes standard with a six-cell battery instead of a three-cell battery. Otherwise, the specs appear to match those of the Starling NetBook.
Availability
The Starling NetBook, which starts at $389 with 2GB of memory and 250GB of storage, is available for pre-order now, with shipments beginning the first week of August. The Starling EduBook starts at $399 with 1GB of memory and a 160GB hard drive, but is currently out of stock, and should be available in mid-August, says System76.
More information on the Starling NetBook, including a datasheet, may be found here, and more on the Starling EduBook should be here.
---
This article was originally published on LinuxDevices.com and has been donated to the open source community by QuinStreet Inc. Please visit LinuxToday.com for up-to-date news and articles about Linux and open source.