Jun 1, 2010 — by LinuxDevices Staff — from the LinuxDevices Archive — views
Intel announced yet another "next-generation" Atom platform, this time aimed at tablets and "sleeker" netbooks. Code-named "Oak Trail" and set for 2011 release, it will be joined in the near term by new, DDR3-supporting Atoms, the single-core N455 and D425, and dual-core N475 and D525, the chipmaker says.
Intel promised last week it would announced new tablet silicon at the Computex show in Taiwan, and today it delivered. Due in early 2011, "Oak Trail" is an Atom platform "optimized for tablets and sleeker netbook form factors due to its reduction in power consumption and thermals," the company says.
The latest in Intel's burgeoning collection of Atom variants, "Oak Trail" appears to be one and the same as the rumored "Moorestown-W" chipset, though Intel did not reference that earlier codename today. As such, it is a successor to the first-generation Atom, the Z5xx ("Menlow"), and will likely wind up in a wide variety of embedded devices as well as the cited tablets and netbooks.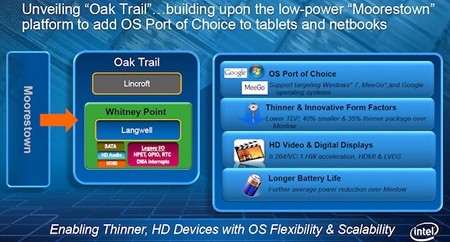 Intel's Oak Trail platform
(Click to enlarge)
Intel provided few specifics — prospective clock speeds and thermals were not released — but did release the slide pictured above. As this suggests, the "Oak Trail" platform includes a "Lincroft" SoC, a "Langwell" I/O controller, plus some additions described as "Whitney Point."
Some of these code names are already familiar, since Lincroft (below left) is Intel's Z6xx SoC, which made its debut last month as part of the Moorestown platform (see later in this story for background). That chipset was announced with support for three flavors of Linux — Android, Moblin 2.1, and MeeGo — but nary a mention of Windows.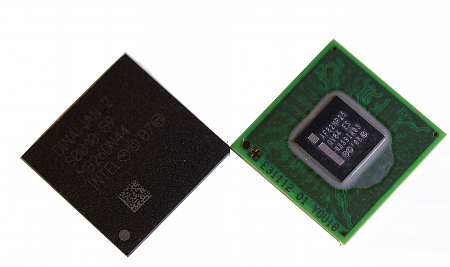 Intel's Z6xx SoC (left) and Platform Controller Hub MP20 (right)
(Click to enlarge)

The Langwell (Platform Controller Hub MP20) chip, pictured above right, provided high-speed USB and USB On-The-Go capabilities, cryptographic acceleration (AES, DERS, 3DES, RSA, ECC, SHA-1/2, DRM), and a 24-bit audio DSP, according to Intel. But the Whitney Point additions now include SATA, HD Audio, HDMI, and a variety of legacy I/O. As a result "Oak Trail" becomes able to run Windows 7.
The added functionality described above will presumably add to the Oak Trail chipset's size and power consumption compared to Moorestown. Without providing specific information on packaging details or TDPs, Intel promised that Oak Trail will be 40 percent smaller, 35 percent thinner, and have lower power consumption than Menlow.
Still on the Pine Trail, too
Intel also announced new offerings in its "Pine Trail" series of Atoms. Not to be confused with Oak Trail, these devices are aimed at netbooks and low-cost desktops, and have relatively high TDPs compared to the Z5xx/6xx.
Already widely rumored in advance of Computex, the netbook-targeted N455 and N475 (1.66GHz and 1.83GHz, respectively) build on the earlier N450 and N470 versions by changing from DDR2 to DDR3 memory. So, too, do the new D425 and D525 — the latter a dual-core CPU — for desktops.
| | | | | | |
| --- | --- | --- | --- | --- | --- |
| | Clock speed | Cores | Second-level cache | Memory | TDP |
| N450 | 1.66GHz | 1 | 512KB | 667MHz DDR2 | 5.5 Watts |
| N455 | 1.66GHz | 1 | 512KB | 800MHz DDR3 | 5.5 Watts |
| N470 | 1.83GHz | 1 | 512KB | 667MHz DDR2 | 6.5 Watts |
| N475 | 1.88GHz | 1 | 512KB | 800MHz DDR3 | 6.5 Watts |
| N550 | 1.5GHz | 2 | 1MB | 800MHz DDR3 | 8.5 Watts |
| D410 | 1.66GHz | 1 | 512KB | 667/800MHz DDR2 | 10 Watts |
| D425 | 1.66GHz | 1 | 512KB | 800MHz DDR3 | n/s |
| D510 | 1.66GHz | 2 | 1MB | 667/800MHz DDR2 | 13 Watts |
| D525 | 1.8GHz | 2 | 1MB | 800MHz DDR3 | n/s |
Intel's "Pineview" Atoms
(already announced products shown in green)
Intel also confirmed that, as expected, it will produce its first dual-core Atom for netbooks, with products slated to ship by the 2010 holiday season. Further details were not provided — a spokesperson reportedly dismissed the N550 moniker shown in our table as a "rumored number."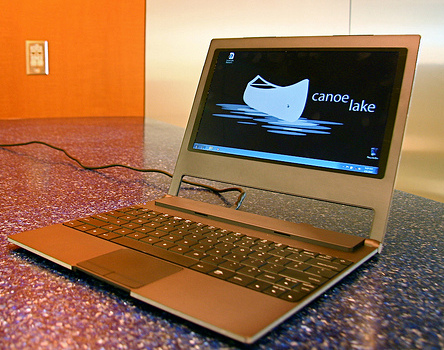 Intel's Canoe Lake reference platform
Finally, Intel showed off a hardware reference platform (above) it calls "Canoe Lake." This device is just 0.55 inches (14mm) thick and can accommodate both single-core or dual-core Pine Trail CPUs, the chipmaker said. Netbooks based on this technology will reach the market "over time," the company added.
Highlighting the company's "Atom Everywhere" strategy, Intel executives also reviewed other recent entries in the franchise, which include:
Tunnel Creek, a CPU that includes an onboard graphics controller, memory controller, and audio, linking to a separate I/O controller via a standard PCI Express interface
The CE4100, a SOC that includes an Atom processor core clocked at up to 1.2GHz, a NAND controller, a video display controller, a graphics processor, dual DSPs (digital signal processors) for audio decoding, transport/security processors, and general-purpose I/O
Background on Moorestown
When Intel's Z6xx processor was launched last month, it was far from a surprise, since the chipmaker had been touting this platform under its "Moorestown" code name since a September 2007 developer forum. The product is a successor to the first-generation Atom, the Z5xx "Silverthorne", which had reduced idle power consumption by ten times compared to Intel's original UMPC (ultra mobile PC) platform.
A "family" of Z6xx SoCs will now cut idle power consumption by a further factor of 50, the company says. The devices, which were not delineated further, were said to range from "up to 1.5GHz for handhelds/smartphones and up to 1.9GHz for tablets."
According to Intel, the Z6xx offers not only 1/50th the idle power consumption of its earlier Z5xx, but also 1/20th the power consumption for audio playback. Power usage during web browsing and video playback has been cut by one half to two thirds, the company adds.
As a result, it's said, "high-end smartphones, tablets, and other mobile handheld products" will be able to offer more than ten days of standby, up to two days of audio playback, and from four to five hours of intensive usage. Intel says the Z6xx's new power-saving techniques build on the C6 state found in the original Z5xx, and include:
new ultra-low-power states (S0i1 and S0i3), which respectively kick in when a user is employing a device but not providing any input, and when a device is idle
aggressive power and clock gating across the SoC's 19 power islands and its system voltage rails
a new high-K 45nm process that supports a multiple transistor design with a range of high-voltage I/Os
burst performance technology, allowing the processor to burst to higher performance to very short intervals of time
"SmartIdle" technology, enabling the CPU core and the rest of the SoC to switch off while the operating system remains in the "on" state (S0)
According to Intel, the 13.8 x 13.8 x 1.1mm Z6xx SoC ("Lincroft") also includes on-chip "GMA 600" graphics (reportedly based on Imagination Technologies' PowerVR SGX IP) clocked at up to 400MHz. The device provides 1080p video playback and 720p video recording, plus support for displays up to 1366 x 768 pixels, the company says.
Also on Lincroft is an integrated memory controller, said to support 200MHz LPDDR memory in quantities up to 1GB. Alternatively 400MHz DDR2 memory may be employed, in which case 2GB of RAM is supported, adds Intel.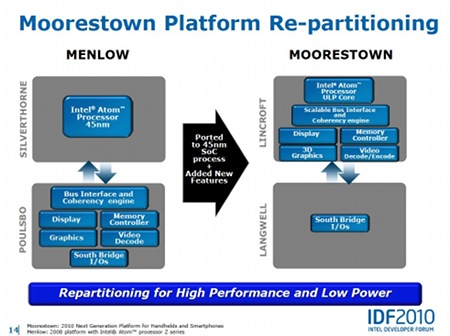 Intel's Moorestown
(Click to enlarge)
According to Intel, the Moorestown platform also includes a MSIC (mixed signal IC) that will be manufactured by Freescale, Maxim, and Renesas. This "Briertown" part integrates power delivery, battery charging, and a range of components such as audio codecs, a touchscreen controller, and GPIOs, the company says.
Further information
According to Intel, its new Pine Trail processors are available now, as is the Z6xx processor, PCH MP20, and dedicated MSIC. Data sheets and block diagrams do not yet appear to be available.
---
This article was originally published on LinuxDevices.com and has been donated to the open source community by QuinStreet Inc. Please visit LinuxToday.com for up-to-date news and articles about Linux and open source.