Dec 4, 2009 — by LinuxDevices Staff — from the LinuxDevices Archive — 98 views
PsiXpda announced a UMPC (ultra-mobile PC) with a five-inch touchscreen display, an Intel Atom Z510, and a 16GB SSD (solid state disk). The "PsiXpda" includes WiFi, Bluetooth, and optional 3G, and weighs under a pound, and although it pre-installs Windows XP, the company says it will help customers load Android.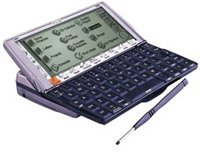 The eponymous PsiXpda is the brainchild of Paul Pinnock, a former service engineer for Psion, creator of the Series 5mx (right). This keyboard-equipped PDA used a 32MB ARM710 processor, ran the EPOC (later renamed Symbian) operating system on 16MB of combined storage and execution RAM, and employed two AA batteries that reportedly could power the device for between 10 and 20 hours of use.
On his blog, Pinnock explains that after leaving Psion in 1995, he established a firm called POS Ltd, which continued development and manufacturing of the 5mx under license. When "I was asked by a Psion enthusiast if I could find him a modern replacement for his Psion Series 5mx, I was somewhat dismissive, … but I decided it was a challenge I had to accept."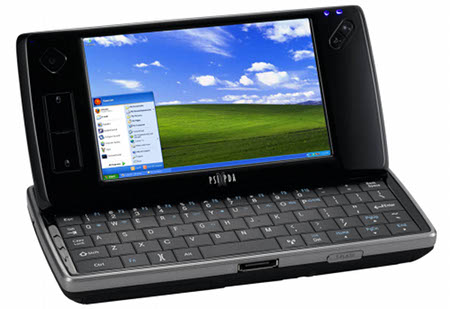 The PsiXpda
(Click to enlarge)
The result, the PsiXpda (above), is clearly named and styled to evoke memories of the 5mx. Like that device, it appears to have a sliding-clamshell design, but, in this case the display apparently remains visible on the outside of the device when it is closed. (The 5mx, on the other hand, had a keyboard that moved forward as its display was exposed.)
OUR VERDICT:
Comparisons to the Psion 5mx, especially regarding battery life, make us wonder if this device wouldn't have been better off with an ARM processor
Architecturally, however, the PsiXpda is substantially different from the 5MX. The device uses a 1.1GHz Intel Atom Z510 processor, 1GB of RAM, plus a 16GB SSD, according to the U.K.-based company.
PsiXpda says its UMPC packs 800 x 480 pixels onto its five-inch touchscreen display, and includes a VGA-resolution webcam. As the photo earlier in this story shows, the device also has a full QWERTY keyboard, reportedly backlit, though no claim is made about this being big enough to allow touch typing.
According to PsiXpda, the device includes two USB 2.0 ports, plus a microSD expansion slot and a headphone jack. Networking is said to include 802.11b/g, Bluetooth 2.0, and 3G options (EVDO, WCMDA, and TD-SCMDA).
Techie, hackable, and Droid-able
PsiXpda's spec sheet makes no claims as to how long the device's 1850mAh battery will last, but according to an item on the ReadWriteWeb site, between two and four hours of operation is possible. ReadWriteWeb also quotes PsiXpda's Ewan Spence as saying that, although the device runs Windows XP Home out of the box, it is designed to be "very techy and hackable." He was said to have added that the company will assist those who want to get Google's Android or Chrome OS up and running.
The PsiXpda also has a connector, located centrally below the keyboard, whose purpose is not detailed by the company. We suspect the connector's for a docking station, with a VGA output and additional USB ports, that is alluded to in the ReadWriteWeb item.
Features and specifications listed by PsiXpda for its UMPC include the following:
Processor — Intel Atom Z510 clocked at 1.1GHGz
Chipset — SCH US15W northbridge/southbridge
Memory — 1GB of DDR2 RAM (expandability not cited)
Display — 5-inch touchscreen with 800 x 480 resolution
Keyboard — QWERTY keyboard (also appears to have mouse buttons and brightness controls)
Camera — VGA-resolution webcam
Storage — 16GB SSD
Expansion — microSD slot
Networking:

LAN — 802.11b/g
PAN — Bluetooth 2.0
WAN — EVDO, WCMDA, TD-SCDMA (optional)

Other I/O:

2 x USB 2.0
Headphone jack

Battery type — 1850mAh
Dimensions — 6.85 x 3.3 x 0.98 inches (174 x 84 x 25mm)
Weight — .94 pounds (430g)
Availability
Though PsiXpda did not provide information about pricing or availability for its device, the UMPC will reportedly go on sale next week for 500 U.K. pounds (about $825). More information may be found on the company's website, here.
The ReadWriteWeb item, with additional photos, may be found here.
---
This article was originally published on LinuxDevices.com and has been donated to the open source community by QuinStreet Inc. Please visit LinuxToday.com for up-to-date news and articles about Linux and open source.