Sep 23, 2009 — by Eric Brown — from the LinuxDevices Archive — views
Intel has launched an Intel Atom Developer Program, offering SDKs, tech support, and an online store to netbook software developers. This week's Intel Developer Forum (IDF) also included a demo of a MID-oriented Moblin 2.1 for Handhelds, showing off mobile telephony capabilities.
Aimed at independent software vendors (ISVs) and developers, the new Intel Atom Developer Program is touted as a framework for developers to create and sell software for netbooks that use Intel Atom processors. Support for handhelds and smartphones is said to be planned for the future.
The program aims to help netbook developers move from application creation through testing and marketing, and offer SDKs (software development kits), development tools, and technical support. Acer, Asustek, and Dell have already joined the program.
Intel will also offer an online store where developers can license development tools and application modules directly from other independent developers and ISVs, says the company. Intel says it is working with netbook original equipment manufacturers (OEMs) and other partners to create application storefronts where validated applications can be sold.
The Intel Atom Developer Program will support multiple operating systems, and offer cross-platform run-time environments. Intel specifically mentions Microsoft Silverlight, which the company says can also be applied to Moblin-based environments, as well as Windows, using Visual Studio and the .NET Framework. Intel did not say whether it planned to offer the Linux-ready open source clone of Silverlight from Novell's Mono project, called Moonlight.
Moblin 2.1 for Handhelds
While the Intel Atom Developer Program aims to be a cross-platform effort, some of the tools no doubt derive from the open-source Moblin project, whose Linux-based Moblin stack was originally aimed at mobile Internet devices (MIDs). Intel shifted the focus of its v2 release over to netbooks, and released a beta version earlier this year, Moblin v2 for Netbooks. The netbook stack is expected to be released soon in final form, and will be integrated in various forms in several netbook-oriented Linux distros, including Ubuntu's Netbook Remix.
Meanwhile, Intel used the IDF event to show a sneak preview of its v2 version of Moblin targeted at MIDs. The name appears to have changed, however, to Moblin 2.1 for Handhelds, apparently to reflect new telephony capabilities.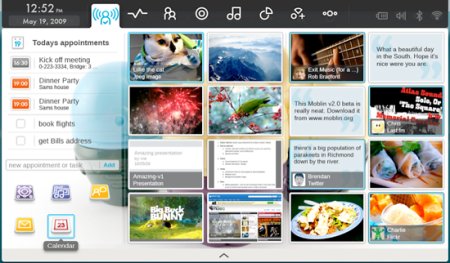 Moblin v2 for Netbooks beta "m-zone" interface
(Click to enlarge)
Intel revealed few technical details in the demo video, shown below in a
UMPC Portal
video posted on YouTube. The Moblin for Handhelds interface appears to be closely based on Moblin v2 for Netbooks, and shares its icon-driven menu (see screen above). However, the demo also showed telephony features, such as a dialer, and notification of missed calls, and concludes, "And did we mention that it's also a phone?"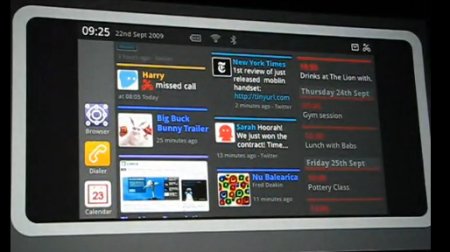 Screenshot from video of Moblin v2 for Handhelds demo at IDF, showing dialer on left


(Source: UMPC Portal)
(Click to enlarge)
The YouTube video also shows a social networking sync interface called Myzone that appears to be based on m-zone. The latter integrates updates from social networking sites, along with a web browsing, news, calendar events, and phone-call updates onto a single screen, according to the video narration.
The social networking integration and synchronization appears to be similar to features introduced with the Palm Pre's WebOS and its Palm Synergy, as well as similar capabilities found in HTC's Android-based Sense UI and Motorola's Android-based MotoBlur smartphone interfaces.
Although Intel is no longer the official sponsor of the Moblin project, which was transferred to the Linux Foundation earlier this year, the company still appears to be in the driver's seat, especially with the Handhelds version. The release targets devices due to ship next year that will use the next-generation heir to the Atom, code-named Moorestown.
Back in February, Intel and LG Electronics announced a collaboration on new MIDs, due in 2010, that run a MID version of Moblin v2 on the energy-efficient Moorestown. The device will also offer cellular voice capability, the companies said at the time (prototype pictured above).
Since then, Intel's MID concept appears to have expanded even more to embrace large smartphones. The design indicated in the YouTube video (see below) appears to be more smartphone than MID. In much the same way, Nokia's MID-like N810 Internet Tablet was succeeded by the smaller, smartphone-like N900 device, both of which run Nokia's Maemo Linux distribution.
In June, Intel and Nokia announced a multi-part partnership which includes open source collaboration between the Moblin and Maemo projects. One project, called oFono appears to be designed to bring cellular telephony services to the two platforms.
Moblin 2.1 for Handhelds
(Source: UMPC Portal)
Other IDF news
Intel is still first and foremost a semiconductor company, and there was more than enough news at the IDF to keep the chip-heads happy. Below is a quick summary of this week's announcements, with headline links to related stories on our sister site, eWEEK:
22-nanometer fabrication — Intel unveiled test processors built on its new 22-nanometer (nm) manufacturing process, and announced it would release 22nm processors toward the end of 2011. The prototype SRAM chips contain more than 2.9 billion transistors in an area the size of a fingernail, according to Intel. Meanwhile, Intel also discussed its fourth-quarter release of 32nm processors, code-named Westmere.
Clarksfield and Arrandale — Intel formally announced the "Clarksfield" family of quad-core mobile processors, bringing the Nehalem microarchitecture to high-end laptops. The new mobile "Core i7" processors, reported on by LinuxDevices.com last week, include Turbo Boost technology, multi-threading capabilities, and an integrated memory controller. Intel also said that early next year it would release "Arrandale," its first 32nm mobile chip, which will be accompanied by a 45nm graphics chip and chipset.
Intel's "Microservers" — Driven by technologies like virtualization and cloud computing, Intel says it plans to introduce a series of "microservers." Touted as being small, relatively cheap, and energy-efficient, the microservers were revealed in one reference design that showed 16 modules squeezed into a 5U (8.75-inch) enclosure. The company also unveiled another two low-power versions of its Xeon 3400 line of CPUs, adding a 30 Watt-model to the 45 Watt-model that was tipped last week.
Stated Renee James, CVP and GM, Intel Software and Services Group, "The Intel Atom Developer Program provides a great opportunity for developers to create useful and inventive applications that will unlock a netbook's potential while opening a new sales and distribution channel."
Availability
Applications for ISV and software developer memberships are currently being accepted for the Intel Atom Developer Program, and SDKs will be available to members later this fall, says the company. More information may be found here.
---
This article was originally published on LinuxDevices.com and has been donated to the open source community by QuinStreet Inc. Please visit LinuxToday.com for up-to-date news and articles about Linux and open source.