Nov 14, 2008 — by Eric Brown — from the LinuxDevices Archive — 1 views
[Updated Dec. 3] — The USB Implementers Forum will today unveil USB 3.0, said to be ten times faster than USB 2.0. One of the first USB 3.0 announcements came from MCCI Corp. and Synopsys, which said they would together produce USB 3.0 compliant semiconductor IP and Linux-ready GPL'd drivers.
Universal Serial Bus (USB) 3.0 is formally referred to as SuperSpeed USB in order to complement USB 2.0's widely ignored full name, "Hi-Speed USB." Yet, considering that the 3.0 interconnect spec is claimed to offer physical-layer throughput speeds of up to 5Gbps (gigabits per second), compared to USB 2.0's 480Mbps (megabits per second), a little hyperbole may be excused. The technology even eclipses Firewire (IEEE 1394), which offers a 3.2Gbps rate. USB 3.0 is said to be backward-compatible with USB 2.0, and will first appear in discrete silicon products, as opposed to being integrated in system-on-chips (SoCs).
Designed for transferring or streaming large media files, such as video, the technology offers reduced power consumption compared to USB 2.0, claim its boosters. USB 3.0 is targeted initially at PCs, Blu-ray players, hard drives, flash card readers, and optical drives such as DVD, says MCCI.
Spearheaded by Intel and developed by a USB 3.0 Promoter Group comprised of Intel, HP, Microsoft, NEC, NXP Semiconductors, and Texas Instruments (TI), USB 3.0 is being implemented by the USB Implementers Forum. The forum has an identical membership list, except for the omission of TI, and the addition of LSI Corp.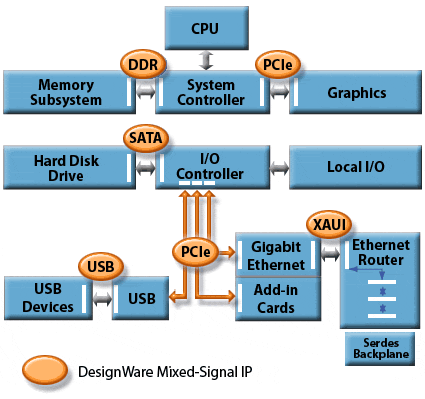 Synopsys DesignWare mixed-signal IP in typical embedded product.
DesignWare is also said to provide implementation IP, verification IP, and hardened PHYs.
The MCCI/Synopsys collaboration will bear fruit sometime in 2009, according to MCCI. The joint product will combine MCCI's SuperSpeed DataPump USB 3.0 software drivers and firmware with a version of Synopsys DesignWare IP (see diagram above) that will be optimized for SuperSpeed USB. The jointly developed product will offer "a complete system-level solution from software to the PHY layers," says MCCI.


KDDI's Au Box uses
Linux USB drivers from MCCI
(Click for details)
According to MCCI, its USB DataPump technology is compatible with Linux, Windows, and Macintosh platforms, as well as all major embedded controllers. DataPump is "the world's leading USB embedded device solution," claims MCCI, which says it has been incorporated in 500 million consumer products over the last four years. One recent Linux-ready deployment of its DataPump host-side driver was in KDDI's Linux-based
"Au Box"
IP set-top box (pictured), which is based on Motorola's VIP1830 hardware platform.
A chat with MCCI CEO Terry Moore
Industry reports that Microsoft will not initially support USB 3.0 in its upcoming Windows 7 release, due to timing issues, were confirmed by MCCI CEO Terry Moore in a recent interview with LinuxDevices. However, Moore said that drivers will be provided for other major operating systems (OSes), including Linux, where they will be licensed under GPL. "It's not practical to provide Linux support with anything other than GPL," he said.
MCCI has been developing USB drivers since 1996, according to Moore, who says that most have been aimed at telecom equipment, including modems and cable modems. More recently, the company has moved into drivers for Windows-based cell phone data cards.
According to Moore, USB 3.0's 5Gbps physical-layer throughput will translate to a 500Mbps real-world transfer rate, compared to 25Mbps to 35Mbps for typical USB 2.0 mass storage drivers. Even so, Moore said he was surprised by the "huge amount of interest for USB 3.0, especially in the PC business." He said there was particular consumer demand for a technology that would conveniently back up large media files.
In addition to providing drivers, MCCI will offer a Linux-compatible embedded firmware stack for USB 3.0, said Moore. "There's a need for a high-performance stack with USB 3.0," he said. "On the host side, USB 3.0 has an xHCI [Extensible Host Controller Interface] controller, which is a fairly intelligent controller for interfacing to the operating system. You are going to need to have firmware inside the controller itself, but in the first few generations, the hardware is so complex that you don't want to do it all in hardware, so there will need to be microcode. Our technology is interesting because we have both an embedded host stack and an embedded device stack to accomplish this."
A SuperSpeed future in mobile devices?
Although tethered storage devices and Blu-ray players are the key initial targets for USB 3.0, Moore says the market should move to mobile devices fairly quickly. "The benefits of this for media player devices and cell phones are substantial if you're trying to push a movie across," he said. "There also may be benefits to handset makers in terms of speeding the process of loading firmware during mass production."
The cost of implementing USB 3.0 will be higher, he said, but should not be significant, even for more cost-constrained smartphone manufacturers. "The USB 3.0 silicon is not much more complicated than USB 2.0, and I wouldn't think that the digital logic portion would be much more expensive," he said.
The key issue, said Moore, is not cost, but the power draw, which despite claims for USB 3.0 being more power efficient than USB 2.0, is still considerable for a battery-powered device. "However, since USB can draw its own power, it may be possible with clever power management to reduce that," he added.
Another issue for mobile devices will be process compatibility, he said. "When you're making big cellphone SoCs, you're going for a cost-effective processor, and the process may be different when moving to USB 3.0. Initially, the transceivers in USB 3.0 are going to be placed externally outside the baseband chip, so you may need a different process, and it will cost more. For dedicated chips that do USB 3.0 for mass storage, you may quickly get to integrated transceivers, but handset chipmakers may have to wait a generation or two before they risk integrating it."
Despite consumer demand for greater bandwidth, there's also a pent-up desire for reducing cable clutter. Would it be possible that short-range wireless technologies such as wireless USB (WUSB), Bluetooth, and the much faster Ultra-Wideband (UWB) could reduce USB 3.0's impact?
Not really, answers Moore, who says his company also develops WUSB drivers and has participated in a UWB prototype demonstration. "UWB right now is now really in the 100Mbps data transfer range," which for major media transfers, could not compare to USB 3.0's five times greater speed, he said. Still, he added, UWB should be "suitable for a lot of mobile product applications."
Availability
MCCI and Synopsys plan to offer their combined USB 3.0 technology sometime in 2009, says MCCI. USB 3.0 should be available on consumer device in 2010, the companies added.
---

This article was originally published on LinuxDevices.com and has been donated to the open source community by QuinStreet Inc. Please visit LinuxToday.com for up-to-date news and articles about Linux and open source.