Oct 6, 2010 — by Eric Brown — from the LinuxDevices Archive — 2 views
Motorola announced two Android phones for Verizon Wireless: the business-oriented, QWERTY-enabled Droid Pro, featuring Android 2.2 running on a 1GHz processor, plus a more modest three-inch "Citrus" phone. Meanwhile, Motorola announced a three-inch QWERTY slider with Android 2.1 called the Spice, and says that plans are going forward to split the company in 1Q 2011.

At the CTIA wireless telephony show in San Francisco, Motorola announced two more Android phones for Verizon Wireless, as well as a "Spice" phone, announced without a carrier, and three "MotoSpeak 2.0 Bluetooth accessories.
Motorola also showed off the previously announced, dust- and water-resistant Defy Android phone, which was launched on T-Mobile last month. The product introductions follow the announcement of a trio of new Android phones for AT&T yesterday: the Bravo, Flipside, and previously unveiled Flipout.
Verizon already offers a high-end Android phone from Motorola, the Droid X or Droid 2. However, the Droid Pro (pictured at right) is interesting in that it directly takes on RIM's BlackBerry phones in the enterprise market.
In that same business market, the Droid Pro may also compete with Windows Phone 7 models promoted by a company that just sued Motorola over Android patent infringement. (Yes, Microsoft wants a slice of the open source, Linux-based Android pie, as do Apple and Oracle.)
Speaking of patent politics, Motorola co-CEO Sanjay Jha was reported by The Wall Street Journal as saying that despite Redmond's lawsuit, and its earlier abandonment of Windows Mobile, Motorola would consider using Windows Phone 7 in future phones. To this, Microsoft CEO Steve Ballmer was said to have replied today that Microsoft was open to working with Motorola on such a project.
Bloomberg, meanwhile, reports that Jha said Motorola would also consider using new versions of Windows being readied for tablet computers. Motorola plans to release an Android 3.0 tablet in the first quarter of 2011. The Bloomberg story also quotes Jha as saying Motorola will finally split off its mobile device business, along with a set-top box division, as a separate company in 1Q 2011.
Motorola Droid Pro
Billed as the "first ever smartphone built on Android for business," the Droid Pro is nonetheless designed for both "work and personal use," says Motorola. The phone features a BlackBerry-like design with a front-facing, always-available QWERTY keypad beneath the undersized 3.1-inch 480 x 320 touchscreen.
The Droid Pro is the only Android 2.2 phone among the devices it announced this week, including the AT&T-bound Bravo and Flipside. As such, it makes use of a number of Froyo's business-oriented features, such as Microsoft Exchange support. It also adds enterprise touches such as a pre-installed QuickOffice Mobile Suite, plus security enhancements from both McAfee and AuthenTec.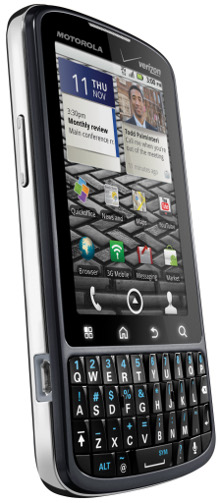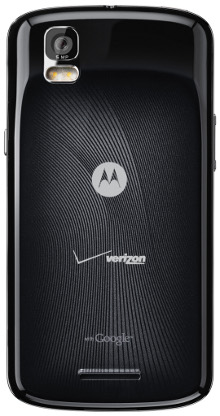 Droid Pro, front and back


(Click on either to enlarge)
The device is equipped with an unnamed 1GHz processor, most likely a Texas Instruments Cortex-A8-based OMAP3x system-on-chip (SoC). Considering that there are no claims here about viewing 720p video or playing 3D games, this is most likely the basic
OMAP3610
model found in Mot's new AT&T phones, as opposed to the OMAP3630 version found in the Droid X and Droid 2, which adds 3D and video accelerators.
Motorola's description of the Droid Pro's memory allotment is rather confusing. The press release mentions only "4GB of memory (2GB internal and 2GB removable)," which appears to be true since this is echoed by the separate Verizon Wireless release. The Motorola Droid Pro datasheet, however, lists 512MB RAM, as well as "2GB ROM, 1.5GB user available memory," and also notes "8GB internal memory, 8GB pre loaded — expandable to 32GB with SD."
The Droid Pro is further equipped with Wi-Fi, Bluetooth 2.1, aGPS, a USB 2.0 port, and a 3.5mm audio port, says Motorola. A five-megapixel autofocus camera offers dual LED flash, as well as DVD-quality video capture, says the company.
The phone measures 4.7 x 2.36 x 0.46 inches (119 x 60 x 11.7mm) and weighs 4.73 ounces (134 grams), says Motorola. The Droid Pro features the 3G Mobile Hotspot support offered by Android 2.2, spreading the 3G love to up to five nearby Wi-Fi devices.
The phone appears to have a choice of batteries, with either a 1420 mAH Standard or 1860 mAH Extended model. Motorola does not mention which version is used when it lists talk times of 430 minutes (CDMA), 420 min. (WCDMA), 470 min. (GSM), and 580 min. (Wi-Fi).
Firmware and software features for the Droid Pro are said to include:
Android 2.2 with Adobe Flash Player 10.1
Android Market, Google Maps Navigation, etc.
QuickOffice Mobile Suite with document editing
DLNA connectivity
Full-push corporate email with corporate level security, unified calendar with additional work features
AuthenTec IPSec multi-headed VPN integration, remote wipe of device and SD card, and complex password support
McAfee Enterprise Mobility Management firmware
Device and SD card encryption (available early 2011)
Stated Mike Lanman, president, Enterprise and Government Markets for Verizon Wireless, "Droid Pro combines the feature-packed, high-level user experience that customers look for in an Android smartphone plus the security that enterprises require, all with the reliability of Verizon Wireless 3G network."
Motorola Citrus
The Android 2.1-powered Motorola Citrus will likely be offered by Verizon Wireless for considerably less than the Droid Pro. The CDMA 1X EV-DO Rev 0 phone is equipped with a three-inch QVGA capacitive touchscreen, says Motorola. The Citrus also offers the Backtrack touchpanel located on the back of the device, which is found on Motorola Android phones including the Backflip.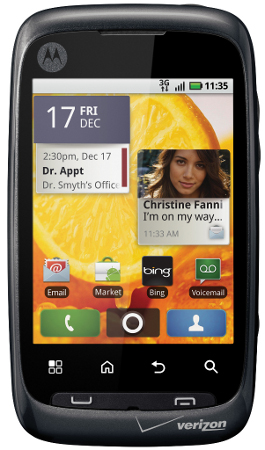 Motorola Citrus


(Click to enlarge)
No details were offered on the processor, and internal memory is listed only as offering 100MB user space. The phone also ships with a 2GB microSD card for its 32GB-capable slot.
Additional features include Wi-Fi, aGPS, Bluetooth, a 3.5mm audio port and a USB 2.0 port, says the company. A three-megapixel, fixed-focus, digital zoom camera is also said to be available.
The Citrus measures 4.1 x 2.3 x 0.6 inches (104 x 59 x 15mm) and weighs 3.88 ounces (110 grams), says Motorola. The 1150mAh battery is said to support up to 380 minutes of usage time on WCDMA networks.
The Citrus housing is made from 25 percent post-consumer recycled plastic, and is certified as CarbonFree through an alliance with Carbonfund.org, says Motorola. The device is also said to be PVC and BFR free.
The Citrus offers Android Market access, as well as the standard web browser, Gmail, Google Talk, and other apps. However, it preloads Microsoft's Bing Search and Bing Maps instead of similar Google apps.
Motorola Spice
Verizon Wireless will not, apparently, be offering the third announced Motorola phone, the Spice. The phone is instead heading for Latin America, starting with Brazil, says AndroidCommunity.

Motorola Spice with slider extended


(Click to enlarge)
Like the Citrus, the Spice is aimed at an entry-level market, offers a three-inch, capacitive QVGA touchscreen, and features the back-facing Backtrack trackpad. However, it also offers a QWERTY slider instead of depending solely on an onscreen keyboard.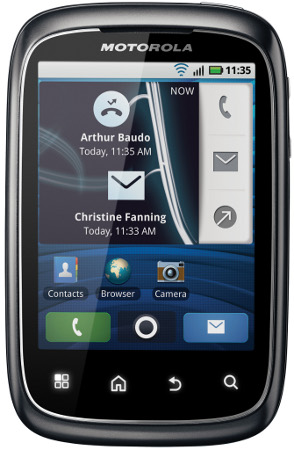 Spice, shut tight


(Click to enlarge)
The Spice runs Android 2.1 on an undisclosed processor, and features 256MB RAM plus 512MB of internal flash memory. In addition it provides a microSD card slot that supports up to 32GB of storage, says Motorola.
Supporting WCDMA, HSDPA, and GSM cellular networks, the Spice also supplies 802.11b/g Wi-Fi, as well as Bluetooth 2.0 and aGPS, says the company. Like the Citrus, it provides a three-megapixel fixed-focus, digital zoom camera. A 3.5mm headphone jack and a USB 2.0 port are also said to be supplied.
The Spice measures 3.8 x 2.4 x 0.66 inches (97 x 61 x 16.8mm) and weighs 5.11 ounces (145 grams), says Motorola. The 1170mAh battery offers WCDMA talk time of up to seven hours, with standby at up to 230 hours, says the company. Like the Citrus, the phone is said to be 25 percent constructed of recycled plastic.
Motorola doesn't say much about software here. Aside from Android 2.1, it offers the standard WebKit browser, as well as "Google services like Gmail and Gtalk," says the company.
Availability
The Droid Pro will be made available in the coming weeks, says Verizon Wireless, which did not list pricing. More information may be found at Motorola, here, and at Verizon, here.
The Motorola Citrus will be offered by Verizon Wireless in the fourth quarter at an undisclosed price. More information may be found at Motorola, here, and at Verizon Wireless, here.
The Motorola Spice will be available somewhere (probably Brazil) in the fourth quarter, says Motorola. More information may be found here.
The story in The Wall Street Journal on the Windows Phone 7 happy talk from Motorola and Microsoft may be found here, and the Bloomberg story may be found here. The AndroidCommunity story about the Spice may be found here.
---
This article was originally published on LinuxDevices.com and has been donated to the open source community by QuinStreet Inc. Please visit LinuxToday.com for up-to-date news and articles about Linux and open source.