Jan 30, 2009 — by Eric Brown — from the LinuxDevices Archive — 2 views
PureWave Networks is using Linux, a Freescale processor, and an off-the-shelf middleware package from Enea to create its next generation of WiMAX base stations. Due later this year, the base stations will aim to bridge the gap between macro and pico WiMAX stations, says the company.
The PureWave WiMAX/LTE base stations will combine the functionality of a traditional macro base station with the small footprint and lower pricing of pico base stations, claims PureWave. Designed for outdoor installations, the base stations will be mountable on towers, poles, or walls, says the company.
The base stations are said to incorporate adaptive beamforming technology that optimizes spectral efficiency, data throughput, and range. Beamforming is a signal processing technique used by sensor arrays to offer directional signal transmission or reception, and adaptive beamforming is said to better adapt to different transmission conditions.
The small form-factor systems are based on an undisclosed Freescale processor, and use a Freescale Linux distribution, which the company expects will ship with a Linux 2.6.24 kernel. The design may well incorporate Freescale's multi-core, PowerPC-based PowerQuicc III "MPCxxxx" networking processors, or else its new PowerQuicc heir, the QorIQ.
WiMAX on the cusp?
Slow to emerge, WiMAX appears to have finally gotten off the ground in the U.S., with the launch of Clearwire's first WiMAX deployments and merger with Sprint Nextel's WiMAX efforts under the Clearwire name. Most recently, Clearwire launched a 4G "Clear" service in Portland. However, with the current tough economy, Clearwire has its work cut out for it in building the network nationwide. Other nations — especially India — seem to be moving forward aggressively with WiMAX.
Meanwhile, the USDA (Department of Agriculture) last March awarded $267M to Colorado-based Open Range Communications to use WiMAX how it was originally intended — to extend broadband into rural areas. Private investors piled on another $374M a few months later. The group hopes to deliver WiMAX in 17 states, including California, Nevada, Colorado, Nebraska, Arkansas, Wisconsin, Illinois, Indiana, Ohio, Pennsylvania, New York, New Jersey, Delaware, Alabama, Georgia, South Carolina, and Florida.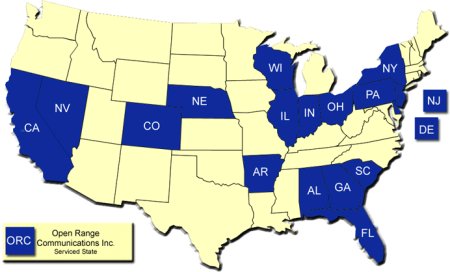 Open Range Communications coverage map (planned)
WiMAX, or IEEE standard 802.16, was originally envisioned as a low-cost, last-mile link for rural areas, as well as for metropolitan area networks without an unobstructed "line-of-sight" path. Subsequently, WiMAX was adopted by mobile companies, who saw its potential as a "4G" (faster than 3Mbps) mobile data delivery technology. Participating companies worked for several years through the WiMAX Forum to develop the 802.16e "Mobile WiMAX" standard, adding cell-to-cell hand-off and other features needed to support non-fixed clients.
A telecom Swiss Army Knife
The base stations will run the Enea Accelerator Platform networking/telecom suite of software from Swedish software vendor Enea. Accelerator is built around its Element middleware, which supports heterogeneous telecom environments that mix Linux with Enea's own OSE and OSEck real-time operating systems (RTOSes). Element 3.0 boasts support for the Availability Management Framework (AMF) defined by the Service Availability Forum (SAForum or SAF), along with in-service upgrades and optional DSP (digital signal processor) management add-ons.
Accelerator is designed for IP-based services including broadband access, VoIP, IPTV, gaming, and streaming video. It is optimized for Wind River's Carrier Grade Linux (CGL) distribution, and for MontaVista Linux Carrier Grade Edition, which Enea has resold since April 2006. The platform is available with out-of-the-box Kontron ATCA systems, and is also compatible with Radisys equipment. In addition to Element, the platform includes a variety of network protocols, a database, and embedded- and DSP management software. Components include the Linx inter-process communications (IPC) services package, the Polyhedra database system, and Tail-f's ConfD software configuration management toolset.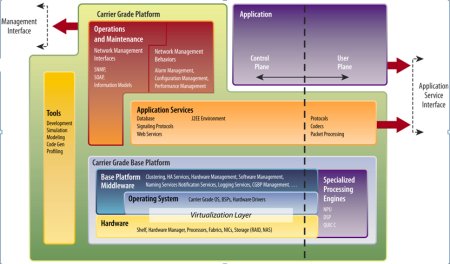 A simplified architecture diagram for Enea Accelerator 2.0.
Enea can provide "90 to 95 percent" of components in the green box,
says Enea, including user applications to the right of the dotted line.
(Click to enlarge)
Stated Dan Picker, CTO, PureWave, "Middleware development is one of the most complex, costly, and time-consuming aspects of deploying reliable, high-availability networked systems. Enea's solution enables us to focus our development efforts on what makes PureWave's WiMAX solutions unique, such as advanced beamforming and true spectrum re-use technology."
---

This article was originally published on LinuxDevices.com and has been donated to the open source community by QuinStreet Inc. Please visit LinuxToday.com for up-to-date news and articles about Linux and open source.