Jun 10, 2008 — by Eric Brown — from the LinuxDevices Archive — 9 views

IBM announced the completion of a one-petaflop supercomputer that runs Red Hat Linux. Twice as fast as the previous record-setter, the IBM Blue Gene, the Roadrunner uses a hybrid design that combines 6,948 dual-core AMD Opteron chips with 12,960 Cell processor engines.
The Roadrunner was built for the Department of Energy's National Nuclear Security Administration and will be soon be shipped to its new home at Los Alamos National Laboratory in New Mexico. There, it will be put to work monitoring the nation's nuclear weapons stockpile, but will also be available for research into astronomy, energy, human genome science, and climate change, says IBM.
Like Blue Gene and some 75 percent of the world's supercomputers, the $100 million Roadrunner runs Linux. As with most of them, the new world record-holder runs multiple instances of Linux over a cluster of interconnected computers.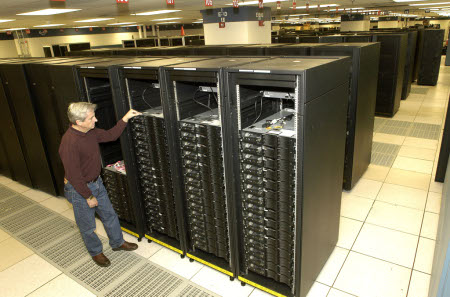 Lead engineer Don Grice of IBM inspects Roadrunner
(Click to enlarge)
With its mixture of i86 Opteron processors, running on IBM Model LS21 blade servers, and Cell processors running on IBM Model QS22 blade servers (pictured below at right), the Roadrunner is billed as the world's first "hybrid" supercomputer. The recently announced QS22 features a
die-shrunk version of the Cell processor
. It is compliant with the
Cell Broadband Engine (Cell/B.E.) Architecture
co-developed by IBM, Sony, and Toshiba, and which is best known for its use in
Sony's Playstation3
. Each multi-core "Cell" processor features eight synergistic processor units, with advanced floating-point performance and clock speeds in excess of 4GHz.


IBM BladeCenter QS22
(Click for details)
The Roadrunner's standard processing is handled by the i86-based Opterons, while the Cell processors perform the more mathematically and CPU-intensive operations. IBM arranges the Roadrunner's servers in a "tri-blade" configuration that combines two Cell-based IBM QS22 blade servers and one AMD-based IBM LS21 blade server. Each of the 3,456 tri-blade clusters can run at 400 billion operations per second (400 Gigaflops), says IBM.
Backed up with 80 terabytes of memory, the entire system can achieve "petaflop" performance, or 1,000-trillion operations every second — the equivalent to the processing power of 100,000 laptops, says the company. By comparison, the Blue Gene (pictured below at right) is equipped with 131,072 embedded PowerPC processors and 32,768GB of RAM, and achieves 280,600 Gigaflops performance overall, with 367,000 Gigaflops peak performance.


IBM Blue Gene
(Click for details)
According to IBM, the Roadrunner's hybrid design has helped make the system far more energy efficient than the Blue Gene. The Roadrunner boasts power consumption of 3.9 megaWatts, and is said to provide 376 million calculations per Watt.
The Roadrunner is housed in 288 refrigerator-sized BladeCenter racks occupying 6,000 square feet and weighing 500,000 pounds, says IBM. The system is also equipped with 10,000 Infiniband and Gigabit Ethernet connections, requiring 57 miles of fiber optic cable. The computer is comprised almost entirely of commercially available technology, with components contributed from companies, including Emcore, Flextronics, Mellanox, Panasas, and Voltaire.
IBM is developing new software to make Cell-powered hybrid computing broadly accessible, says the company. Big Blue is also developing an "open-source ecosystem" that will bring hybrid supercomputing to financial services, energy exploration, and medical imaging industries. Potential applications include calculating cause and effect in capital markets in real-time, and visualizing 3-D renderings of tissues and bone structures in real-time, as patients are being examined.
---

This article was originally published on LinuxDevices.com and has been donated to the open source community by QuinStreet Inc. Please visit LinuxToday.com for up-to-date news and articles about Linux and open source.