Jan 8, 2004 — by LinuxDevices Staff — from the LinuxDevices Archive — 1 views
The world's first MPEG-4 encoder-decoder (CODEC) System-on-Chip (SoC) will be supplied to device designers with a ready-to-run embedded Linux kernel and Linux development tools, according to chipmaker Protocom and Linux support partner LynuxWorks. The device targets consumer electronic and military applications, and will appear initially in a tapeless camcorder device from an unnamed consumer electronics… giant.
The Protocom PR818 is a single chip MPEG-4 audio video (A/V) CODEC with an integrated ARM 922T processor core that targets consumer electronics devices that capture and display high quality video. It is currently in full production, and will be supplied to device designers along with a reference platform, a BlueCat Linux runtime kernel, development tools and developer seat licenses from LynuxWorks.
"Extremely interested in Linux"
Protocom VP of Marketing Isaac E. van Kempen says the company has no plans, currently, to support other operating systems on the device. "Our customer base is extremely interested in Linux," says van Kempen. "There are drawbacks in regards to boot time, but we're starting to overcome those issues. And TCP/IP support is built in, drivers are available off the shelf. Most importantly, engineers think they can do it. Because the source code is there."
LynuxWorks VP of Sales and Marketing Bob Morse agrees: "In the consumer space, Linux is the only OS people are considering."
Significant Chip
As the first single-chip MPEG-4 CODEC, the PR818 is positioned for extensive use in the a range of devices that capture and display high-quality video, according to van Kempen.
"MPEG-4 is a more horizontal application than MPEG-2," notes van Kempen. "It's not just a distribution format, like MPEG-2. It's both an acquisition and a distribution format."
Van Kempen expects the relatively low-cost PR818 to appear in cellphones, set-top boxes, timeshifting video recorders, hybrid still/motion cameras, full-duplex video-conferencing applications, and more. A tapeless camcorder capable of storing almost an hour of near-DV quality video on removable solid state media is rumored to be the chip's first design win.
"We're working with a very large consumer electronics giant that has designed in our device. It will initially be used in a camcorder," allows van Kempen.
Protocom is in talks with another "giant," van Kempen notes, that will use the PR818 in a PDA. And, homeland security applications also appear high up on the device's dance card.
"We're talking to homeland security officials — talking to folks about things they probably shouldn't be telling us, things I'd rather not know," said van Kempen. "They want to do things in a wireless environment, for obvious reasons, so they need really high compression over 802.11u. They want to send video over 27 miles — now they're pushing for 70 miles, actually — without dropping any frames! The government requires the use of standard formats, and MPEG-4 is an ISO/IEC standard."
Features and specs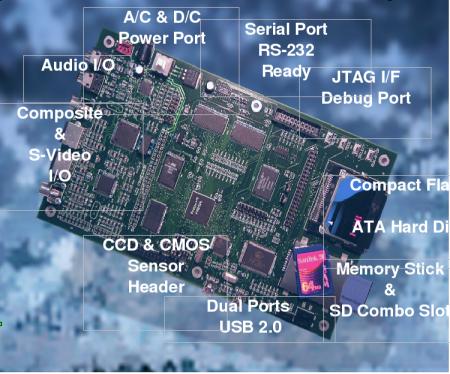 Protocom's "evaluation/demonstration board" for the PR818
Protocom lists the following features for the PR818:
Supported Video/Audio Formats

NTSC (720×480) and PAL (720×576)
Common Video: VGA (640×480), SIF (320×240), QSIF (160×120), CIF (352×288), and QCIF (176×144)
Glue-less interface to CCD/CMOS image sensors
Programmable Host & GPIO Interface
I2C like-Serial Bus & CCIR656 I/F
I2S (Audio)
G.726, ADPCM, AAC & MP

External Components Storage Connection

Video Decoder (Philips SAA7115)
Video Encoder (Philips SAA7125/7129)
USB 2.0 Controller
Embedded MLC / Flash Memory
MS, MS-Pro, SD, CF & MMC
ATA / IDE Hard Disk
Audio CODEC

Other PR818A Key Features

Transcoding (MPEG-2 to MPEG-4)
UP/Down sampling
Single Chip MPEG-4 CODEC with RISC Core
Auto Cropping and/or Padding
JTEG Interface for Testing & Debugging
Compliant with MPEG-4 standard v.1 & v.2
Serial (COM) port for terminal emulation
Variable bit rate or Constant bit rate
5V DC, 2.5A Max
Availability
The PR818 is currently in full production, and interested developers are invited to contact Protocom directly for pricing and further information.
---

This article was originally published on LinuxDevices.com and has been donated to the open source community by QuinStreet Inc. Please visit LinuxToday.com for up-to-date news and articles about Linux and open source.