Sep 27, 2002 — by LinuxDevices Staff — from the LinuxDevices Archive — 2 views
In celebration of the Nuit Blanche art festival in Paris, Project Blinkenlights has transformed Tower T2 of the Bibliothèque nationale de France into what is claimed to be the world's largest computer screen. The 520 pixel display, called Arcade, consists of a matrix of 20 x 26 of the building's windows — resulting in a giant computer screen having an area of 3370 square meters.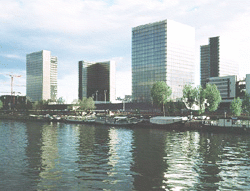 Bibliothèque nationale de France, by day
The huge computer screen went live on September 25, 2002 and will continue for eleven nights until the official Nuit Blanche event on October 5/6, 2002. During this period of time, the system will present an ever-changing kaleidoscope of animations and interactive apps, including a new series of classic computer games tweaked to display on the unique low-resolution, yet building-sized, display.
The system has been configured so that people can play games on the building by calling it up from their mobile phones. One popular game is sure to be the all-time favorite pixel puzzle game, Tetris, which can be played using nothing but a mobile phone!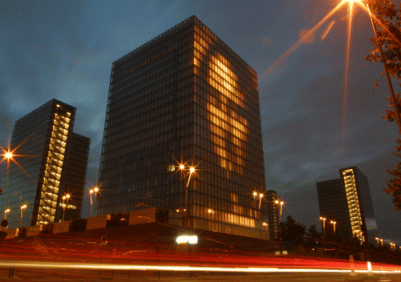 Bibliothèque nationale de France, by night
Arcade is the second (and largest) building-sized computer screen created and installed by Project Blinkenlights. The first, unveiled last year in honor of the 20th anniversary of the Chaos Computer Club, was located at the famous Haus des Lehrers office building in Berlin. One change since the earlier version is the ability to control the brightness of each pixel, which results in a grayscale display that allows for sophisticated, large-scale animations glowing into the Paris night life.
The system's software architecture allows more than one game, along with other interactive applications, and was designed to make it easy for programmers to contribute additional code (more on this, below).
The phone call interface software is dialog-oriented and can detect calling numbers, which enables cool features like answering in French for calles from French phone networks and German for German callers. Everyone else gets English.
Live video feed
Live streaming over the Internet starts every evening at 20.00h (Paris local time) until 8.00h in the morning. In between, a recording of the last day is being sent. Here are the direct streaming links . . .
Public participation encouraged
In addition to playing games via mobile phone calls, the public is also invited to create pictures and animations that can be added to Arcade's repertoire. The newly created ArcadePaint program, which runs on Mac and Windows systems, was developed to facilitate this process. Participants are invited to email their creations to the project and become part of the ever-growing playlist of animations being displayed during the lifespan of Arcade.
Programmers can try their hand at creating animations using Arcade's simplified XML-based file format. Additionally, 'C' experts wanting to create interactive games and apps for Arcade can do so using the available Blinkenlights Library (blib). The programming is said to be relatively simple.
Anyone interested in creating games and other applications for Arcade is invited to contact the Blinkenlights Project.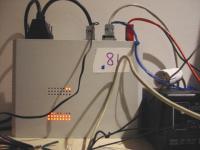 Arcade's Embedded Linux computer
The simple, mechanical switching mechanism of the original installation in the Berlin Haus des Lehrers has been replaced by a completely new, more sophisticated, design. Twenty custom-designed "Matrix Control Units" control the monstrous 520 pixel display — one for each of the 20 floors whose windows are part of the display, and connected via a LAN.
The use of a separate Matrix Control Unit on each floor was necessitated by fire regulations, which required that the lighting control for each of the twenty floors be completely isolated from the others. One system, on the 18th floor (dubbed the Chaos Control Center), takes care of streaming all of the required pixel data to the twenty Matrix Control Units.
Each window of the building (used as a pixel) is 3.6 x 1.8 meters in size, and is equipped with two light bulbs in order to ensure that the 2:1 'pixel' size is evenly illuminated. (The 2-bulbs-per-pixel lighting approach also guarantees good lighting coverage at lower brightness values.) Twenty floors of twenty-six windows thus results in 1040 lamps, which are accessed in pairs.
Each Matrix Control Unit contains an embedded computer based on a tiny SSV DNP/1486 single-board computer module, along with some custom electronics developed by the Blinkenlights Project (see photo below; note the DNP/1486 plug-in SBC module). The embedded software platform is Linux (based on kernel 2.4.18), along with the RTAI real-time enhancement.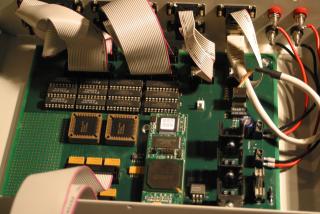 Interior of the MCU, showing electronics
Although Arcade's screen is based on incandescent light bulbs, resulting in a monochrome grayscale display, the Matrix Control Units have also been tested with specially-made RGB neon tubes, raising the possibility of a building-sized color display sometime in the not-too-distant feature.
Portions of this article are adapted from documents published by the Blinkenlights Project, a project of the Chaos Computer Club, and are reproduced by LinuxDevices.com with the project's permission.

This article was originally published on LinuxDevices.com and has been donated to the open source community by QuinStreet Inc. Please visit LinuxToday.com for up-to-date news and articles about Linux and open source.