Nov 2, 2011 — by Eric Brown — from the LinuxDevices Archive — 77 views
Epiq Solutions announced what it claims is the world's smallest commercially available software defined radio (SDR). The 4.6 x 2.2 x 0.9-inch, four-ounce Matchstiq incorporates a broadband (28MHz) RF transceiver supporting 300MHz to 3.8GHz frequencies, an onboard GPS receiver, and an Iveia Atlas-I-LPe module integrating a Texas Instruments DM3730 processor and a Xilinx Spartan-6 FPGA.
Epiq Solutions specializes in the wireless communications IP and radio frequency (RF) tuner cards, but this appears to be the first Epiq device to incorporate its own ARM processor and operating system. Claimed to be the world's smallest commercially available software defined radio (SDR), the $4,500 device is designed for challenging signal processing requirements that require portability, says the company.
SDR technology is used to process wireless communications tasks within software, offering easier reprogramming and reduced hardware expenditures in a world of quickly multiplying and changing wireless standards.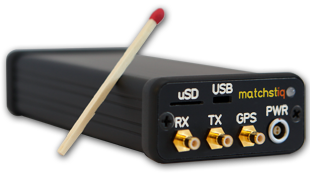 Matchstiq
The portable, battery-powered Matchstiq can be used to scan and decode cellular signals for network configuration analysis, says Epiq Solutions. In addition, it can estimate a network's capacity via Cellular Load Generation (CLOG) testing, says the company.
As shown in the illustration below, the device can be used in standalone mode, to control a UAV (unmanned aerial vehicle), for example. It can also connect with Android smartphones and PCs via Bluetooth, Wi-Fi, or a wired connection, says the company.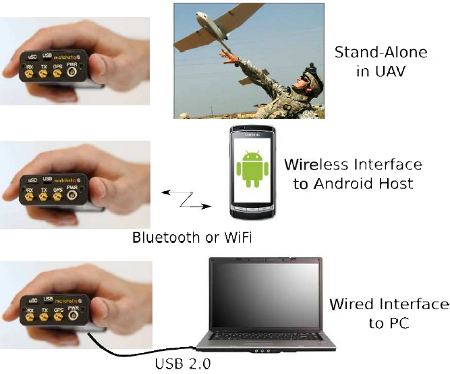 Different use scenarios for the Matchstiq
(Click to enlarge)
Epiq provides a library of SDR signal processing applications to make the device a point-to-point data modem, LTE survey tool, portable spectrum analyzer, and more. Meanwhile, with the Linux OS, users can add their own software, such as
GNU Radio
, says the company. In addition, a software development kit (SDK) is said to be available to design custom applications.
iVeia module combines DSP-enabled ARM SoC with FPGA
The Matchstiq incorporates an Atlas-I-LPe computer module developed by iVeia, which acts as the device's baseband processing engine. The Atlas-I-LPe combines a Xilinx Spartan-6 LX45 FPGA (field programmable gate array) and a Texas Instruments (TI) DaVinci DM3730 ARM Cortex-A8 processor, which runs the 2.6.35 Linux kernel.
The DM3730, which powers the BeagleBoard-xM development board, also incorporates TI's 800MHz C64x+ DSP (digital signal processing) core to run software-defined radio (SDR) algorithms with the help of the FPGA. The tightly integrated module helps the Matchstiq run on as little as three Watts for typical receive-only use, claims Epiq Solutions.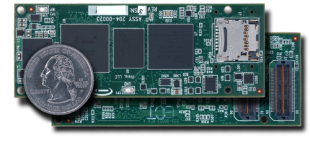 iVeia'sAtlas-I-LPe
A future version of the Matchstiq, due in the second quarter of 2011, will upgrade to the Xilinx Zynq-7000 processor, according to Epiq. Although the company did not mention it, this may well arrive in the form of iVeia's
Atlas-I-Z7e
module announced in March. The Atlas-I-Z7e appears to be the first computer-on-module (COM) based on Xilinx' FPGA-enabled Cortex-A9
Zynq-7000
SoC.
This newer iVeia module incorporates a Zynq-7020 with dual cores clocked to 800MHz, and features Linux and Android support and "extremely low power" sleep modes. Back in March, Iveia listed the current Atlas-I-LPe module as a preliminary development platform for the Atlas-I-Z7e.
The current Matchstiq's Atlas-I-LPe module ships with 512MB of LPDDR RAM, expandable to 1GB, as well as 16GB of microSD flash memory. The DM3730 can also be swapped out for an earlier TI OMAP3530, says Epiq.
Inside the Matchstiq: RF and GPS radios
The Matchstiq incorporates the base-level 512MB of LPDDR2 RAM, but doubles the flash to 32GB, says Epiq Solutions. The sole interface to the module is a micro-USB 2.0 OTG port, which can run in host or device mode.

Matchstiq block diagram


(Click to enlarge)
Aside from the micro-USB port, the only other interfaces appear to be the antenna connections for an RF receiver and transmitter, as well as the GPS radio. The RF transceiver supports SMB input and output at a frequency range of 300MHz to 3.8GHz, in step sizes of 1KHz. Channel bandwidth is said to reach up to 28MHz.
Featuring a "Zero-IF" direct-conversion architecture, the transceiver can tune to a new frequency in less than two microseconds, claims the company. The RF transmitter is said to offer a baseband gain control range of 0 to 31 dB and a gain control range of 0 to 25 dB.
The GPS radio offers 51 acquisition channels and 14 tracking channels, says Epiq. The receiver is said to feature -161 dBm sensitivity, and less than 2.5-meter accuracy, and offers 1PPS (one pulse per second) technology for precision time-keeping.
The Matchstiq is also equipped with a temperature sensor that can detect temperatures ranging from -67 to 257 deg. F (-55 to 125 deg. C). The device itself, however, is only rated to survive 32 to 122 deg. F (0 to 50 deg. C) temperatures without external temperature support.
The 4.6 x 2.2 x 0.9-inch, four-ounce Matchstiq accepts power input ranging from 6-28 V DC, and is available with an optional, rechargeable Lithium 1000mAh battery, says Epiq. The battery is about half the size of the device itself, measuring 2.2 x 2.2 x 0.9 inches.
Stated Michael Fawcett, CTO of iVeia Inc., "Both our companies strive for innovation and cutting edge capabilities in small form factors. Matchstiq fills a void in the SDR landscape, performing at the same level of competing systems but at less than half the size, cost, and power."
Stated John Orlando, CEO of Epiq Solutions, "We believe this paradigm shift in capability will open up entirely new markets where fixed-function radios have ruled the airwaves for far too long."
Availability
Pre-orders are now being accepted for the Matchstiq, which will ship in December with single unit pricing of $4,500, says Epiq Solutions. More information may be found at Epiq's Matchstiq product page.
---
This article was originally published on LinuxDevices.com and has been donated to the open source community by QuinStreet Inc. Please visit LinuxToday.com for up-to-date news and articles about Linux and open source.