Nov 26, 2007 — by LinuxDevices Staff — from the LinuxDevices Archive — 15 views

The Communications Research Center Canada (CRC) has used Linux to demonstrate a tiny software-defined radio (SDR) claimed to comply with the Software Communications Architecture (SCA). The demo aims to prove SCA's applicability not only in military radios, but also in vehicles, robots, and small consumer devices, according to CRC.
The demo was designed to show off CRC's SCARI++ SCA Core Framework, a library and toolkit aimed at sparing developers from the complexities of SCA requirements. The stack was shown running under Linux on a gumstick-shaped board measuring about 0.8 x 3.9 inches.
Of course, every digital mobile phone includes an equally tiny if not tinier software-defined radio based on proprietary specifications. However, CRC claims its demo to be the smallest SDR to support the open Software Communications Architecture developed by the U.S. Department of Defense Joint Tactical Radio System (JTRS) for use in future U.S. military radios. The demo is also interoperable with the Family Radio Service used in "walkie-talkie" products, and with the FM-frequency radios used by public safety organizations, CRC claims.


Gumstix Verdex
(Click to enlarge)
CRC's demo was built atop a Gumstix "Audio Pack," apparently a new configuration from Gumstix, which sells its tiny SBCs (single-board computers) in "packs" that typically include a case and various add-on peripherals such as audio daughterboards. Most of Gumstix's Packs are based on its "Verdex" board (pictured at right), a PXA270-based SBC measuring 0.8 by 3.9 inches (20 by 100 mm).
Tiny hardware aside, CRC's demo was really designed to show off its SCARI++ software stack. This C++ implementation of SCA has previously been used in a "low-cost" Pentek card that featured an on-board FPGA.
SCARI++ comprises a library and development tools aimed at sparing developers from dealing with the "complexity of SCA requirements." It was "designed with small devices in mind," CRC claims, and at some point will be be available in a footprint-reduced "SCA-Light" version.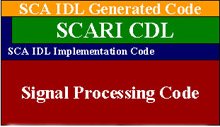 CRC's SCARI++ stack
Stated Veena Rawat, President of CRC, which is an agency of Industry Canada, "We have demonstrated the feasibility of using the SCA specification to develop tiny radios. We are making the technology applicable to vehicular, robotics, and consumer industries."
Availability
CRC demonstrated its small SDR earlier this month at the 2007 SDR Technical Conference and Product Exhibition in Denver. DSO, an R&D company based in Singapore, also took part in the demo.
The CRC bills itself as "the Canadian government's primary laboratory for research and development (R&D) in advanced wireless and photonics telecommunications." Its SCARI Software Suite is available now for Linux, VxWorks, Integrity, and LynxOS. It is said to be compatible with ORBExpress and a variety of processors, including x86, PowerPC, ARM, and XScale.
---

This article was originally published on LinuxDevices.com and has been donated to the open source community by QuinStreet Inc. Please visit LinuxToday.com for up-to-date news and articles about Linux and open source.