Nov 30, 2010 — by LinuxDevices Staff — from the LinuxDevices Archive — 1 views
Enterprises looking for more energy-efficient server platforms shouldn't look to AMD's upcoming "Bobcat" architecture — at least not yet, according to an AMD executive blog. Meanwhile, x86 servers are increasingly being adopted instead of high-end RISC- or Itanium-powered alternatives, says Gartner.
In a Nov. 29 blog post, John Fruehe, director of product marketing for server, embedded and FireStream products at AMD, said a customer on a recent trip to Asia asked him if AMD was planning on offering processors based on the Bobcat core, for low-power servers that could be used in cloud computing environments.
On initial blush, it would make some sense, Fruehe said. The Bobcat core, which comes in 9- and 18-watt versions, is targeted at such client offerings as mobile devices and ultra-thin laptops. Such energy efficiency is attractive in data centers that need a lot of smaller systems to run high numbers of smaller workloads.
"With all of the talk about cloud computing and low power environments, this customer was thinking that this might be a good alternative for a cloud solution," Fruehe said. "With a power draw that low, it appears pretty appealing."
However, he said, for the demands of today's cloud computing environments, AMD's Opteron 4100 and 6100 series processors meet the needs, in such areas as watts-per-core. In addition, the Opteron processors have various server features that the Bobcat cores — which will begin appearing in systems in 2011 — don't, including ECC memory and support for server operating systems.
The Bobcat APUs (accelerated processing units), which include integrated graphics capabilities may offer high energy efficiency, they wouldn't scale well in cloud environments, Fruehe said.
"So, while you get really low power, you also don't necessarily have the core density that cloud customers demand," he wrote. "This can impact the overall manageability of the solution."
That said, it doesn't mean AMD is closing the door on using its Bobcat or "Bulldozer" core designs for future SoC (system-on-chip) offerings for servers in the cloud computing market. Bulldozer currently is being aimed at servers and high-end desktop systems. Fruehe said AMD is "analyzing" both designs for cloud environments.
"There is not 100% clarity at this time about the needs of the cloud market because so much of it is evolving today, but we are serious about ensuring we have the right solution going into the future," he wrote. "That means any products we develop in the future for cloud servers would have 'server class' features (ECC, appropriate cache sizes and memory support etc.)."
Systems makers and chip vendors are pushing solutions designed to meet the high performance and low power consumption demands of scale-out cloud environments. In his blog posting, Fruehe compares AMD's Bobcat core to Intel's Atom processor, which initially was designed for the netbook space but has expanded into other markets.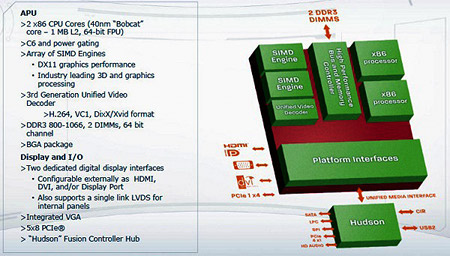 AMD's Brazos platform
(Click to enlarge)
AMD's overall "Brazos" platform (above) consists of an Ontario or Zacate CPU, with one or two Bobcat cores, teamed with the "Hudson" controller hub, a southbridge based on the previously released SB800. Clock speeds range from 1.0GHz to 1.6GHz, as shown in the table below.
| | | | | | | |
| --- | --- | --- | --- | --- | --- | --- |
| Model | CPU Cores | CPU Clock Speed | GPU | Number of GPU Cores | GPU clock Speed | TDP |
| AMD E-350 | 2 | 1.6GHz | Radeon HD 6310 | 80 | 500MHz | 18W |
| AMD E-240 | 1 | 1.5GHz | Radeon HD 6310 | 80 | 500MHz | 18W |
| AMD C-50 | 2 | 1.0GHz | Radeon HD 6250 | 80 | 280MHz | 9W |
| AMD C-30 | 1 | 1.2GHz | Radeon HD 6250 | 80 | 280MHz | |
AMD's Bobcat lineup
x86 servers continue to move forward
While concerns about server power consumption continue to increase — and both Marvell and Calexda are working on ARM-based server CPUs — x86 chips are what's driving overall growth in the space, according to Gartner. During the third quarter of 2010, year-over-year shipments of x86 servers were up 14.9 percent, and the devices generated 29.5 percent more in revenues, the market research firm says.
HP was the world's top server vendor in the third quarter, garnering 32.1 percent of the revenue market share — more than $3.9 billion during those three months. The Palo Alto-based company shipped more than 715,000 servers, giving it 32.6 percent of the market, Gartner says.
Meanwhile, says Gartner, IBM was in second place in revenue gain, followed by Dell. Dell was No. 2 in shipments, followed by IBM.
Fujitsu was in fourth in both revenues and shipments, while Oracle — after its acquisition of Sun Microsystems — was fifth in revenues, and NEC was fifth in shipments.
"As in the first half of this year, x86-based servers were the main driver of the market," Gartner analyst Jeffrey Hewitt said in a statement. "Also following earlier trends, the x86-based server market provided an increase in average selling prices from more robust server configurations to accommodate virtualization; these higher average selling prices pushed revenue higher than shipments, and this was the case in the third quarter for all regions."
The mainframe market — which primarily comprises IBM's System z portfolio, although other companies like Unisys also sell mainframes — also added to the overall revenue increase, showing growth of about 9.9 percent. However, the high-end server space — essentially the RISC systems from the likes of IBM and the servers powered by Intel's Itanium processors — continued to struggle, with declines of 10.1 percent in shipments and 9.5 percent in revenue over the same period last year.
HP is by far the largest vendor of systems based on the Itanium chips, which power the OEM's Integrity line of high-end servers.
Overall, the worldwide server market saw shipments jump 14.2 percent in the third quarter, and revenue increase 15.3 percent. During those three months, vendors shipped almost 2.2 million servers and generated almost $12.3 billion in revenues.
"The third quarter produced some solid year-over-year growth globally in both shipments and vendor revenue," Hewitt said. "All regions showed growth in both shipments and vendor revenue, save one. The Middle East and Africa fell 2.9 percent in vendor revenue in spite of shipment growth of 4.2 percent for the quarter.'"
Blade servers continued their strong growth, with a seven percent increase in shipments and 26 percent increase in revenues. However, rack servers outpaced blade servers, with shipments jumping 23.7 percent and revenues growing 31.2 percent, according to Gartner.
Further information
Gartner's data on worldwide server shipments are part of the research firm's "Servers Quarterly Statistics Worldwide" program. Further information may be found on the company's website, here and here.
Jeffrey Burt is a writer for eWEEK.com. Jonathan Angel added details about AMD's Bobcat CPUs to this story.
---
This article was originally published on LinuxDevices.com and has been donated to the open source community by QuinStreet Inc. Please visit LinuxToday.com for up-to-date news and articles about Linux and open source.