Aug 23, 2010 — by LinuxDevices Staff — from the LinuxDevices Archive — views
Intel announced a dual-core Atom CPU for netbooks and says devices based on it will begin shipping this week. The 1.5GHz N550 will offer a "more responsive experience" in products from Acer, Asus, Fujitsu, Lenovo, LG, Samsung, MSI, and Toshiba, the chipmaker says.
Intel has offered a dual-core Atom for desktop PCs ever since the September 2008 release of the D330. It has been coy about producing a mobile version, however, perhaps because of fears that such a CPU could cannibalize sales of its 32nm, Core-based CULV chips. (The CULVs are intended for thin-and-light laptops that cost more than netbooks, but typically offer extended battery life and better performance.)
The latest in Intel's Pine Trail series of Atoms — also known as "Pineview" when their companion I/O controllers are taken into account — the dual-core N550 was first tipped in May by Fudzilla writer Fuad Abazovic, as we reported at the time. Intel did not mention this CPU, however, when it announced the DDR3-ready, single core N455 and N475 Atoms in June, nor when it released the D425 and D525, aimed at networked storage devices, last week.
Ironically, Intel appears to have been pushed into releasing a dual-core processor for netbooks by AMD, which originally had little interest in the netbook market at all. The latter's dual-core, 1.3GHz Athlon II Neo K325 was released earlier this year as part of AMD's 2010 AMD ultra-thin platform, and has since been employed by Acer, Gateway, and, most recently, Dell (in the Inspiron M101z pictured below).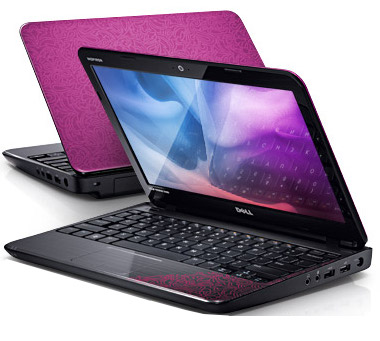 Dell's recent Inspiron M101z uses a dual-core CPU from AMD
(Click to enlarge)

While it finally announced the N550 this morning, Intel still hadn't posted any technical details on the new chip on its website at the time of writing. However, we're included to credit the accuracy of the Fudzilla report already mentioned, which cited a 1.5GHz clock speed, 1MB of second-level cache, and an 8.5 Watt TDP. The latter would usefully put the N550 ahead of the Athlon II Neo K325, which is said to have a 12-Watt TDP.
| | | | | | |
| --- | --- | --- | --- | --- | --- |
| | Clock speed | Cores | Second-level cache | Memory | TDP |
| N450 | 1.66GHz | 1 | 512KB | 667MHz DDR2 | 5.5 Watts |
| N455 | 1.66GHz | 1 | 512KB | 800MHz DDR3 | 5.5 Watts |
| N470 | 1.83GHz | 1 | 512KB | 667MHz DDR2 | 6.5 Watts |
| N475 | 1.88GHz | 1 | 512KB | 800MHz DDR3 | 6.5 Watts |
| N550 | 1.5GHz | 2 | 1MB | 800MHz DDR3 (or 667/800MHz DDR2?) | 8.5 Watts |
| D410 | 1.66GHz | 1 | 512KB | 667/800MHz DDR2 | 10 Watts |
| D425 | 1.8GHz | 1 | 512KB | 800MHz DDR3 or 667/800MHz DDR2 | 10 Watts |
| D510 | 1.66GHz | 2 | 1MB | 667/800MHz DDR2 | 13 Watts |
| D525 | 1.8GHz | 2 | 1MB | 800MHz DDR3 or 667/800MHz DD2 | 10 Watts |
Intel's "Pine Trail" Atoms
Intel's recent N455 and N475 Atoms, part of the same 45nm family as the N550, not only support DDR3 memory, but are also backward-compatible with DDR2 RAM. Therefore, we've conjectured in the table above that the N550 offers manufacturers similar versatility.
According to Intel, the N550 will offer users a "more responsible experience" along with "similar great battery life," compared to previous single-core Atoms.
It appears that for once, the chip giant has managed to announce one of its processors in advance of its customers. In its statement, Intel said the N550 will feature "now and through the end of the year" in netbooks from companies including Acer, Asus, Fujitsu, Lenovo, LG, Samsung, MSI, and Toshiba — but we haven't seen details on any of these products yet. (Watch this space.)
One of the first vendors to release N550-based devices will be Acer, according to a variety of unconfirmed reports. It's rumored the Aspire One D255 announced earlier this month (with the capability of booting into either Windows XP or Android) will be sold with the dual-core CPU as an available build option.
David Lee, associate vice president of Acer's mobile computing business unit, was quoted by Intel as saying, "Acer strives to continually improve on our customers' total mobile experience, whether it is increased responsiveness or extended Internet interactivity through longer battery life. We are pleased to select dual-core Intel Atom processors for Acer netbooks, helping to empower netbook users achieve even more — both at work and at leisure."
Further information
A comparison chart listing Intel's different Atom processors may be found on the company's website, here, but has not yet been updated to reflect the announcement of the N550.
---
This article was originally published on LinuxDevices.com and has been donated to the open source community by QuinStreet Inc. Please visit LinuxToday.com for up-to-date news and articles about Linux and open source.