May 11, 2011 — by Eric Brown — from the LinuxDevices Archive — 3 views
ZiiLabs announced dual- and quad-core Cortex-A9 SoCs (systems-on-chip) clocked at 1.5GHz and aimed squarely at the Android tablet market. The dual-core ZMS-20 and the quad-core ZMS-40 also supply 48 or 96 Stemcell media processing cores, respectively, supporting 1080p video playback, HD video calling, and OpenGL ES 2.0 graphics, plus DDR3, LPDDR2, HDMI 1.4, and OpenCL technology, says the company.
The ZMS-20 system-on-chip (SoC) has begun sampling now, with volume shipments expected in the third quarter, says ZiiLabs, a subsidiary of Creative Technology. The company says it has completed the design of the quad-core ZMS-40, but offers no timetable or detailed specs for it, suggesting a 2012 launch.
The ZMS-20 offers four times the performance of the 1GHz, ARM Cortex-A8-based ZMS-08 announced in November 2009. This followed a portable media player called the Zii Egg StemCell Computer based on the company's homegrown ZMS-05 SoC. (Equipped with dual ARM926 EJ-S cores. The ZMS-05 also formed the basis for a Zii Trinity smartphone reference design that supported ZiiLabs' homegrown "Plaszma" Linux distribution as well as its "Optimized Android" stack.)
The new ZMS-20 processor is aimed at "Android 3.0 based devices and beyond," apparently leaving Plazma as well as Android 2.x in the rear view mirror.
"The ZMS-20 was specifically engineered to meet the performance and power efficiency requirements of high-resolution Android tablets more effectively than any other processor on the market," stated Hock Leow, President of ZiiLABS. Other targets, added Sim Wong Hoo, chairman and CEO of Creative Technology, include "mobile thin clients for cloud computing and other embedded appliances for the post-PC era."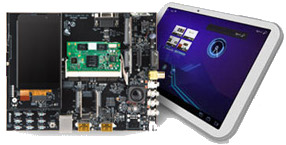 ZiiLabs Android tablet reference design
The company will also supply
Android tablet reference platforms
(pictured above) for the ZMS-20, although ZiiLabs offers few details on the design. The tablet platform is said to support modular designs with white-label, custom, or third-party IDs. Offered with "tuned antennas," the design is pretested for regulatory approval and Android conformance tested, says the company.

Last November, Creative Technology announced the Creative Ziio 10" and Ziio 7" Android tablets (pictured at right). Both are equipped with the ZMS-08 processor.
Two Cortex-A9 cores and 48 media processors
As noted, the ZMS-20 combines 48 ZiiLabs Stemcell media processing cores with dual 1.5GHz ARM Cortex-A9 MPCore processors. The latter are said to be equipped with the Neon instruction set.
Applications enabled by this combination include 1080p high profile video playback, immersive OpenGL ES 2.0 3D graphics, HD video calling, and Adobe Flash 10 acceleration. Also cited are text-to-speech and voice recognition, as well as High Dynamic Range (HDR) image processing. In addition to the OpenGL support, the processor supports the Khronos Group's recently released OpenCL 1.1 parallel programming standard, which is also supported by the Android native development kit (NDK),says ZiiLabs.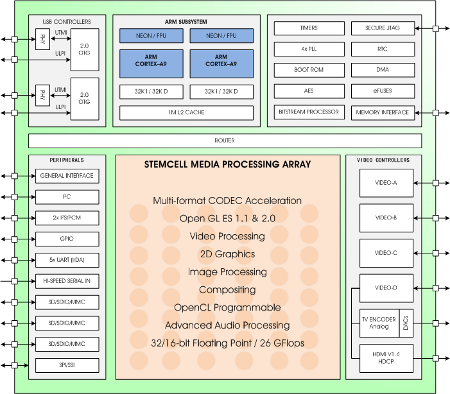 ZMS-20 block diagram


(Click to enlarge)
The ZMS-20 supports 1GB addressable DDR2, DDR3, or LPDDR2 memory, with the latter two memory types touted as being new to ZiiLabs Stemcell processors. While the company doesn't promote the ZMS-20 as being a 3D-video ready processor, it does say the device offers HDMI 1.4 — the claimed "3D stereo support" presumably refers to the audio aspect of the interface. Like other Stemcell processors, the SoC also provides Creative Technology's Xtreme Fidelity X-Fi audio effects.
The ZMS-20 offers four independent video controllers for 24-bit displays and cameras. Additional I/O includes three SDIO/MMC controllers, dual USB 2.0 OTG interfaces, plus serial, I2C, SPI, and more.
Features and specifications listed for the ZMS-20 include:
Processor cores — 2 x 1.5GHz ARM Cortex A9 cores with Neon
Stemcell media processing:

low-energy SIMD architecture
48 x 32-bit floating point media processing cores delivering 26GFlops
H.264 (high profile) video playback at [email protected]
accelerated video codecs including H.264, VC1, and VP8
HD low latency videoconferencing
optimized OpenGL ES 2.0 3D graphics acceleration
accelerated OpenCL 1.1 (desktop profile)
High Dynamic Range (HDR) image processing
text-to-speech and voice recognition
150-megapixel/sec image processing
Adobe Flash 10 acceleration

Memory:

1GB addressable memory
DDR2/3 at 533MHz
LPDDR2 for max. bandwidth and low-power
64-bit wide memory bus

I/O:

HDMI 1.4 with 3D stereo support
4 x independent video controllers (24-bit)
2 x USB 2.0 OTG (host/peripheral) controllers with PHY
3 x independent SDIO/MMC controllers
I2C
2 x I2S/PCM
GPIO
5 x UARTs (IrDA)
high-speed serial-in
SPI/SSI

Other features:

dynamic power management and instantaneous on
Xtreme Fidelity X-Fi audio effects
256-bit AES and TrustZone security
The ZMS-20 joins a growing list of announced dual-core Cortex-A9 SoCs, many of which have reached market, although most of the currently available contenders are clocked at 1GHz or 1.2GHz instead of 1.5GHz. Other recent entries include a STMicroelectronics (ST) SPEAr1340 and Samsung's Exynos 4210.
Stated Eric Schorn, Vice President Marketing, Processor Division, ARM, "The combination of Cortex-A9 processors incorporating ARM NEON and TrustZone technologies provides the multicore technology to drive the latest Android tablets and ensure a high-quality user experience."
Availability
The ZMS-20 is sampling now to select customers and is scheduled for volume shipment to customers in the third quarter. Detailed specifications for the ZMS-40 will be announced later, says ZiiLabs.
Android 3.0 tablets and associated design-kits based on the ZMS-20 will be showcased at Computex 2011 in Taipei, Taiwan, between May 31 and June 4. The ZiiLabs suite is located at the Grand Hyatt Hotel Taipei, Grand Room, #1137, says the company.
More information may be found at ZiiLabs' ZMS-20 product page.
---
This article was originally published on LinuxDevices.com and has been donated to the open source community by QuinStreet Inc. Please visit LinuxToday.com for up-to-date news and articles about Linux and open source.