Oct 31, 2011 — by LinuxDevices Staff — from the LinuxDevices Archive — views
Motorola's Atrix 2 is well worth its $100 on-contract price, at a time when some Android smartphones are selling for $300, says this eWEEK review. Dual-core, 1GHz performance, a 4.3-inch qHD display, and a responsive eight-megapixel camera offer good value, and an extra $300 brings you the nifty Lapdock 100 accessory.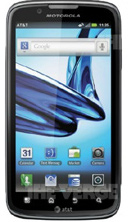 Announced in early October along with four other Android phones, the Motorola Atrix 2 sports several refinements over Motorola Mobility's excellent Atrix 4G, which was launched by AT&T earlier this year. I'd argue without hesitation that the Atrix 2 — just $100 on contract — is hands down the best Android smartphone available at that price.
The thing that's tough about reviewing the Motorola Atrix 4G smartphone line is that you have to get around focusing on the joy the phone's accessories bring to the user. I'm going to give it a shot, but there is one stand-out accessory that I'm going to address later in the review.
The Atrix 2 runs Android 2.3.5 ("Gingerbread") on a speedy, 1GHz dual-core processor, which together with AT&T's 21Mbps 4G HSPA+ network makes for nice application performance. The pre-installed YouTube, Angry Birds and Motorola's ZumoCast applications for music and movies worked well, as did the Motorola Music app. Call quality was crisp and clear, as is typical on AT&T's HSPA+ network here in Fairfield County, Connecticut.
The Atrix 2 is equipped with 1GB of RAM, and my test version was equipped with 8GB of storage (a microSD slot accepts a further 32GB). According to CNET, only 4.4GB of the 8GB of internal storage is available to the user. By comparison, the original Atrix 4G had 16GB of onboard memory, which helps to explain the Atrix 2's $100 price.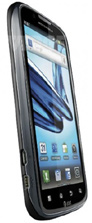 The Atrix 2 is equipped with a 4.3-inch, 960 x 480 (qHD) screen that sparkles to the eye. Recall that the original Atrix, which debuted at the 2011 Consumer Electronics show in January, and sold for $200 at launch, has a four-inch screen and ran Android 2.2 ("Froyo").
The Atrix 2 is designed and sized similarly to the Atrix, sporting a metal housing with a texturized, black rubber enclosure. The phone measures 4.96 x 2.59 x 0.40 inches and weighs 5.18 ounces, says AT&T. The 1785mAh battery lasted me 12 hours on a full charge with moderate use.
The eight-megapixel camera, which offers fun perks like the ability to take six consecutive pictures with multi-shot capability, is vastly superior to the five-megapixel camera in the original Atrix. While I found some camera lag time on the original Atrix, I found none on the Atrix 2 (pictured).
The Atrix 2's camera records and plays video in 1080p, besting the 720p capture and 1080p playback of the original. A front-facing webcam is also available.
Lapdock 100 shines
The new, $300 Motorola Lapdock 100 accessory is one of the real joys of using the Atrix 2, allowing users to leverage the Atrix 2's Webtop app to display the phone's content on a larger, 10.1-inch HD display with 1366 x 768 resolution. The idea of the Webtop and dock is a fine one for corporate road warriors who don't want to carry a laptop or tablet computer.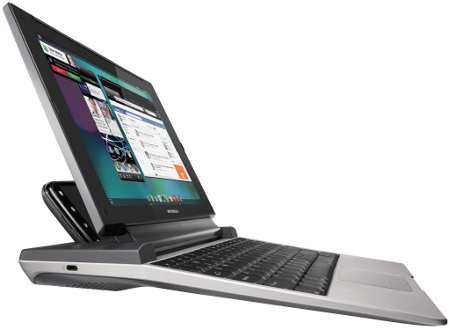 Lapdock 100
(Click to enlarge)
Atrix 2 users simply plug their phone into the Lapdock 100 via the phone's mini-USB and HDMI ports to immediately access their phone applications and content. That includes QuickOffice for Microsoft Exchange access and Google Docs, and even CRM and ERP apps. All of its is displayed via the Mozilla Firefox browser that launches when the Webtop app connects to the dock.
There's something cool about being able to control your phone's dialer app from the dock by picking a number from contacts and calling a number with a simple finger scroll and click of a button. Apps can get added or dropped from an application tray at the bottom of the Lapdock 100 screen. The Lapdock 100 offers two USB ports, and comes with a 30 Watt wall charger that resembles a notebook power cord.
My biggest problem with the Lapdock 100 is the two-finger trackpad, which I found slower and less responsive than the trackpad on the first, more clunky Laptop Dock I tested earlier this year with the Droid Bionic. That original dock actually weighed slightly more — 2.4 pounds compared to the 2.2 pounds of the new model — probably because of the larger 11.6-inch display.
Motorola also offers a 14-inch Lapdock 500 accessory with the Droid Razr, but this does not appear to be supported by the Atrix 2.
There's no question $100 for the Motorola Atrix 2 is a great bargain — and with the 4.3-inch, qHD display you don't even need the Lapdock 100 to enjoy it. It's a nice sign that users needn't shell out $200 to $300 for a high-end Android phone.
Availability
The Motorola Atrix 2 is available now for $100 with two year contract. More information may be found on AT&T's Atrix 2 page.
Clint Boulton is a writer for eWEEK.
---
This article was originally published on LinuxDevices.com and has been donated to the open source community by QuinStreet Inc. Please visit LinuxToday.com for up-to-date news and articles about Linux and open source.