Mar 11, 2009 — by Eric Brown — from the LinuxDevices Archive — 25 views

Via Technologies has quietly established a subsidiary called WonderMedia, which is readying a multimedia-capable ARM9-based system-on-chip (SoC). An early version of the "Prizm" SoC, called the VT8500, is available in a Linux-ready NorhTec MicroClient TC thin-client that costs $100, says the company.
(Click for larger view of the Prizm-based Norhtec MicroClient TC thin client)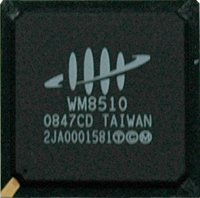 Prizm WM8510
WonderMedia Technologies bills itself as a fabless SoC company headquartered in Taipei, Taiwan, with teams in Shenzhen and Beijing, China, and Silicon Valley, Calif. Its first Prizm-architecture SoC, the WM8510 (pictured at right) is aimed at networked multimedia embedded systems, including ultra-portable personal computing devices, Internet-enabled digital picture frames (DPFs), stereo entertainment devices, digital signage, networked projectors, and thin clients, says the company.
At this point, WonderMedia appears to be focused exclusively on the Prizm SoC, which is touted for its low power consumption, compact size, and multimedia support. As seen in the diagram below, the SoC is built around an ARM926EJ-S core and an MMX-enhanced, programmable "uDSP 2.0" digital signal processor (DSP), says the company. The Prizm also offers video decoders for MPEG 1/2/4, H.264, and JPEG, as well as a video co-processor, and engines for 2D graphics and security acceleration. The SoC appears to support a wide variety of memory types.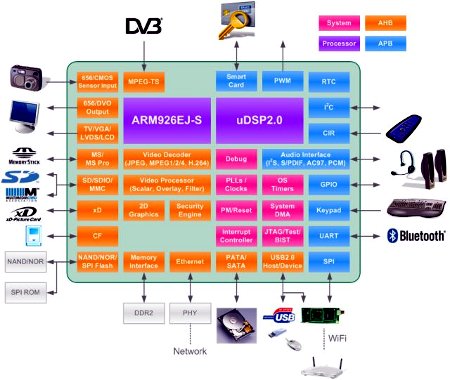 Prizm architecture
(Click to enlarge)
The Prizm is equipped with an Ethernet MAC, as well as interfaces for WiFi, 3G, Bluetooth, camera input, PATA/SATA, USB 2.0, Smart Card, and a DVB-ready MPEG-TS interface. For display output, it supports 656/DVO and TV/VGA/LVDS/LCD displays. Other I/O, including I2C, SPI, UART, and GPIO, can be seen in the diagram above.
The WonderMedia platform offers development support for MontaVista Linux Professional Edition 4.0/5.0 or Windows CE 5.0/6.0, says WonderMedia. The development platforms are said to offer "strong BSP, SDK, and RDK support."
In addition to chips with Linux and CE BSPs, WonderMedia offers reference designs, one of which is likely the basis for Nohrtec's ultra low-cost thin client offering.
Via tests the ARM waters
Parent company Via is primarily known for its x86-based processors and chipsets for the mobile and embedded markets, including the Eden and Eden ULV, the C7-M ULV, and most recently, the 64-bit Via Nano, a 65nm design with an out-of-order execution unit. Back in 2006, however, Via announced that it had expanded its licensing agreement with ARM to include the ARM926EJ-S and ARM968E-S processors, after previously having licensed ARM7 cores. At the time, Via said the processors were licensed to help Via and its subsidiaries improve products aimed at mobile phones, set-top boxes, telematics, and personal media players.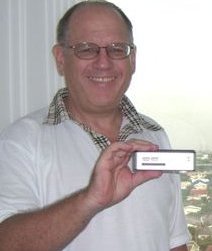 NorhTec's Michael C. Barnes
with original MicroClient Jr.
According to NorhTec president Michael C. Barnes (pictured), his thin client design company, which like Via, has been focused on x86 platforms, is using an early, stripped-down version of the ARM/Prizm platform due to requests from customers for lower-cost designs. However, he is also interested in pursuing the fully featured version when it appears. "Our supplier is working with VIA to introduce future versions [of the Prizm] with the multimedia functions when they are available," wrote Barnes. "They also are working to help customers who have Linux applications on x86 port them to these platforms."
Barnes, whose design integration firm is located in Bangkok, Thailand, went on to write, "The manufacturer of the MicroClient TC hired a team from the provider of the SAIS embedded thin client that we have used for years. Originally, they were looking at a VIA C7M based platform, but VIA offered them a lower cost solution which is their ARM9 based VIA VT8500. As I understand it, VIA plans to produce a more advanced ARM9-based SoC that integrates multimedia features, and this more basic chip is a stop along the way."
NorhTec MicroClient TC
The MicroClient TC (pictured below) is the latest in NorhTec's line of compact, fanless thin clients. Earlier models include the DMP Vortex86SX-based MicroClient JrSX and Via Eden ULV-based MicroClient Sr., and the older MicroClient Jr., which was based on an SIS550 processor from Silicon Integrated Systems (SiS). The company also released a low-cost netbook design that runs Linpus Linux.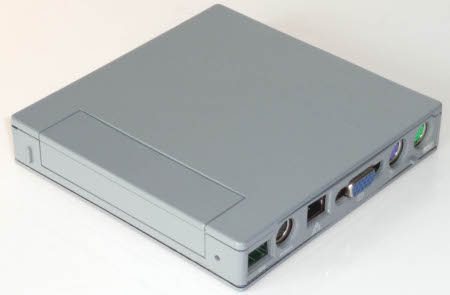 NorhTec MicroClient TC
(Click to enlarge)
The system integrator and its unnamed manufacturing partner have now partnered with WonderMedia to build what is apparently the first product based on the Prizm SoC. The version of the Prizm used in the MicroClient TC lacks the multimedia extras planned for the final Prizm, and is referred to as a Via VT8500. Clocked to 300MHz, the SoC is backed up with 256MB DDR2-400 and 4GB of onboard NAND flash. The system also offers an SD slot and 40-pin IDE connector for expansion, says NorhTec. The MicroClient TC supports 1024 x 768, 24-bit displays, and is equipped with Ethernet and serial ports, three USB 3.0 ports, and optional WiFi, says the company.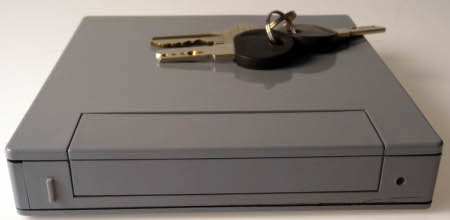 NorhTec does not list the dimensions of the MicroClient TC, but it looks dinky
(Click to enlarge)
According to NorhTec, the MicroClient TC is initially being offered with the company's QRDP (quick RDP) technology, an embedded Linux implementation designed to connect automatically to Windows Server 2000, 2003, or 2008 hosts. In that guise, the device is touted as "probably the lowest priced complete thin client solution available." But the tiny, fanless MicroClient TC will also be available with either a full Linux distro or Windows CE, in which case it can operate as either a thin client or a general-purpose computer, NorhTec adds.
Specifications listed for the MicroClient TC include:
Processor — Via/WonderMedia VT8500 (ARM9/RISC/Prizm architectures) @ 300MHz
Memory — 256MB DDR2-400
Flash — 4GB NAND flash onboard
Flash expansion — 1 x SD/MMC slot
Storage — 1 x 40-pin IDE expansion; CD/DVD drive optional
Display — 1024 x 768 24 bit; 1 x VGA connector
Networking — 10/100 Ethernet RJ-45 port with diagnostic LEDs
WiFi - optional
USB — 3 x USB 2.0
Serial - 1 x RS232
Other I/O — audio In and Out jacks; PS/2 connector
Other hardware features — VESA mount bracket; fanless design
Software features — Quick RDP (QRDP) fast boot; supports thin client emulation of Windows 200, 2003, 2008 or single-user Windows XP or Vista
Weight — under 1.1 lbs (under 500 gr)
Power — input 100-240V AC; output 12V/3A DC
Operating temperature — 32 to 140 deg. F (0 to 60 deg. C)
Operating system — Linux (Windows CE optional)
The MicroClient TC is currently offered with Quick RDP, but will soon ship with a full Linux distribution, including browser, email, and office automation tools, says NorhTec. It also ships with a software development kit (SDK) to allow users to port open source code to the MicroClient TC.
Availability
The MicroClient TC is available now for $100, or $140 with the WiFi module, says NorhTec. More on the NorhTec MicroClient TC may be found here.
More information on Via/WonderMedia's Prizm SoC may be found here.
---

This article was originally published on LinuxDevices.com and has been donated to the open source community by QuinStreet Inc. Please visit LinuxToday.com for up-to-date news and articles about Linux and open source.