Mar 7, 2008 — by Eric Brown — from the LinuxDevices Archive — 39 views

Thai systems integrator Norhtec is preparing to release a sub-$300 ultra-mini PC (UMPC) laptop based on a Quanta design. Aimed at the developing-country market, the so-called Gecko Laptop is being built by Quanta and runs Linpus Linux Lite, a new distribution designed for small-screen mini-PCs.
(Click for larger view of Norhtec's Gecko laptop)
Equipped with a Via C7M ULV CPU clocked at 1Ghz, the Gecko is said to include an optional PATA hard disk and integrated media acceleration. The Gecko has a full keyboard and appears to have a 7-inch display.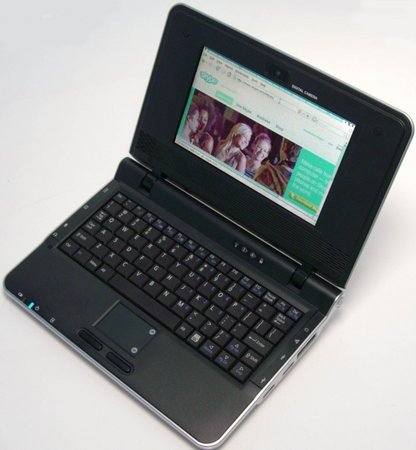 Norhtec Gecko
(Click to enlarge)
The laptop runs Linpus Linux Lite, a new distro from long-time Taiwanese Linux distributor Linpus Technologies. Linpus Lite is specifically targeted at UMPCs, Mobile Internet Devices (MIDs), and low-cost laptops, and features a dual-mode user interface with an icon-based "easy" mode and a more typical "experienced" mode. Users can toggle between modes with a button on the toolbar.
Linpus Linux Lite supports CPUs as slow as 366MHz CPU, with as little as 128MB of DRAM, and 512MB of disk space, says Linpus. The distribution is targeted at handheld devices with 4 x 7-inch screens, and supports resolutions as low as VGA (640×480).
Based on Xorg, Linpus Lite uses some GNOME desktop technologies, such as hald, dbus, obex-server, vfs, and gnome-screensaver. The window manager is the ultra-light xfwm4-simple, however, with xfce4 panels and desktop components. A full complement of built-in Linux device drivers enables Linpus Lite to support WiFi, WiMax, HSDPA, HSUPA, Ethernet, BT, IR, and UPnP communications technologies, says Linpus.
"Linpus Lite is very similar to gOS," wrote Norhtec's President, Michael Barnes, in an email. "Each application is tied to a dedicated icon, each of which is separated by tabs which classify it into a functional area." Barnes went on to explain that Gecko customers could swap out the distro for other Linux distributions or even Windows.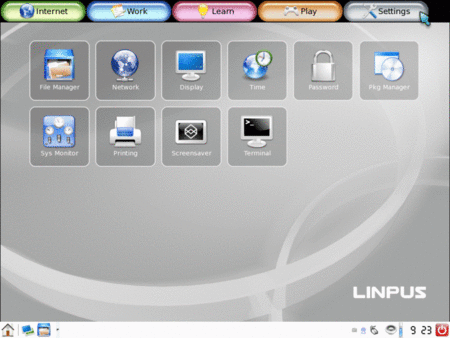 Linpus Linux Lite desktop, on XGA display. More screenshots here.
The Gecko resembles several other newly launched sub-notebooks, including the
Everex Cloudbook
and the
Asus EEE PC
. Like the EEE PC, but unlike the Cloudbook, the Gecko runs a Linux OS that is actually tailored for use on small-screen displays, and it has a fairly conventional laptop trackpad.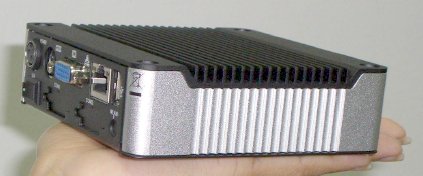 Norhtec's MicroClient Jr.
Bangkok-based Norhtec has previously shipped several ultra low-cost Linux thin clients, including the
MicroClient JrSX
, as well as an earlier $100 PC called the
MicroClient Jr.
, which runs Puppy Linux. The goal for the Gecko was to create a laptop affordable enough to sell in poorer nations, Barnes said. "We are bidding the laptop on several large developing country projects," he wrote.
Taiwanese manufacturer Quanta has some experience with laptops aimed at the developing world, having won the contract to produce One Laptop per Child's Linux-based XO-1 laptop. According to OLPC, XO-1 laptops started shipping in November, and they continue to roll out around the world, albeit at a slower pace than expected. Meanwhile Intel is selling a rival "developing-market" laptop called the ClassMate PC, and a nonprofit group called Literacy Bridge is working on a Linux-based laptop for developing markets that will serve as an audio library for a low-cost Talking Book audio player that is billed as a $5 iPod.
Availability
According to Barnes, the formal announcement for the Gecko Laptop will happen soon, and the laptop will sell for under $300. More information on Linpus Linux Lite can be found here.
---

This article was originally published on LinuxDevices.com and has been donated to the open source community by QuinStreet Inc. Please visit LinuxToday.com for up-to-date news and articles about Linux and open source.