Feb 14, 2002 — by LinuxDevices Staff — from the LinuxDevices Archive — 6 views
Infomart saw an opening between the high-end high-cost Pocket PC PDAs, and the low-end low-cost Palm PDAs, and created a new PDA called "Kaii" to fill that gap. "We wanted to make a PDA with the features of high-end PDAs, but at an affordable cost," said Devesh R. Agarwal, managing director of the Bangalore, India based development company. "Our initial target market was India only, but as we progressed further into the development cycle we realized that there were opportunities in the global market also."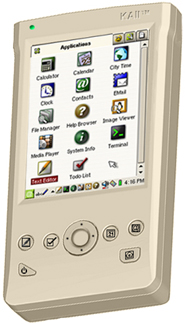 To meet the project's goals, Infomart decided to use Linux as the new PDA's embedded operating system right from the beginning. "We had extensive discussions with Lineo," said Agarwal. "We wanted to use a standard software stack that would be prevalent in the industry, and saw the combination of [what Sharp and Lineo had created for Sharp's new Zaurus PDA] — and their commitment to Linux — as a strong leverage point that could offer both users and developers a strong third alternative to PalmOS and PocketPC."
Infomart's new PDA is called Kaii, which means "hand" in Kannada, the local language of the state of Karnataka where Infomart is located. Kaii also means the same thing in Tamil, the language of the neighboring state of Tamil Nadu.
According to an article published in the Bangalore Times, the device will be sold for approximately US $200 with a monochrome LCD, and $300 with a color LCD.
Summary of specifications (preliminary) . . .
Hardware:

SH3 processor at 160MHz

32-128MB RAM, depending on version

32MB masked ROM or Flash, depending on version

USB interface with both device and host functions

RS232C serial port

IrDA port

CompactFlash Type II slot for memory or peripheral expansion

MMC slot for memory expansion

LCD display:

2 options: 320 x 240 pixel color TFT; monochrome

Includes backlight and touch screen

On-screen alphanumeric keyboard

Software stack:

OS: Lineo Embedix Plus

GUI platform and PDA app suite: Trolltech Qtopia

Opera: Opera browser

JVM: Insignia Jeode JVM

Mechanical:

Size: 5.5 x 3.2 x .8 in. (140 x 80 x 20 mm)

Weight: 6.3 – 7.0 oz (180 – 200 gm)

Batteries: Li-Ion; min. 6 – 8 hrs without BL, 2 with BL
Application suite
The Kaii will come with Trolltech's Qtopia PDA suite, which provides a full set of PDA apps and utilities including: "productivity suite" (to-do list, calendar, calculator, address book, text editor), "entertainment package" (mpeg player, image viewer, games), "Internet package" (email client, web access), and "utilities" (screen calibration, backlight control, app installer, network setup, I/O controls).
In addition, Agarwal said Infomart is looking into possibilities of including MS Office compatible applications on the device.
Agarwal said that because Qtopia is double-bit multilingual-enabled it can support Mandarin and Japanese, in addition to European languages. "We are working on Indian languages like Hindi, Kannada, and Tamil, . . . and plan to add a text-to-speech engine in the future, which will make the device useful in the rural markets of India and China," he added.
Another interesting feature of the Kaii, according to Agarwal, is that it offers both USB client and control functions. "The USB control capability will allow the Kaii to interface with external devices, thereby enabling niche players to offer vertical and industry-specific solutions like e-governance, ticketing, inventory etc.," he explained.
"Third major PDA OS platform"
Infomart decided to use a platform similar to that of Sharp's Linux-based Zaurus, in order to leverage the abilities and commitment of companies like Lineo, Trolltech, Insignia, and Sharp — and the associated developer community. The hope is to help create a standard for Linux-based PDAs which will make it easier for software and add-on peripheral developers to support the devices, and which will give users a wider choice of software and hardware options, explained Agarwal.
"We are working with Lineo to ensure a common interface so that software and hardware for the Zaurus will work on the Kaii without recompilation," said Agarwal. He sees the Zaurus software suite as establishing "a third major PDA OS platform — one that, given the commitment of the Open Source community, will reach a pinnacle soon."
[Note from editor: contrary to Agarwal's statement, it will not be possible to run Zaurus apps on the Kaii, or visa versa, without recompilation, due to the fact that the two PDAs use incompatible microprocessors.]
To further enhance the Kaii platform, Infomart plans to develop customized hardware/software solutions for specialized applications in areas such as e-governance, ticketing, GPS, CDMA, GSM, etc.
Manufacturing and marketing plans
According to Agarwal, beta boards of the Kaii's electronics are currently being built, with final production-worthy Kaii prototypes expected in mid-March, 2002. "Lineo will be delivering the complete final tested software stack by the end of March," he added.
As far as mass production is concerned, Infomart would like to license the design of the Kaii Linux PDA to a number of companies which have the means to manufacture the device and market it outside of India, especially in Taiwan, China, Japan, and the U.S. Another option is for the company to manufacture the devices themselves, for distribution within India and for global resale by other companies on an OEM basis.
"We see a potential of between 50,000 to 100,000 units per year in India once the product is established, so our manufacturing will be gearing up accordingly," said Agarwal. "Although Infomart is primarily a research, development, and service organization, we have experience in manufacturing [and] are exploring venture funding options to meet these goals."
Founded in 1993, Infomart (India) Pvt. Ltd. is the technology subsidiary of the 65 year old Jairamdas group. Infomart has developed a specialized SRAM modules for the India Telecom market, and has also developed and is marketing development kits for the Hitachi H8/3802 and H8S/2148 embedded microcontrollers. The twenty person company has six software developers and five hardware developers. Interested companies are invited to contact Devesh R. Agarwal via email.
---

This article was originally published on LinuxDevices.com and has been donated to the open source community by QuinStreet Inc. Please visit LinuxToday.com for up-to-date news and articles about Linux and open source.