Oct 20, 2008 — by Eric Brown — from the LinuxDevices Archive — 4 views

Access released a lightweight "Mini" version of its Access Linux Platform (ALP) mobile phone middleware and application stack. At its "Access Day" partner event in Tokyo today, it also previewed ALP 3.0, and highlighted its growing list of Linux design wins and ecosystem partners.


Emblaze Mobile's Edelweiss
(Click for details)
Tokyo-based Access showed off the new products in a presentation at its annual Access Day event today in Tokyo. The event drew about 1,000 attendees, including representatives from hundreds of Access partners and ecosystem providers, the company said.
ALP 3.0
Little technical information was provided on the upcoming ALP 3.0 release, except that it will be compatible with the LiMo Platform specification. Access also says the upgraded stack offers "an advanced UI" with "highly detailed visuals" and "smooth transitions and animations."
Access did confirm that DoCoMo has selected ALP as a successor to its MOAP/L Linux platform, long used by suppliers Panasonic, NEC, and Esteemo in dozens of popular Linux phones. DoCoMo will begin distributing 3G FOMA phones based on ALP in the second half of 2009, Access said.
Additionally, Sharp will likely join the ranks of DoCoMo phone suppliers using Linux, as Access has confirmed that the Sharp-made Emblaze Edelweiss (pictured at right) for Russian markets uses the ALP stack. Emblaze has posted specifications for the high-end Edelweiss.
ALP Mini
The new ALP Mini, meanwhile, is shipping now, offering a development platform and application suite designed for feature phones, low-end smartphones, portable navigation devices (PNDs), portable media players (PMPs), and set-top boxes (STBs), says Access. ALP Mini is targeted at "emerging markets," says the company, which claims the technology has already been deployed in China and Taiwan on the Haier Super Smart Phone N60, which was announced in 2006, as well as a PND device from Shanghai Novarobo Technology.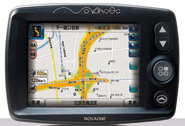 ALP mini inside: Haier's N60 (left) and Shanghai Novorobo's PND (right)
Whereas the full ALP 3.0 stack targets smartphones and other multitasking devices with 128MB or more each of RAM and Flash, ALP Mini gives the company a product offering for less sophisticated, single-function devices with as little as 32MB each of flash and RAM. In place of the LiMO-mandated GTK+ GUI toolkit, Mini uses a lightweight, custom "NGUI" toolkit (see screenshots below). Minimum processor requirements are a 200MHz ARM9 processor, according to Didier Diaz, director of product marketing, in an interview.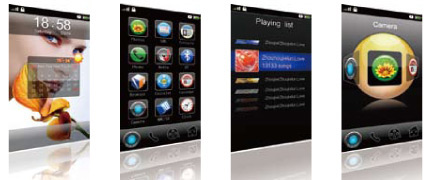 ALP mini application screens
Diaz said Mini evolved from the China MobileSoft Linux stack acquired by PalmSource in Dec. of 2004, prior to Access's acquisition of PalmSource in Sept., 2005. Access subsequently integrated its NetFront Browser, Java and widget development kits, and other select ALP components. The stack is offered with a Linux kernel, or can support customer kernels.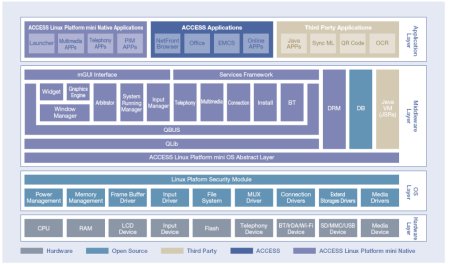 ALP mini modules diagram
(Click to enlarge)
Another key difference from the full ALP stack, according to Diaz, is that Access will not support full native Linux application development on Mini. He explained, "We will not at this point support the concept of a full ecosystem of native applications on ALP mini. It is theoretically possible, but the key development environment will be Java and browser-based NetFront widgets. We do not have the robust security mechanism, nor will we try to develop a complete ecosystem, such as tools."
ALP Mini ships with three device profiles: mobile, PMP/PND, and STB. The mobile profile used on the Haier N60 is said to include Java, and support multimedia entertainment, messaging, and personal information management (PIM). The profile is also said to support third-party modules including J2ME, MPEG4, handwriting recognition, and digital rights management (DRM). The PMP/PND profile used in the Novorobo PND, meanwhile, provides Media Framework 3.0 and WiFi components, as well as MPEG4 and handwriting recognition modules.
Major features for ALP Mini are said to include:
"Innovative" UI design
Open architecture based on components and services
Integrated development environment (IDE) based on Visual C++ (in Windows)
Access NetFront Browser pre-integrated
Support for NetFront Browser Widgets (optional)
Access Media Music player integrated
Multimedia applications and RSS Sync
PIM sync
GPS support
Mobile TV support
With regard to Mini, Diaz commented, "Mini uses half the processing power, compared to ALP, enabling us to cover a larger spectrum of the phone market. Now, we cover two thirds of the spectrum, from entry-level feature phones through high-end smartphones. Everything but entry-level voice+messaging phones, which is under 20 percent of the market, where it still makes sense to use an RTOS."
Access is also known for its lightweight NetFront Browser, which is built into the Amazon Kindle eBook reader. The company's new NetFront Browser Widgets are said to provide one-click access to personalized web content.
Stated Toru Arakawa, CEO, president and co-founder of Access, "The openness and flexibility of Linux are driving innovation in mobile phones and Internet-enabled devices."
Availability
Access Linux Platform Mini is available immediately to licensees, says Access. ALP 3.0 is expected to appear in DoCoMo phones in early 2009. More information on ALP mini should be here.
---

This article was originally published on LinuxDevices.com and has been donated to the open source community by QuinStreet Inc. Please visit LinuxToday.com for up-to-date news and articles about Linux and open source.