Feb 11, 2008 — by Eric Brown — from the LinuxDevices Archive — 48 views

MontaVista Software is demonstrating a pair of Linux stacks for mobile phones that it co-developed. One was done with interface-stack firm Movial, and features a Web widgets UI, while the other comprises a complete "pre-integrated" stack developed in partnership with Japanese phone… software vendor Access.
Both stacks are on demo at this week's GSMA show in Barcelona. Both are based on MontaVista's Mobilinux 5.0 Linux implementation for mobile phones, which MontaVista released last Fall. One demo also includes Movial's Internet Experience Suite (IXS) interface stack (pictured top-of-page), while the other shows Access's Access Linux Platform (ALP) running on top of Mobilinux.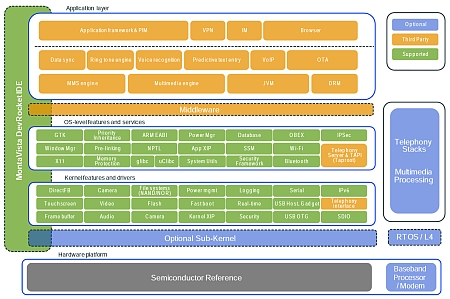 Mobilinux architecture
(Click to enlarge)
Movial integration
Following through on a November partnership announcement, MontaVista and Finnish firm Movial will jointly integrate, market, and support MontaVista's Mobilinux OS and DevRocket development tools with Movial's IXS (Internet eXperience Stack). Movial refers to IXS as a "white label application suite for creating custom branded user interfaces." The pre-integrated and tested Mobinilux/IXS stack accelerates mobile phone development and time-to-market by up to six months, claim the partners. The stack also combines Movial's Scratchbox development application with MontaVista's DevRocket tools.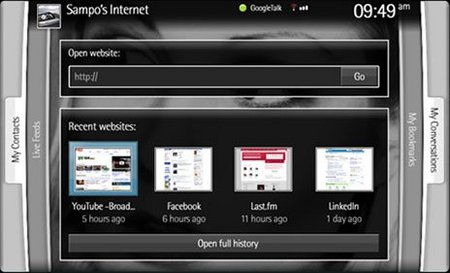 Movial Browser
Movial's IXS includes the following modules:
Movial Internet Browser — supports Flash, Web2.0, Ajax, and Java, plus Firefox, Opera or Webkit browsers
Movial Media Player — provides access to local and networked streaming media, music and videos, supports integration of audio and video codecs, and offers compatibility with wireless IPTV, DVB-H, and online music services
Movial Communicator — offers video telephony, presence, instant messaging and video sharing software, and supports VoIP, SMS, and MMS
This week, Movial also announced a new unified messaging application called Social Communicator, which aims to unify Internet calling, social media content, messaging, and Web and video feeds. Social Communicator integrates content sharing and real-time communications on mobile handsets, PCs, IP set-top boxes, and Internet tablet devices, says Movial.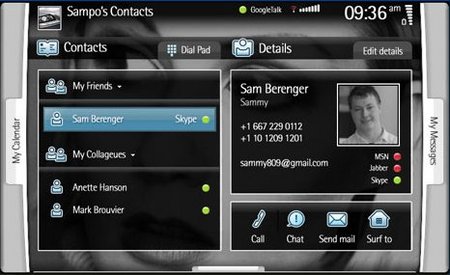 Movial Communicator
In addition, Movial announced it was joining embedded system design specialists Apastron and strategic industrial designers Provoke in developing a Linux-based Mobile Internet Device (MID) based on the Texas Instruments (TI) OMAP2420 processor. The 2420 is the same processor that runs
Nokia's N810 Internet tablet
.
Speaking about Movial's integration with MontaVista's Linux phone stack, Movial President Tomi Rauste stated, "Device manufacturers now can take advantage of the combined expertise that MontaVista's proven commercial-quality Linux software and Movial's proven competence brings to the table."
Access plays both sides
MontaVista's partnership with Japanese phone stack vendor Access was also announced last Fall. Access, which is demonstrating several products related to ALP and its NetFront Browser in Barcelona this week, is releasing a pre-integrated software stack that combines ALP with MontaVista Mobilinux. As with the Movial integration, the ALP integration is said to significantly decrease engineering time.

Access ALP applications
This week, Access also revealed that it is extending its partnership with MontaVista rival Wind River. The two companies will offer a pre-integrated software development solution for mobile handset OEMs and cellular carriers, says Access. Combining ALP with Wind River's Platform for Consumer Devices, Linux Edition, the integrated product is expected to be available in the second quarter.
In other news this week, Access announced that Samsung will use ALP in a new handset being prepared later this year for British mobile operator Orange. Also this week, Access and Orange both joined the LiMo Foundation, a mobile phone platform group, of which MontaVista, Samsung, Wind River, and a growing list of other Mobile Linux related firms are already members.
Stated Toru Arakawa, CEO and president of Access, "The integration of the Access Linux Platform with MontaVista Mobilinux provides mobile developers with more choices, faster time to market, less risk, and easier deployment in carrier networks,"
Availability
The Mobilinux/Movial IXS integration will be available in the first quarter for TI's OMAP platform, says MontaVista, and will be enabled on MontaVista Linux Professional Edition later in 2008. The integrated Access ALP/Mobilinux software stack is available now for the TI OMAP2430 processor, but Access says additional hardware platforms will be added in the future.
---

This article was originally published on LinuxDevices.com and has been donated to the open source community by QuinStreet Inc. Please visit LinuxToday.com for up-to-date news and articles about Linux and open source.