Jun 23, 2011 — by LinuxDevices Staff — from the LinuxDevices Archive — views
Adobe is preparing to supplement its popular-but-proprietary Flash product with a standards-based animation tool based on HTML5, JavaScript, and CSS. Supporting imported bitmap and vector graphics, Adobe Edge produces output compatible with browsers including Firefox, Internet Explorer 9, and the Safari versions used in Apple's iPad and iPhone, the company says.
Adobe's Flash technology dominates the field of web animation and video, but it's controversial: both because of its proprietary nature and because of its relatively steep hardware requirements. (Citing the latter, Apple CEO Steve Jobs has famously nixed Flash from his company's mobile devices, and the majority of smartphones also fail to support it.)
Now, while it's hardly giving up on Flash, Adobe has announced a tool that makes nice with web standards such as HTML5, JavaScript, and CSS (cascading style sheets). According to the company, Edge will allow web programmers to create "smooth motion and transitions for screens of all sizes" via "an easy-to-use, timeline-based interface."
A post on the Adobe Labs website says Edge will let users "create new compositions from scratch, import and energize web graphics, or add motion to existing CSS-based HTML layouts." According to Adobe, the tool will support importation of bitmapped images and Scalable Vector Graphics, but does not appear to support video (though HTML5 itself does, of course).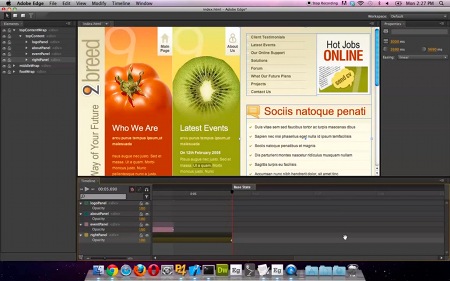 Adobe's Edge
(Click to enlarge)
Product Manager Doug Winnie says in a comment appended to a June 22 blog posting by Adobe's John Nack that Edge's "output will work across multiple browsers including Firefox, Internet Explorer 9 and WebKit browsers. In addition, the output will work on Android and iOS mobile browsers."
In a video (see later below) posted by the company, Winnie adds that Edge plays well with other web tools, allowing designers to add animations to pages that have previously been created by others. "The underlying HTML and CSS code is untouched, which allows for designers working as animators in Edge to collaborate seamlessly with Web producers or Web designers working in HTML or CSS," he says.
Potentially lowering CPU requirements and software footprints, Adobe Edge could be good news for embedded devices. But no matter how good it turns out to be, it can hardly bring about the replacement of Flash overnight — and not just because pre-HTML5 browsers are still out there.
In another comment to the Nack blog entry, user "Tomas" writes, "The problem is that you can only do a fraction of effects and blendings in HTML5 that Flash can do. No tool in the world can fix the canvas/CSS3 mess. Good luck to try to do a perfect blend and transformation of text/vector/bitmaps with good antialias and speed that work in all browsers."
User Greg Giser responded, "But this is more than a great start. And there are plenty of circumstances where those effects and blending modes are not necessary. Much can be done with simple animation."
Ironically, if Adobe Edge does hasten the adoption of HTML5-based animation, it will bring a sting in the tail for those who have used Flash blockers to opt out of seeing flashing, blinking ad banners. More subtle tools — such as the Adblock extension, which filters elements out of web pages based upon what servers come from — will be required instead.

Adobe's video preview of Edge
(click to play)
Further information
Adobe is now accepting applications from those who'd like to gain access to a preview release of Adobe Edge, which it says will be "available soon." More information may be provided in the future on the Adobe Edge Facebook page.
Jonathan Angel can be reached at [email protected] and followed at www.twitter.com/gadgetsense.
---
This article was originally published on LinuxDevices.com and has been donated to the open source community by QuinStreet Inc. Please visit LinuxToday.com for up-to-date news and articles about Linux and open source.