Jun 22, 2010 — by LinuxDevices Staff — from the LinuxDevices Archive — 1 views
Adobe Systems announced it has released the mobile version of Flash Player 10.1 to its platform partners, and the media player will "soon" arrive on Android 2.2-ready phones. Meanwhile, Brightcove has released a web video player SDK for Android based on Flash 10.1.
Said by Adobe to have been "completely redesigned and optimized for mobile," Flash Player 10.1 is a browser-based runtime that leverages the power of GPUs (graphics processing units), where present, providing "accelerated video and graphics while conserving battery life and minimizing resource utilization." Mobile-ready features are said to include support for multi-touch, mobile input models, accelerometers, and multiple screen orientations.
Today's release of the software to platform partners — said to be ARM, Brightcove, Dell, Google, HTC, Intel, Microsoft, Motorola, Nvidia, Qualcomm, RIM, Samsung, Texas Instruments, and others — comes as the end, or at least the beginning of the end, of a long saga.
Adobe first promised its "no holds-barred, desktop-class" implementation of Flash Player 10 for mobile devices at its annual MAX conference in 2008. Last year, the company announced Flash Player 10.1, promising betas for Windows Mobile and Palm's WebOS by the end of the year, alongside revisions targeting Windows, Macintosh, and Linux desktop computers. Flash Player 10.1 betas for Android and Symbian would follow in "early 2010," it was also announced.
In an April interview, however, Adobe CEO Shantanu Narayen said the mobile Flash Player for Android, Palm, BlackBerry, and Symbian phones was not yet ready for release. "The second part of this year is when you are going to see Flash on a number of those devices," he added at the time.
Adobe now says that as of today, its many partners have the software, which will be "made available via over-the-air downloads and … be pre-installed on smart phones, tablets and other devices in the coming months." Devices that will support the mobile Flash Player 10.1 will include those running "Android, BlackBerry, WebOS, future versions of Windows Phone, LiMo, MeeGo, and Symbian OS," the company added.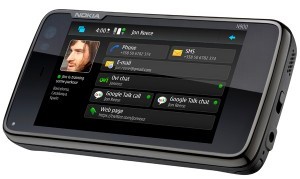 Nokia's N900
Existing mobile devices that claim to run Flash typically only support old versions of the runtime, or else employ Flash Lite, a pared-down version that cannot play the same content as desktop versions. (Windows Mobile and Symbian are presently limited to Flash Lite playback.) Nokia's Maemo Linux-based N900 (above) was reportedly the first mobile device to run the full Flash Player, first in a 9.x version and later in 10.1.
Meanwhile, Android is becoming the "go to" operating system for those who want Flash content. A beta version of the mobile Flash Player 10.1 was released last month for those testing Android 2.2 ("Froyo").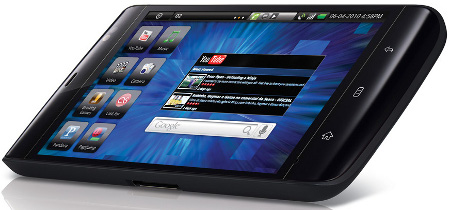 Dell's Streak should run Flash 10.1 by the time it ships in the U.S. in late July.
Now, Adobe says, the production release of Flash Player 10.1 will be available through the Android Market for any devices whose users have upgraded to Android 2.2.

Devices that will support "Froyo" and Flash Player 10.1 are said to include:

For owners or would be purchasers of Windows Phones, however, the situation is not so Flashy. Following Microsoft's announcement of Windows Phone 7, Adobe said it would scrap a Windows Mobile 6.x version of Flash that had been promised, and even demonstrated.
Adobe added that a Windows Phone 7 version of Flash would eventually appear, but not when the smartphone operating system is first released this fall. Today's mention of "future versions of Windows Phone" only seemed to underscore that delay.
Performance improvements
Adobe touts the mobile Flash Player 10.1 as having been "completely redesigned and optimized for mobile," adding that it now supports accelerometers, mobile-specific input models, and easy zooming to full-screen mode. Performance optimizations allow the software to work with "virtually all" mobile silicon, and to make efficient use of CPU and battery performance, the company adds.
According to Adobe, optimizations include:
A new Smart Rendering feature that ensures Flash content is running only when it becomes visible on the screen, reducing CPU and battery consumption.
A sleep mode that automatically slows down the Flash Player when a device transitions into screen saver mode
Advanced Out-of-Memory Management, decreasing memory consumption and letting the player handle even "non-optimized content that consumes excessive resources"
The Flash Player pauses automatically when events occur, such as incoming phone calls or switching from the browser to other device functions, Adobe says. Once users switch back to the browser, Flash Player resumes where it paused, the company adds.
Analyst feedback
Al Hilwa, program director of the Application Development Program at IDC, is quoted as saying, "Although it is labeled a dot release, Flash Player 10.1 is a significant update that includes a number of new performance and mobile specific features. This allows consumers to see a much bigger part of the Web and allows developers to bring their Flash Platform skills to a much bigger swath of devices."
Ben Bajarin, principal analyst at Creative Strategies, stated, "For the past few weeks I have had the opportunity to test an Android Froyo device loaded with a beta of Flash Player 10.1. The overall experience and performance of Flash has been impressive. Mobile users now have access to full Web pages with rich Flash content on millions of sites."
Flash desktop versions add hardware acceleration
Two weeks ago, the 32-bit Flash Player 10.1 for Windows, Linux, and Mac went final, released with security updates for versions 10.0.45.2 and earlier. Pre-release betas of the 32-bit Flash Player 10.1 were made available for desktop OSes in November 2009, updated to Beta 3 versions in February, made available in Release Candidate (RC) versions in April, and finalized earlier this month.
According to Adobe, the desktop software now supports hardware decoding of H.264 video on computers using GPUs from AMD/ATI GPUs (Radeon HD and FirePro), Broadcom (Crystal HD BCM70012 and BCM70015, Intel (GMA500, 4 Series chipset, 2010 Core processors, and Nvidia (GeForce, Ion, and Quadro).
In conjunction with the release of the desktop versions of the 32-bit Flash 10.1, an Adobe Labs blog quietly announced a temporary end of beta development of Flash 10.1 for 64-bit Linux, which had been announced back in 2008. Adobe says it will release 64-bit versions on multiple platforms at an unstated later date.
Brightcove announces TV player for Android
Jumping quickly on the Flash 10.1 for mobile release, Brightcove released its Flash 10.1-based media player software development kit (SDK) for Android, according to a story in our sister publication, eWEEK. Like the similar SDK released for Apple's iPhone last November, the Android SDK enables Android access to Brightcove's web-based video platform.
The Brightcove App SDK for Android is accompanied by new mobile templates for Flash Player 10.1, and provides tools to write native video apps for Android, says eWEEK,'s Clint Boulton, who interviewed Brightcove President and COO Dave Mendels. The tools include pre-built components for playback, content discovery, and hooks into the Brightcove Media API services, says the story.
A future version of the Brightcove App SDK for Android will allow developers to install sharing capability to Facebook and Twitter with a single touch on the device app, Mendels told eWEEK. Cover Flow playlist navigation and the ability to surface related and popular video content will also be added, says the story.
Availability
More information on features and hardware requirements for both desktop and mobile editions of Flash Player 10.1 may be found on Adobe's website, here.
Downloads of desktop editions of Flash Player 10.1 may be found here. Details of improvements in the latest edition for Linux, Windows, Macintosh, may be found on the Adobe Flash Player Team Blog, here.
The eWEEK story on Brightcove's Android player should be here. More information on Brightcove may be found at its website, here.
---
This article was originally published on LinuxDevices.com and has been donated to the open source community by QuinStreet Inc. Please visit LinuxToday.com for up-to-date news and articles about Linux and open source.