Apr 19, 2010 — by LinuxDevices Staff — from the LinuxDevices Archive — 2 views
While continuing to bicker with Apple about the non-availability of Flash on the iPhone and iPad, Adobe has bad news for those with other mobile devices. Flash won't be available on Android, WebOS, or BlackBerry either until the second half of this year, Adobe CEO Shantanu Narayen said in an interview with FOX Business.
According to Adobe Systems, Flash Player 10.1 is a browser-based runtime that leverages the power of GPUs (graphics processing units), where present, providing "accelerated video and graphics while conserving battery life and minimizing resource utilization." Mobile-ready features are said to include support for multi-touch, mobile input models, accelerometers, and multiple screen orientations.
Adobe first promised this "no holds-barred, desktop-class" implementation of Flash Player 10 for mobile devices at its annual MAX conference in 2008. Last year, the company announced Flash Player 10.1, promising betas for Palm's WebOS and Windows Mobile by the end of the year, alongside revisions targeting Linux, Macintosh, and Windows desktop computers. Flash Player 10.1 betas for Android and Symbian would follow in "early 2010," it was also announced.
In an interview last week with Fox Business, however, Adobe CEO Shantanu Narayen said the mobile Flash Player for Android, Palm, BlackBerry, and Symbian phones is not ready for release. "The second part of this year is when you are going to see Flash on a number of those devices," he added.

An interview with Adobe CEO Shantanu Narayen
Source: Fox Business
(click to play)
The delay is significant in that manufacturers of tablet devices that will compete with the iPad — Innovative Converged Devices' Gemini, to name just one recent example — had hoped to use Flash compatibility as a key selling point. Flash support would also have helped Android smartphones compete with Apple's fourth-generation iPhone, rumored for announcement this spring.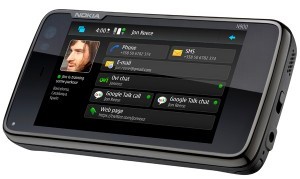 Nokia's N900 — the first mobile device to get FlashPlayer 10.1?
Existing mobile devices that claim to run Flash typically only support old versions of the runtime, or else employ Flash Lite, a pared-down version that cannot play the same content as desktop versions. (Windows Mobile and Symbian are presently limited to Flash Lite playback.) Nokia's Maemo Linux-based N900 (above) stands out, therefore, in that it runs Flash Player 9.4 already, and will reportedly be one of the first mobile devices to run version 10.1.
Hardware requirements tighten
We reported at the end of February that Flash Player 10.1 for smartphones will bypass both devices running Android versions prior to 2.0 and those running Windows Mobile 6.5.x, according to online forum postings by Antonio Flores, identified as a Flash product manager. Flores added at the time that the software will require ARM Cortex-A8 processors or faster.
We contacted Adobe Systems in an attempt to confirm Antonio Flores' employment status and obtain further details about the future of the mobile Flash Player 10.1, but never received a response. However, Flash Player 10.1 — distinct from the pared-down Flash Lite — has long been described as too demanding for some mobile devices.
In 2008, Adobe said the mobile version would run on CPUs with ARM11 or Cortex-A8 cores. But in February, Flores posted: "We require a device with an ARM v7 (Cortex) processor. Examples include the Qualcomm Snapdragon chipsets and TI OMAP3 series."
Flores cited HTC's Hero as an example of a phone that would not work, "because it does not have the correct Android version and its chipset is not powerful enough." The Hero, first announced in June of last year, runs Android 1.6 on a 528MHz Qualcomm MSM7200A CPU.
Motorola's Droid and Google's Nexus One, both A8-based, will be the first Android devices to support Flash Player 10.1, according to postings by Flores. Motorola's Milestone, a Euro version of the Droid, will also run Flash, he added.
Desktop acceleration still doesn't support Linux
As slight consolation for those awaiting mobile versions of Flash Player 10.1, Adobe has been releasing desktop versions of the software that — for Windows users, at least — can tap into a system's discrete graphics circuity, when present. Pre-release betas of Flash Player 10.1 were made available for desktop OSes in November 2009, updated to Beta 3 versions in February, and made available in Release Candidate (RC) versions earlier this month.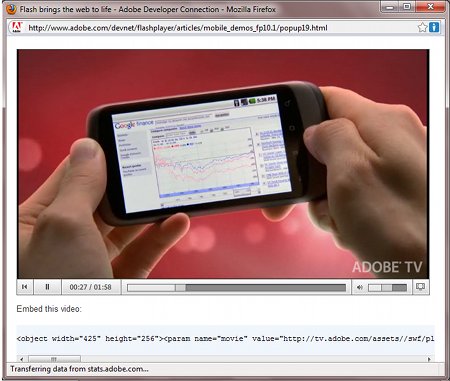 The Release Candidate of Flash Player 10.1 playing an Adobe-supplied video
(Click to enlarge)
According to Adobe, the software now supports hardware decoding of H.264 video on computers using GPUs from AMD/ATI GPUs (Radeon HD and FirePro), Broadcom (Crystal HD BCM70012 and BCM70015), Intel (GMA500, 4 Series chipset, 2010 Core processors), and Nvidia (GeForce, Ion, and Quadro).
It's said the RC of Flash Player 10.1 for Windows, Macintosh, or Linux computers includes general stability and performance improvements, and fixes "many issues involving video playback." Several dozen bugs that could crash the player have been stamped out, and full-screen performance has been improved, the company adds.
Some issues still remain to be solved in the RC release, however. Video clips with unusual horizontal resolutions may not be accelerated successfully by Nvidia Ion or GeForce 8400GS GPUs, Adobe says. More important, H.264 hardware acceleration remains unavailable under either Linux or the Mac OS, the company adds.
As it has in the past, Adobe claims that "Linux currently lacks a developed standard API that supports H.264 hardware video decoding, and Mac OS X does not expose access to the required APIs." The company adds, "We will continue to evaluate adding the feature to Linux and Mac OS in future releases."
Availability
According to Adobe, a private beta of Flash Player 10.1 for Android already exists. Those who want to try a public beta of the player for Android may sign up to be notified when it is available, here.
Adobe's Release Candidate editions of Flash Player 10.1 for Linux, Windows, and Macintosh desktops are available from the company's website, here.
General information on the Flash platform may be found on the Adobe website, here.
Postings attributed to Antonio Flores, said to be a product manager for Flash Player, may be found on Adobe's online forums, here.
---
This article was originally published on LinuxDevices.com and has been donated to the open source community by QuinStreet Inc. Please visit LinuxToday.com for up-to-date news and articles about Linux and open source.