Nov 22, 2010 — by Eric Brown — from the LinuxDevices Archive — views
Amazon.com is offering a one-penny sale (plus contract) for more than 100 phones, including high-end Android models like the Motorola Droid X and Droid 2. Meanwhile, mobile ad firm Adzookie says that smartphone adoption is being hindered in the U.S. by high subscription and service costs.
Amazon.com is now offering four Verizon Wireless Droid models and more than 100 other phones for $0.01 each with a two-year contract and a $35 credit for the activation fee.

Phones available for a penny from AmazonWireless.com include the HTC Droid Incredible (pictured at right), as well as the Motorola Droid X and Droid 2 (pictured below, at left), all of which typically cost $199 with a contract on Verizon Wireless. Also included is the new, business-oriented Motorola Droid Pro, which is typically available for $180 with a two-year contract.
The latest deal on the Motorola phones and the Droid Incredible began on Nov. 19 and finishes up today, Nov. 22, at midnight, Pacific time. Amazon and Verizon have also agreed to wipe out the $35 activation fee for each line of service activated on a new plan purchased from AmazonWireless.com, through Nov. 29.
Verizon may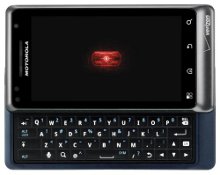 not be losing as much money on the deal as one might think. As Clint Boulton writes in a story on the Amazon deal on our sister publication, eWEEK, "Of course, Verizon's money is made in the data and service plans. Consumers must agree to subscribe to one of six talk and text plans and two data service plans."
The story goes on to note that the base talk/text plan is the Verizon Wireless Nationwide Single Line Talk & Text 450 deal, which costs $60 per month. The high-end plan is a Verizon Wireless Nationwide Single Line Talk & Text Unlimited plan for $90 a month.
Verizon's data service plans, meanwhile, are said to include the Unlimited PDA/Smartphone Web Browsing and Email agreement for $30. Users may also procure the same plan with corporate data access for $45 per month.
AmazonWireless.com is now offering almost 140 smartphones and feature phones for $0.01 from all major U.S. carriers, according to eWEEK. Android phones on the list include the HTC Hero from Sprint, the T-Mobile MyTouch Slide, and the Samsung Captivate from AT&T.
Adzookie: smartphone costs count
The United States is generally considered the driving force in smartphone sales, yet with 28 percent smartphone penetration of the mobile market, it is well behind a number of other countries, says a study by mobile advertising firm Adzookie.com. The reason: high smartphone costs, especially for subscriptions and data plans, are hindering adoption in the U.S.
Singapore has a world-leading 40 percent smartphone penetration share, followed by Italy with 37 percent and Spain with 33 percent, while the U.K. matches the U.S.' 28 percent mark, says the study. Globally, smartphone penetration is said to be at 23 percent.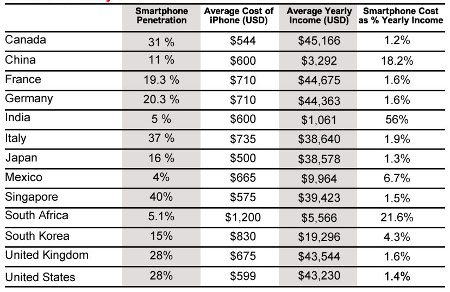 Worldwide smartphone penetration and cost of iPhone relative to yearly income; Oct. 2010


Source: Adzookie.com
(Click to enlarge)
Singapore leads in part due to the fact that Singaporeans often pay as little $40 USD a month for voice, SMS, and 12GB of mobile data, says Adzookie. Other factors driving higher smartphone usage in Singapore and a number of European countries include relatively high incomes (see chart above), as well as more people who use smartphones as their primary or sole access to the Internet.
While subscription pricing is a particular problem in the U.S., in other countries it is often the price of the phone itself that can be a dealbreaker. This is especially an issue with the Apple iPhone, as shown in the chart above.
In China, for example, where a $600 iPhone represents 18.2 percent of a typical consumer's income, only 11 percent of mobile phones are smartphones. The issue is even starker in India (5 percent share) where the cost of an iPhone is over half the yearly income of a typical consumer.
Over at eWEEK, Wayne Rash took a deeper dive into the study and interviewed the study's author Tiffany Trias. In most countries, he writes, pricing is usage-based, instead of being aligned primarily with a flat monthly fee tied to a two-year contract as it is in the U.S. What's more data use in many countries can be fairly inexpensive, he adds.
Looking at sale prices for smartphones, Rash speculates that since the iPhone is available so far in only a single high-end model, it will lose market share worldwide to more modestly priced mid-range Android phones. This is particularly true since Apple's and AT&T's fees are said to be relatively high, he adds.
Availability
AmazonWireless.com's one-penny signup page may be found here. A list of other available one-penny phones may be found here.
The eWEEK story on the one-penny deals may be found here.
The Adzookie smartphone fee study may be found here, and the eWEEK story on Adzookie's study may be found here.
---
This article was originally published on LinuxDevices.com and has been donated to the open source community by QuinStreet Inc. Please visit LinuxToday.com for up-to-date news and articles about Linux and open source.